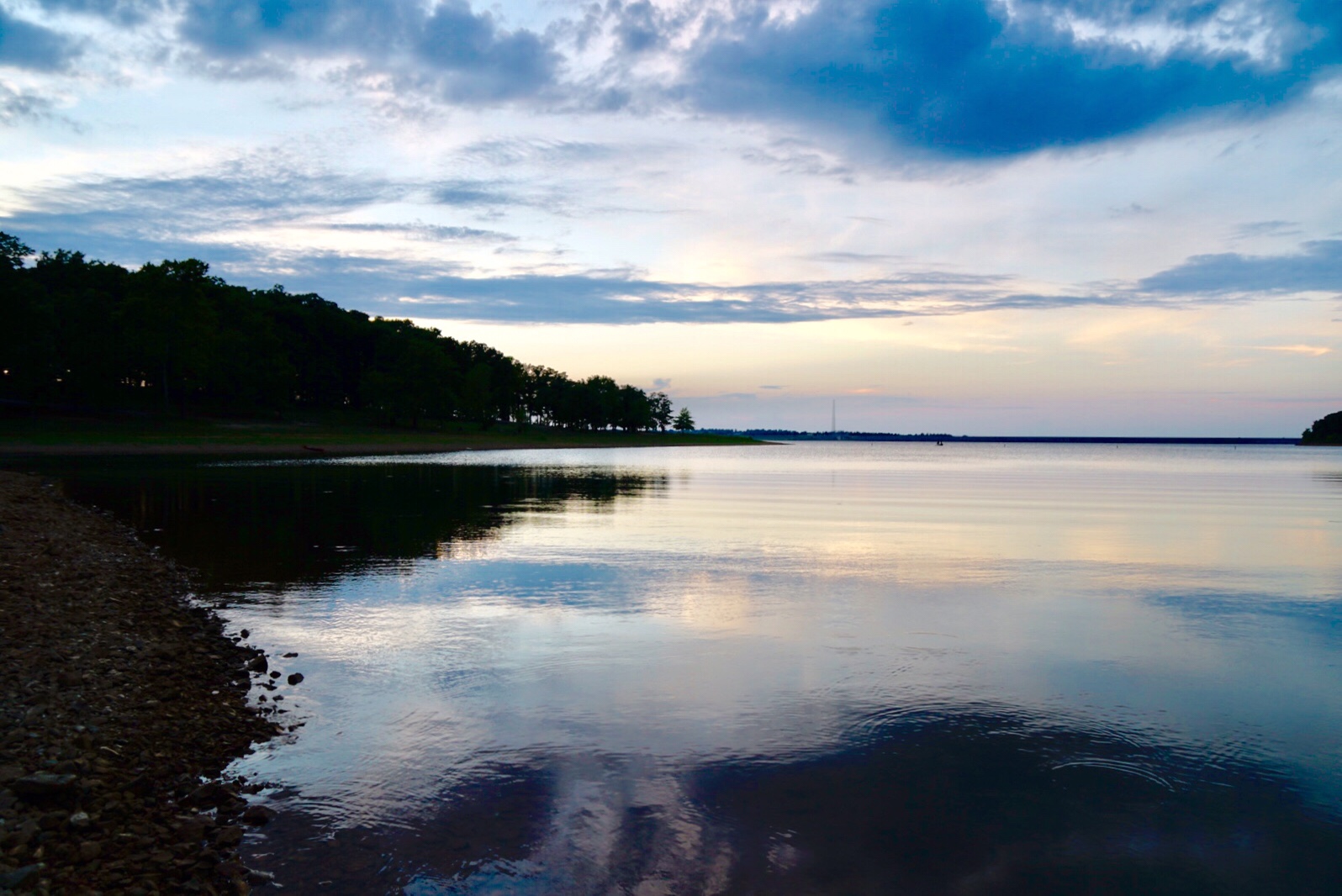 My dear wife has released me to a week of solo camping. I am on the shores of Stockton Lake, an Army Corp of Engineers impoundment that covers over 39 square miles and features over 300 miles of shoreline. In spite of those numbers this lake ranks only 5th among the 7 largest Missouri lakes, all of which are man-made. The lake provides flood control, supplemental water for the city of Springfield, and generates up to 52 megawatts of hydroelectric power. All of these practical considerations are probably secondary (or absent) in the minds of the thousands of sportfishing enthusiasts, boaters, hikers, and campers (like me!).
Christine is busily preparing to host her father's 100th birthday celebration at our home in two weekends. We are expecting 50+ guests. As a hostess she shines. No doubt I will be helpful nearing the event, but for the next week I would only have been in her way and suffering cabin fever. We have come to recognize that we are on slightly different wavelengths when it comes to travel and being away from home. Typically, it takes Christine a couple of weeks more than me to be "ready for the road". Conversely, it takes me a couple of weeks longer than her to be ready to "head home from the road". Last year we found that sending me off for an occasional solo week did much to synchronize our travel libidos.
I am ever looking to the future with visions of "the next thing". We returned home on June 22nd from a 13 week journey that took in 16 countries and covered over 22,000 miles. On June 24th I began talking about Fall and Spring plans. Initially it drives Christine crazy, but it doesn't take long for her to get caught up in my enthusiasm for our next "adventure".
Over the next few days I will speak to those plans and whatever other random stuff come to mind. I will also focus on the pursuit of two things that I am not very good at, relaxation and embracing solitude.
Peace Everyone. Pete