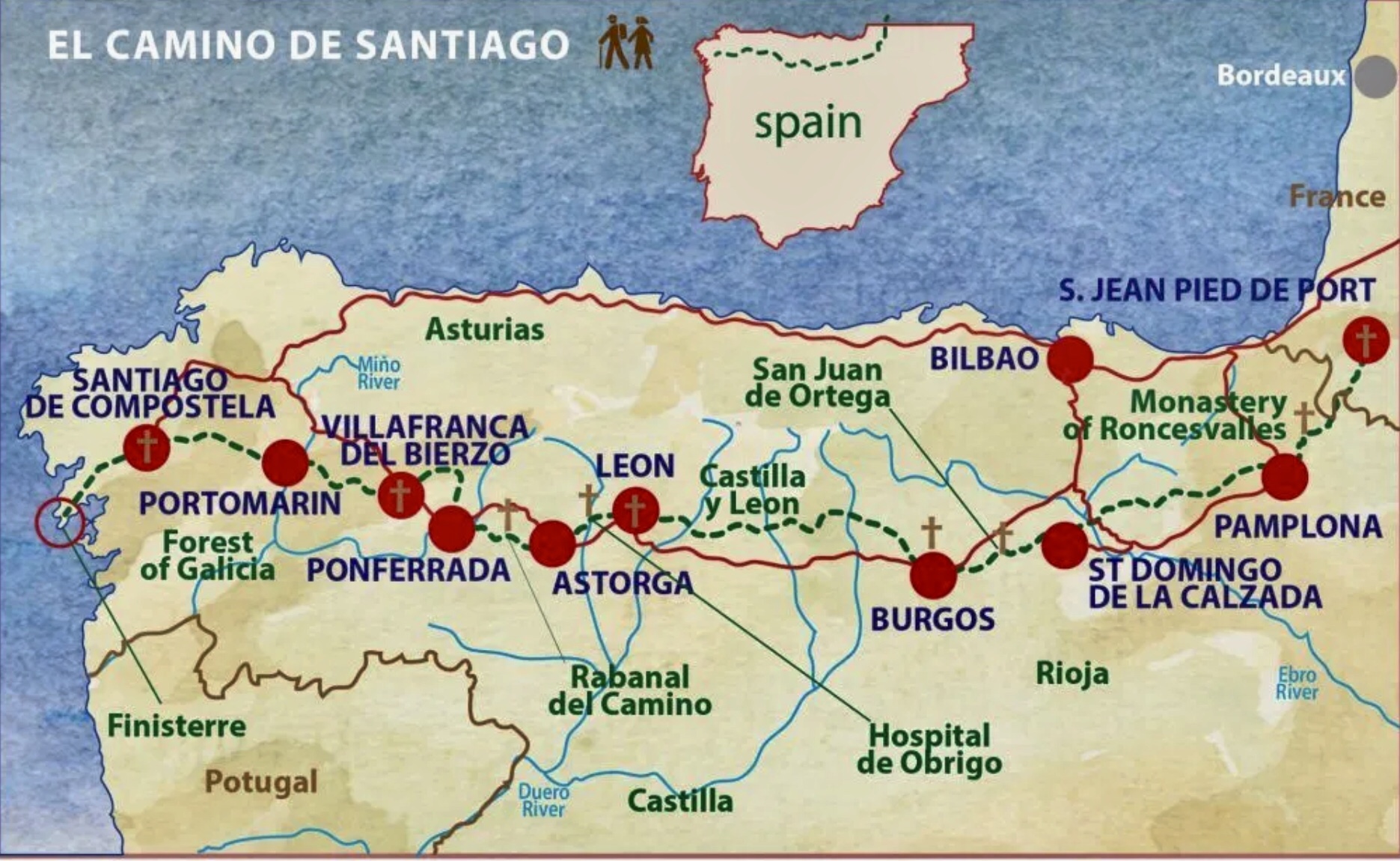 Written November 23, 2023, at Kansas City, Missouri.
In 2013 most of our grandchildren were barely beyond being toddlers.
One was not yet a "twinkle in our daughter's eye".
Christine and I were consumed with preparations for walking the Camino de Santiago, over 800 kilometers from southern France, across the Pyrenees Mountains and west across Spain.
Our enthusiasm brought curiosity from the "grands" such that we often needed to explain the adventure in terms that they might understand. "Spain is on the other side of the world." "Wow!" they would exclaim. "Grandma and I are going to walk so far that it is like walking from your house to St. Louis or Springfield and then back!" They had been on drives to both cities and in their little minds knew that it was VERY far. There were gape-mouthed expressions, eyes wide with awe, and more "Wows!".
On our first night in Barcelona Christine thought of another way to impress upon them the grandness of what was ahead for us. Using her cell phone, she called each household for a video chat with the "little people". Directing her phone out of our upper floor room to the evening panorama of Barcelona, she explained that we were so far away that while it was daytime in Kansas City it was nighttime where we were. The images held their attention and wonder.
4-year-old Britton, one of the three surviving quadruplets, broke the silence. Seeing the rush of evening traffic and the street below us he exclaimed, "Grandma! They have CARS in Spain!" "Yes Britton, just like in Kansas City." "Then why are you WALKING across Spain?!!"
From the mouths of babes…
Yesterday, now 15-year-old Britton, a muscular high school freshman nearing 6 feet tall and who plays football and wrestles, eagerly anticipated the day's mail.
Minutes after the mail arrived Britton sent me a text message and picture with the captions, "Yay!!!" and "My hair looks so bad!". His passport had arrived!
Next June, life and health willing, an odd couple will join thousands of other making the 800+ kilometer trek across Spain. One age 72, in the evening of life, and one 15 with life's lottery still spinning its wheel. One searching for his future through the telescope of imagination and the other reflecting upon his past through the bifocals of what cannot be changed. One with the experience of three prior Caminos, and one brimming with the excitement of tackling his first. Who is the teacher and who is the student?… well, that depends. What is certain is that there will be marvels each day for both of them, but only one person will have to polish the tarnish of years from his child-like wonder.
I will observe that there are still cars in Spain. "So Britton, why are YOU walking across Spain?!!"
Life comes full circle.
Peace Everyone. Pete
P.S. For those who have walked at least the last 100 km in a continuous journey to Santiago a reward awaits at the Pilgrim's Reception Office. First, one must produce evidence that they have completed the requirements of the journey. This is done in the form of a Pilgrim's Credential ("Credencial del Peregrino") upon which the stamps from lodgings, restaurants, churches, etc. are acquired each day to prove the journey.
Second, the trekker/pilgrim ("Peregrino") gives their reason for undertaking the journey. If for religious or spiritual reasons they are awarded the "Compostela", suitable for framing.
If, however, the journey was undertaken for some other reason such as health, pursuing a physical challenge, or just checking off an item on one's "bucket list", then the award is in the form of a "Certificate of Distance", also suitable for framing.
Thus, the question, "Why have you walked across Spain?", is actually asked of and answered by each of the thousands of pilgrims arriving in Santiago each year.