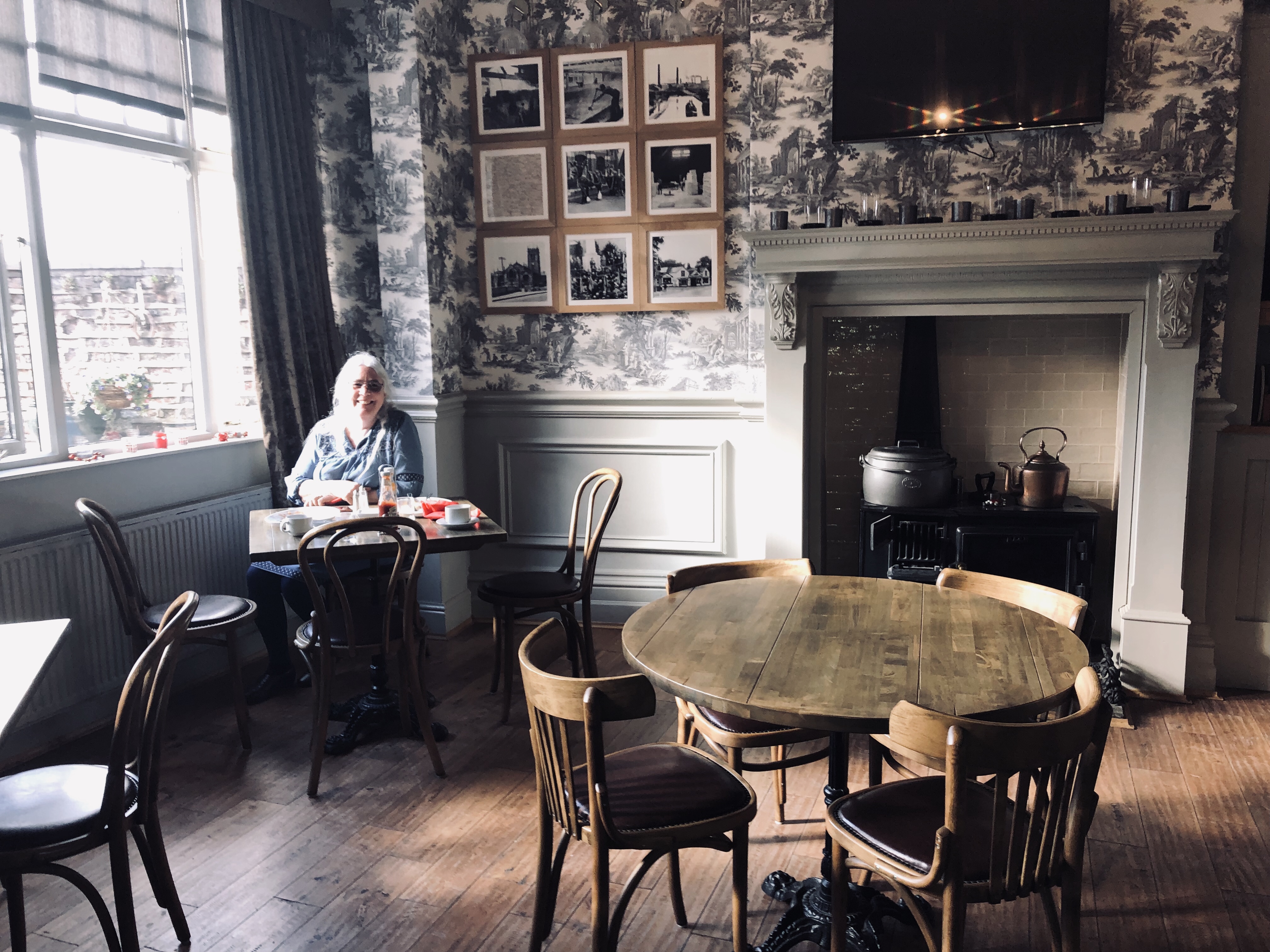 As transatlantic coach flights go, this one was less than torture and more than uncomfortable. Imitation seats, imitation food, imitation everything except that the flight crew was genuinely kind, attentive, and able to make the best out of mediocrity.
Happily, our bags were where they should have been and Andy of AK Hire was on time to deliver us to Middlewich.
Middlewich immediately impressed with its small town English charm. It is home to a number of pubs, a very old church, and the intersection of two canals that date to the 1700's.
We will be guests for two nights at the Boar's Head Inn, a classic pub/restaurant/Inn where our room for 3 will set us back 75 Pounds a night, including "Full English" (breakfast).**
We arrived at the Inn at 9 a.m., and although check-in was not until the afternoon we were given our room immediately and provided breakfast as well!
Tomorrow the proprietors are driving us to catch a day train to Liverpool. Friday there are taking us shopping to help us provision food for our canal journey. Remarkable hospitality that one would never find under a Hilton or Holiday Inn marquee.
Kris Ashton wasn't expected until the afternoon and my Christine was suffering an acute lack of sleep. Breakfast done, Christine headed for bed and I headed out to explore.
I found myself drawn to the canal like a magnet! In a matter of minutes I was visiting with the staff of Andersen Boats and viewing our 61 foot long "home" for the next three weeks.
One piece of bad news: A lock on the Cheshire Ring Route has been closed for emergency repairs. However, there is a silver lining to this "cloud". The alternate route I have chosen includes the Llangollen canal that is world renowned and a designated World Heritage site. It was the canal featured in the July 1974 issue of National Geographic that originally inspired me to Britain's canals.
I then proceeded to walk along the canal that will be our departure route on Friday. In less than 30 minutes I had struck up conversations with the crews of two vessels and was lending a hand with the locks for Martin and Mary, owners of the narrowboat "Otter". If half the people we meet are as friendly and fun loving as they seem to be then there will be more journeys like this in our future.
Our friend Kris arrived in the afternoon and happily she is as excited for this adventure to begin as we are. She joined me for my third walk of the day along the towpath. Walk #2 was in the company of Christine. In all, I put in 5 miles "pacing" the canal today like a caged animal. I will let my pictures at the end of this post express the beauty of the day more eloquently than my words can.
Our day concluded with real English cask ale, a marvelous beef stew served with Yorkshire pudding, and a packed pub cheering Manchester United on in their efforts against Barcelona in Premiere league play.
Peace Everyone. Pete
**PS. A full English breakfast at the Boar's Head consists of juice, coffee, a fried egg, potatoes, two sausages, baked beans, sautéed mushrooms, a generous serving of ham, and (my favorite) black pudding… which is a form of blood sausage.