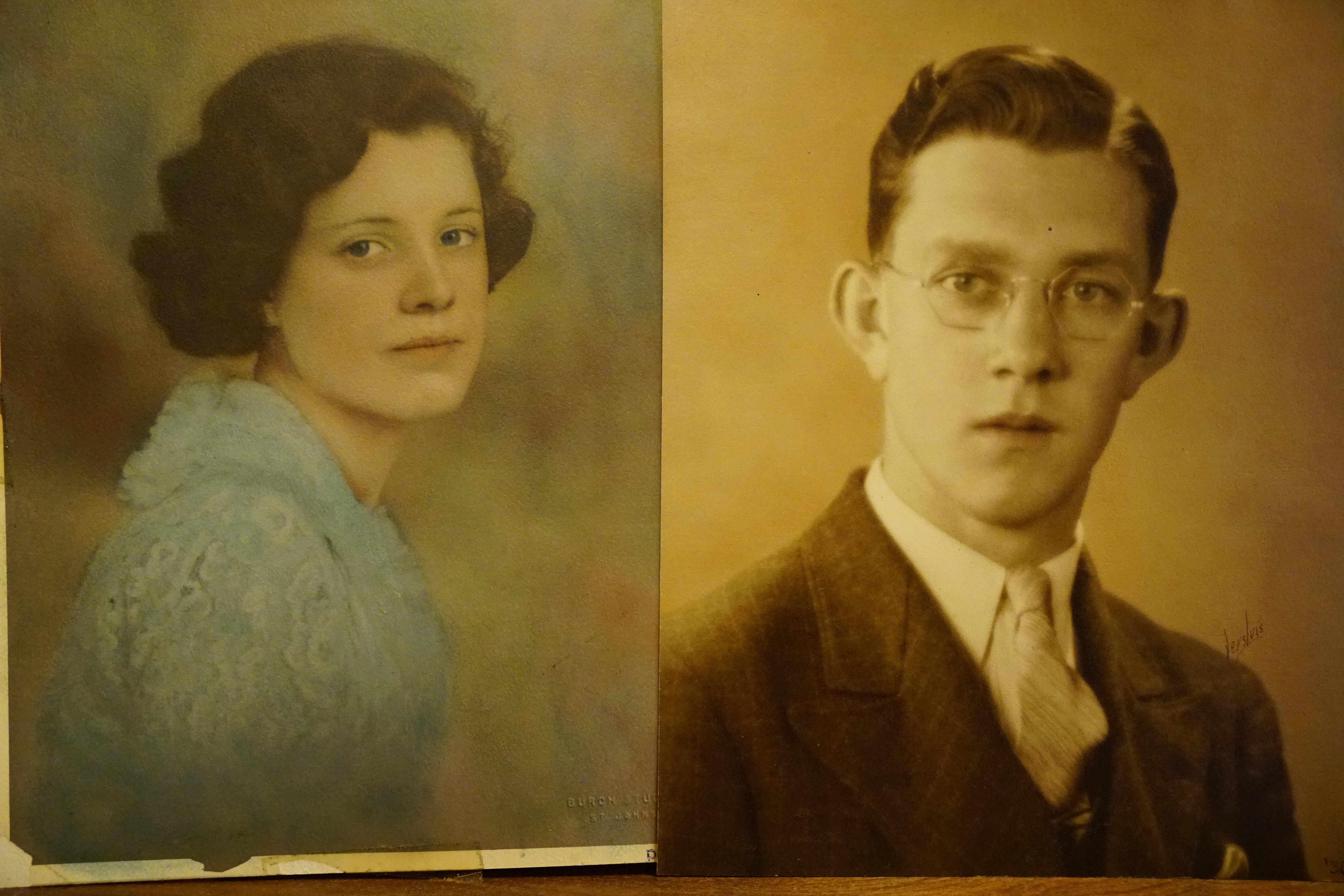 "Bill" Nichols drew his first breath when men still gave their last in the trenches of Flanders Field, "Over There". "In Flanders fields the poppies grow between the crosses, row on row…".
He was one of seven children raised by Al and Kitty Nichols on their farm in rural St. Johns Michigan. He was not quite a teen when the ravages of the Great Depression descended upon America, but the deprivation and want experienced by those in its cities was largely ignored by those born into the austerity of rural America. For Bill and his family if you wanted eggs you gathered them. Milk, cream, butter… the cow waited the daily touch of his experienced hands upon her engorged udders. Fresh produce? It was found outside in carefully cultivated rows next to the barn. Canned goods? They had been put up by Mother in the Fall and were found in the cellar with the root vegetables… food to sustain the family through the arctic cold that would annually descend upon the region. "Organic", a term unknown to those of the day, aptly described life for those of the Nichols family where everything qualified as "organic". 
Early in his youth one could see something very special emerging within Bill. He was a standout in local and State 4-H competitions. His keen intellect was ever devising solutions to commonly encountered problems on the farm. Bill developed the attitude that once he decided upon a course of action the "how" merely awaited discovery. He epitomized the axiom, "Where there is a will there is a way", perhaps better stated in his case, "Where there is Bill, he will create the way!"
As sharp minded children often are, Bill was willful. Fearing the disapproval from their parents, he and his love (first and only), Doris, eloped. They were 18 years old and for the next 74 years that they shared they would laugh about the 42 days during which Doris was older than Bill. Doris was 93 when she passed, however Bill had long ago decided that he would live to be 100, often declaring, "I'm going to live to be 100 and then Lord come take me!!!" …But I am getting ahead of myself.
Bill and Doris went on to begin their family and complete their educations, he in agricultural and food sciences and her in education. As with so many other young couples of their generation the orderly progression of life was interrupted by the strife of World War 2. Bill's entry into service was initially deferred to allow him to complete work on the development of the powdered egg. While that mission lacked the glamor of the Manhattan Project, it did touch the lives (and dinner plates) of virtually every American soldier in the war. His "mission" successfully completed, Bill was enlisted into the Army's Quartermaster Corps. He attained the rank of sergeant and was among the very first American troops to enter Hiroshima on the heels of its destruction and Japan's surrender in 1945. Bill does not often speak of the devastation that he witnessed firsthand, but he laughingly attributes his longevity to the radiation he was no doubt exposed to, "I was atomically preserved and nuclear energized!"
Shortly after the war Bill and Doris moved to Kansas City, Missouri. The first 2 of the 5 children they brought into the world had been born before the war. 3 others followed post-war with a span of 25 years separating oldest to youngest. They would bury two of those children, one an Airman in the service of his country, and the other a daughter, victim of cancer in adulthood.
In Kansas City Bill and Doris started their own business, the W. A. Nichols Company, where he developed and manufactured poultry processing equipment while Doris managed the office. He was awarded patents for his innovations, valued by the poultry industry. Those inventions were largely unknown to the general public, however most of the ubiquitous metal wires that secured the legs of America's Thanksgiving turkeys had been shipped from their small warehouse.
I met Bill in the Summer of 1974. I had moved to Kansas City out of college in pursuit of my career and shortly after arriving met his daughter, Christine. She would become my wife in 1977. In those early years my relationship with Bill Nichols was not always "easy". Such may be expected when larger personalities vie to occupy space in a relationship with one whom they both love. Whatever stresses existed between us were resolved by the mutual respect that developed for the abilities and accomplishments of the other. 
In 1978 Bill created an opportunity from the charred remains of a home that was located in an upscale neighborhood of Kansas City. The property was for sale at a discount because of the perceived cost and challenge of removing the remains of the burned structure. Bill designed a new home that would incorporate the foundation and some intact elements of the former structure thus saving a considerable amount in construction costs. My friend Greg and I were employed to demolish and remove the portions that could not be salvaged. We were second year law students with the time (and need of money) to accomplish the project. Armed only with crowbars, sledge hammers, and a chain saw, we filled nine semi-truck sized containers with the refuse that had been the original home.
Life for Bill and Doris continued in story book fashion. Their successful business was closed at retirement. Bill and Doris spent a significant amount of their time "on the road", exploring North America in their motorhome and eventually settled full time in Florida. Doris passed in 2011 and Bill continued in pursuit of his quest to be 100. At 98 he was still occasionally driving his Mustang convertible and, taking nothing for granted, he renewed his driver license. Although he has now quit driving, he still proudly displays the license observing, "Its good until I'm 105".
In August of 2017 Hurricane Irma, with its category 5 winds, took aim at the heart of Florida. Bill's home was at the center of the hurricane's track. Christine acted to arrange for Bill's evacuation to our home in Kansas City. At 99 years old, Bill managed to fly unaccompanied to Kansas City, negotiating the busy airports in Florida and Atlanta without incident. His Florida home sustained only minor damage in the storm, but the handwriting was on the wall. At his advanced age and without family in Florida, he could not return there. His house and car were both sold. Christine has since found him a new home in an assisted living community near to us. From August of 2017 to the present she has near single handedly seen to the management of his care. There is now a softness in Bills eyes when he sees her, a smile comes to his lips and his arms extend to her for an embrace. No doubt the love was always there, but it never found expression as it does now… "I love you honey, very, very, much… always have and always will." Bill has decided that he will stick around for his 101st birthday. I have no doubt that he will.
Peace Everyone.
PS: In writing this I have found renewed respect for the abilities, intellect and work ethic that have defined William A. Nichols over the course of his first 100 years. Moreover, I have been struck by the parallels that emerged in the life of his daughter who is my wife, Christine. She too was a willful child who left home at an early age. Christine pursued her undergraduate degree after first starting a family. She founded her own successful business, built a new home from the opportunity she saw in the destroyed remains of another, and in retirement she has pursued travel across North America with RV in tow. Of his 5 children she was the "stealth child", least anticipated to achieve success but revealed to be recipient of the fullest measure of Bill's talents. They each have much to be grateful for in the life and love that they share.