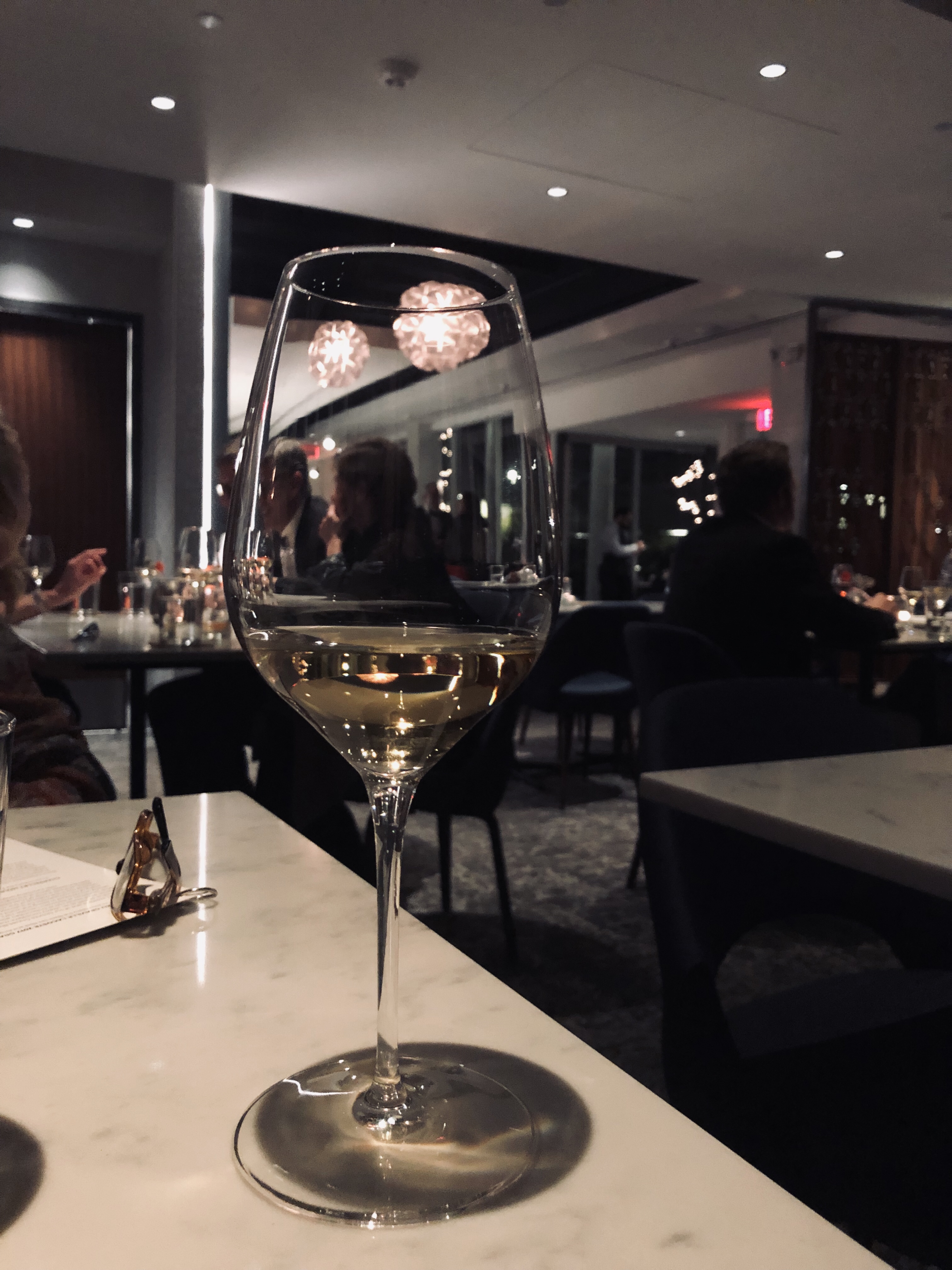 2.1 miles, precisely. 2.1 miles is the measure of my near daily morning drive to the gym. It is a pleasant drive through an upscale neighborhood, past parks, 2 country clubs, and along the road that separates Missouri from Kansas. Many of the homes along the way are imposing structures of the early 20th Century, planted upon estate like grounds. Any one of them would cause a traveler to stop and take notice, but since they are many, their commanding presence is diluted by the sheer number that give them the illusion of commonplace. I have long ago ceased to take notice, the habit of the drive becoming a time for my thoughts to wander without direction.
Some time ago I was briefly shaken from my lassitude by an awareness of the unfamiliar. At the intersection of Shawnee Mission Parkway and State Line road is an office building that dates to the 1960's. In the last few years it has undergone a renovation that preserved aspects of its mid-20th Century modernism, yet presented the fresh face of glass and metal that are favored today. The casual observer would presume the building at 1900 Shawnee Mission Parkway to house professional offices and in this one would be correct. However, it is also the unlikely location for an event venue and "The Restaurant at 1900". My curiosity was briefly piqued but at the end of 2.1 miles my thoughts had traveled elsewhere.
3 weeks ago my eye again caught the understated marque sign that announced "The Restaurant at 1900". I was reminded that mention of the restaurant had occurred in casual conversations with friends and that it was developing a favorable word of mouth reputation. Arriving at home I searched online for the establishment. The website announced a special New Years Eve fixed price dinner. 5 courses with wine pairings. There was no information on the course selections but the reservation link indicated that only a few seatings remained open. In spite of the princely sum quoted and that payment was required in full upon making the reservation, I selected an 8:15 p.m. table for two.
It had been years since we planned an evening out for New Year's Eve. That and a Christmas that did not include any big ticket items provided me with ample justification. Christine was thrilled.
We dressed for the occasion, a rarity for me in post-retirement. No jeans. I still draw the line at wearing a tie. Black slacks, a grey Irish merino wool turtleneck, plaid Irish wool sport coat with full length green Austrian "loden" overcoat worked well. Christine found me handsomely dignified with my ensemble accentuated by my silver white hair. For Christine, dressing well is effortless. Her pewter hair cascades elegantly across her shoulders ending like a waterfall's crash at her waist. It is thick to the point that strangers often find themselves compelled to reach out and touch it. At times this can be a bit unnerving for her and them.
The doors to the restaurant were manned by tuxedoed staff, and a few more tuxedos were to be seen among the restaurant patrons. Ladies in their evening gowns were everywhere yet the atmosphere remained relaxed. I was silently giving thanks that I had resisted the urge to wear blue jeans.
We adjourned to the bar while waiting for our table. I had the restaurant's signature Manhattan which alone will cause me to return in the near future. Christine enjoyed an excellent vodka Martini, served "dirty" (a splash of olive juice) as she prefers.
The readiness of our table timed well with the conclusion of our drinks. We were seated and made introductions with our server, Rachel. The mark of an experienced professional server is the intuition to quickly know the "temperature" of the guests… warm and willing to banter, or cool and more reserved. We are definitely of the warmer variety and it took Rachel less than 30 seconds to figure that out. Fun, personable, yet never shirking in her primary duty to present dinner as an event to be savored. The first order of business was to make our selections for a dinner that would extend for 2 1/2 hours:
1st Course: We each optioned for the excellent Pheasant Minestrone, though I was sorely tempted to select the Wild Mushroom, Apple, and Scotch Whisky Consommé.
2nd Course: Christine savored the Russian Salad while I lingered lovingly upon the Sea Scallop, Blood Orange, and Watercress Salad.
3rd Course: Sunchoke Rissoto with Alba White Truffles… It just kept getting better and better!
4th Course: We were both called to the Pan Seared Tenderloin of Beef and Foie Gras. Perfectly prepared, perfectly presented, but I was beneficiary some of Christine's Foie Gras… my good fortune that she does not usually eat liver in any form.
5th Course: Without hesitation we both chose the Chocolate Ganache Layer Cake, and there were no regrets!!
With each course was a paired wine as selected by Master Sommelier Doug Frost. Typically, I reject the conventions of "this wine with this dish…", preferring to drink a wine that I like be it red or white regardless of the meal. Mr. Frost may have changed my thinking on this. I found his wine selections marshaled with my food choices to be such that the whole was greater than the sum of the parts.
We found that the straightforward elegance of The Restaurant at 1900 was conducive to reflective and relaxed conversation. Mercifully we were able to speak across the table and be understood without raising our voices… a rarity while dining these days. I enjoyed one slight distraction. I was seated at an angle that permitted me a glimpse inside the kitchen during the moments that staff entered and exited. I was reminded of the experience of being aboard a luxury cruise ship. There is a stark contrast between the artistic decor of the passenger areas and the spotlessly clean yet sterile working areas within the ship. I was amused to watch the organized chaos of the staff within the kitchen area magically transform into slow ballet like precision as each crossed the threshold into the dining room.
It goes without saying that we will return to The Restaurant at 1900. Our thanks to Chef Linda Duerr, the faceless staff working tirelessly in the kitchen, to our server Rachel, hostess Angela, the other servers and bartenders and to Keith Goldman who manages this wonderful venue. You all provided us with an evening to remember and an intense desire to return for dinner and another exceptional Manhattan!
Of course for us the evening was about much more than dining. We watched as 2018 passed into the promise of 2019. With each course we indulged in one more reflection upon how we might be better parents, grandparents, spouses, friends… No regrets. Life is a process and not a destination. May your Journey through the New Year be full of Fun while you Do Good and Care For Yourself for the sake of those who love you.
Peace Everyone. Pete
PS: Among the "mysteries" Christine and I contemplated were the dynamics of family; hers, mine, and ours. There is much source material in those thoughts that we exchanged, but not to be shared here or now.