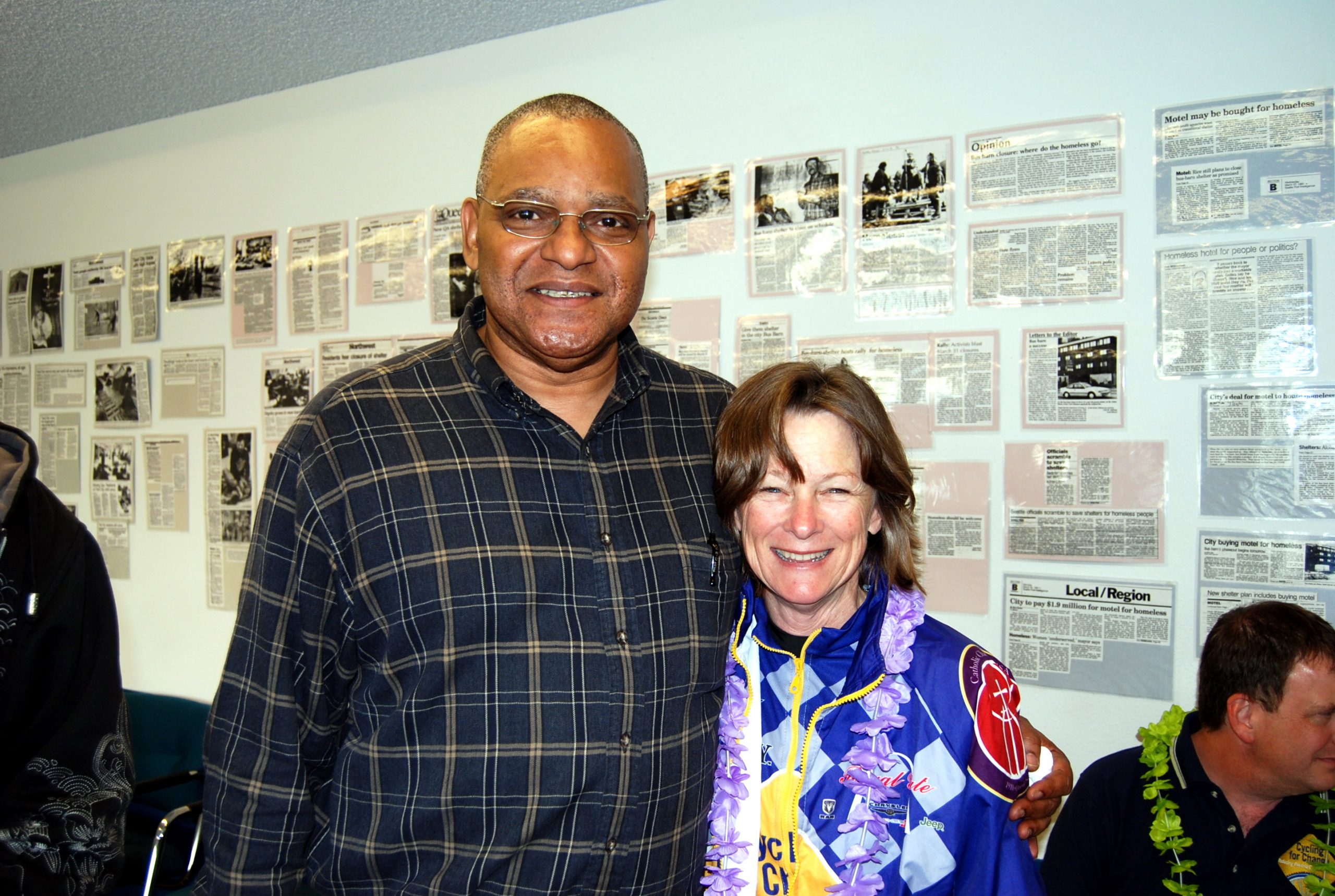 The weather on the morning of May 30th, our second riding day, was a carbon copy of the first day, cold and rain.
Over the course of the Summer we never had the option to defer a day's ride due to the weather. Sub-freezing cold (Wyoming) or sweltering heat (107 degrees in Mississippi), driving rain or gale force winds… it didn't matter. We had a schedule of reserved accommodations and hosted events to attend. Skipping even one day would throw the entire schedule into chaos.
Seattle lay 135 miles ahead of us, too far for a single day. We would arrive in Seattle on June 1st after overnights in Port Angeles and Edmonds Washington.
The ride to Port Angeles was 50 miles. Our accommodations were at a Day's Inn.
Dinner was hosted by the St. Joseph's Parish Knights of Columbus Ladies Auxiliary in the town of Sequim. This was the first of many dinners provided to us on our bicycle "pilgrimage" by parish churches. Pun intended, I quietly referred to our hosts as "Ladies of the Knights".
As fate would have it this was the home church for the daughter of my grandfather's brother. Kathi Hagstrom and I had connected by phone and email, but never met in person. After dinner we visited at her home and would return for a visit 7 years later. Sadly, she passed away in 2019 a victim of cancer.
From Port Angeles we rode 63 miles to Kingston/Edmonds, a day that included the new experience of a ferry crossing. We waited in line for the ferry, bikes in hand, along with the more traditional transportation.
In Edmonds we dined courtesy of Catholic Charities of Seattle and spent the night of the 31st at the Convent/Rectory of Christ the King Parish.
June 1st was a short 13 mile day as we were scheduled to be guests for a lunch and afternoon presentation and tour of The Aloha Inn Transitional Housing facility.
Aloha Inn is a Catholic Charities sponsored resident-managed emergency shelter with supportive services for up to sixty-six homeless adults and couples without children. Aloha provides these folks with the opportunity to obtain work and save money to secure a home and get back on their feet. Residents are required to contribute 15 hours of work each week for the program in return for their room and board.
The residents have a direct role in the management of the facility. Services include: Housing counseling, Employment assistance, Individual counseling, Drug and Alcohol recovery support, a medical clinic, and monthly legal clinic.
We older riders did not mind a short day now and then. The younger ones had to find ways to creatively burn off their excess energy.
…and of course there was Mass. I have very few regrets from the ride, but one of them is that I did not keep notes on Matt's thought provoking daily sermons.
Next: Seattle to Castle Rock.
Peace Everyone. Pete