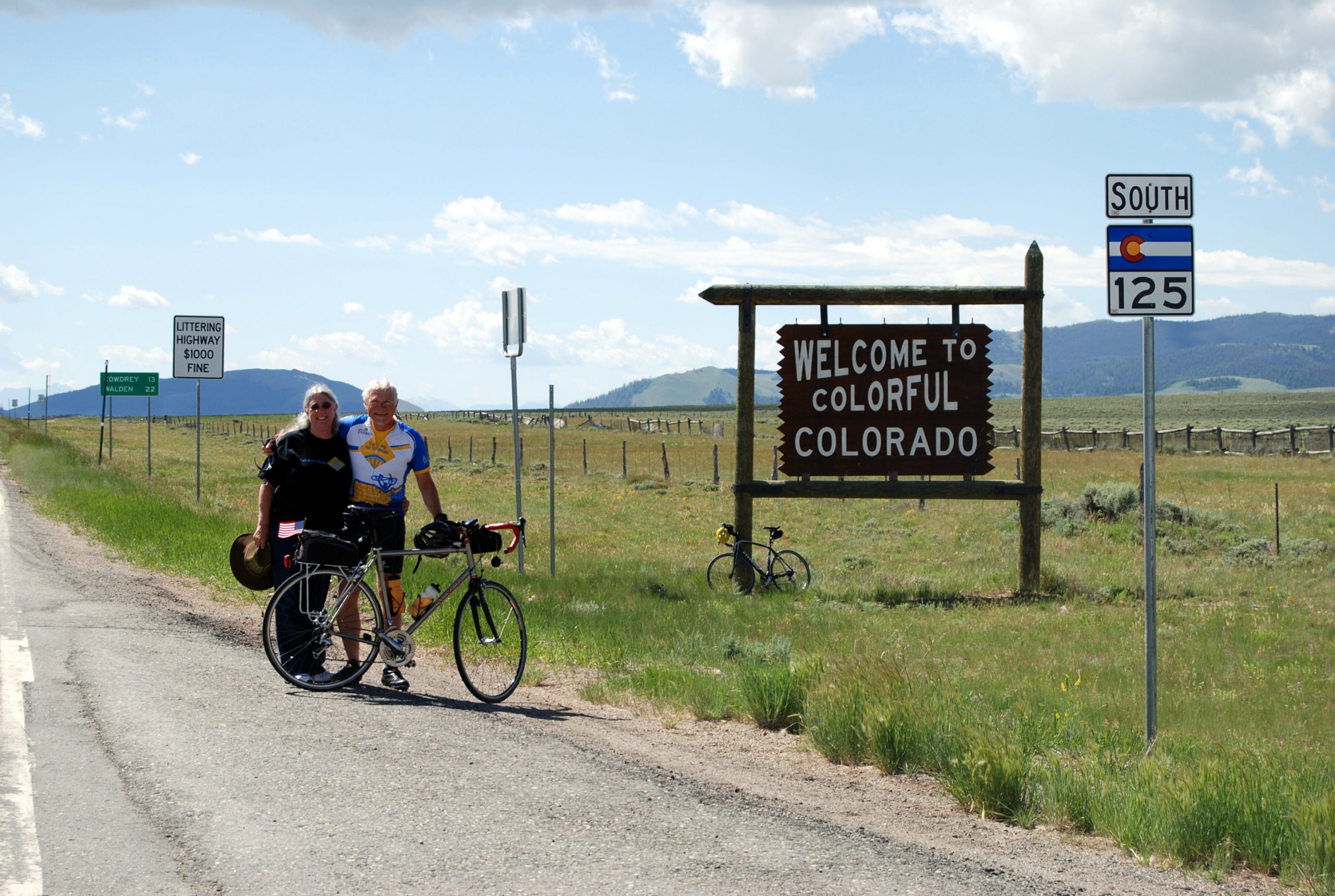 There are three States whose borders are comprised solely of straight lines, Utah, Wyoming and Colorado. Of these only Colorado and Wyoming are enclosed on just four sides.
On July 3, 2010, C4C crossed from Wyoming into Colorado. We would spend the next 9 days in Colorado, covering nearly 560 miles over 8 riding days, an average of 70 bicycle miles a day.
In spite of those numbers we found time to connect with friends and family who came out to cheer us on.
Claudia York, a gifted Kansas City trial attorney and friend of the Whittakers and us , had turned in her lawbooks for a career in Colorado as an EMT in Colorado's backcountry and ski slopes.
The Whittakers were met by two of their daughters, Mary Pat and Sarah.
We were joined by our daughter Renee' and her three surviving quadruplets, Simon, Britton, and Delaney (Delaney is seen in the arms of C4C rider Sarah Terhune…
and finally Christine and I were met by Greg and Rebecca Tempel, a friendship shared over decades. Much to my (feigned) surprise Greg made an impulse donation to our efforts.
The ride into and through Colorado represented a fundamental change in our experience. Over the preceding 1,700 miles we had climbed from sub-tropical coastal rainforest through a massive river gorge into mountain high country where in spite of being on the cusp of Summer we endured near freezing and freezing temperatures. We had crossed nearly ten mountain passes and crisscrossed the continental divide perhaps as many times. We were strong and our bodies had long grown accustomed to work at higher elevations.
Southern Wyoming and north central Colorado were high plains country. Arid, flat, and empty.
Roads seemed to extend endlessly into the horizon. The crossing into Colorado was marked by one of those iconic "Welcome to Colorful Colorado" signs that beckon travelers to stop and make it a photo opportunity.
Quite a contrast from the more pedestrian Wyoming sign on the other side of the road.
Between Walden and Fort Collins Colorado lay our last crossing of the Continental Divide and the highest elevation of the journey, 10,276 foot Cameron Pass. It was literally all downhill from there.
Our already full riding calendar included a number of events, many of which were courtesy of the connections of our fellow C4C rider, Jason Christiansen. Jason hailed from Colorado Springs where he was CEO of Catholic Charities.
We celebrated Independence Day in Fort Collins and enjoyed a private tour of the New Belgium Brewery which was closed for the holiday.
Kristi Williams left our company having completed her role as a segment rider. We had added two new riders, Bob Russell and Richard Tadlock, both from St. Louis. In Denver and Castle Rock there were significant events held in our honor…
… Castle Rock's being a pancake breakfast for us and over 400 homeless citizens…
and the next day a picnic where we became a feature in the advertising of a sunglass manufacturer, each of us receiving a pair as compensation.
Between Denver and the Springs we had the opportunity to ride a shortcut through the private lands of the Jellystone Park Resort. The price… another photo-op, this time with the resort's owner.
Cyclists joined us as we rode into Colorado Springs, a rainstorm hot on our heels.
Alan Beauchamp, another Coloradoan who had provided assistance to us since Oregon, was a well-known rider and organizer of cycling events along the front range. Alan had arranged for a large group of "adaptive" cyclists to join us riding from Castle Rock into the Springs.
Sadly we were beset by a monsoon like deluge that washed out the event in mid-course. These guest riders were forced to shelter under highway overpasses.
On the evening of July 8th Jason had arranged for a private concert and photo-op with Grammy nominated top 40 recording artist Shawn Mullins.
As we left Colorado's front range for the plains of eastern Colorado and beyond, we found that our highway "adversaries" had changed from logging trucks to the huge implements of America's farm belt.
We also found that there were other hazards looming on the horizon.
Next: Dorothy, Kansas Is Not Flat.
Peace Everyone. Pete