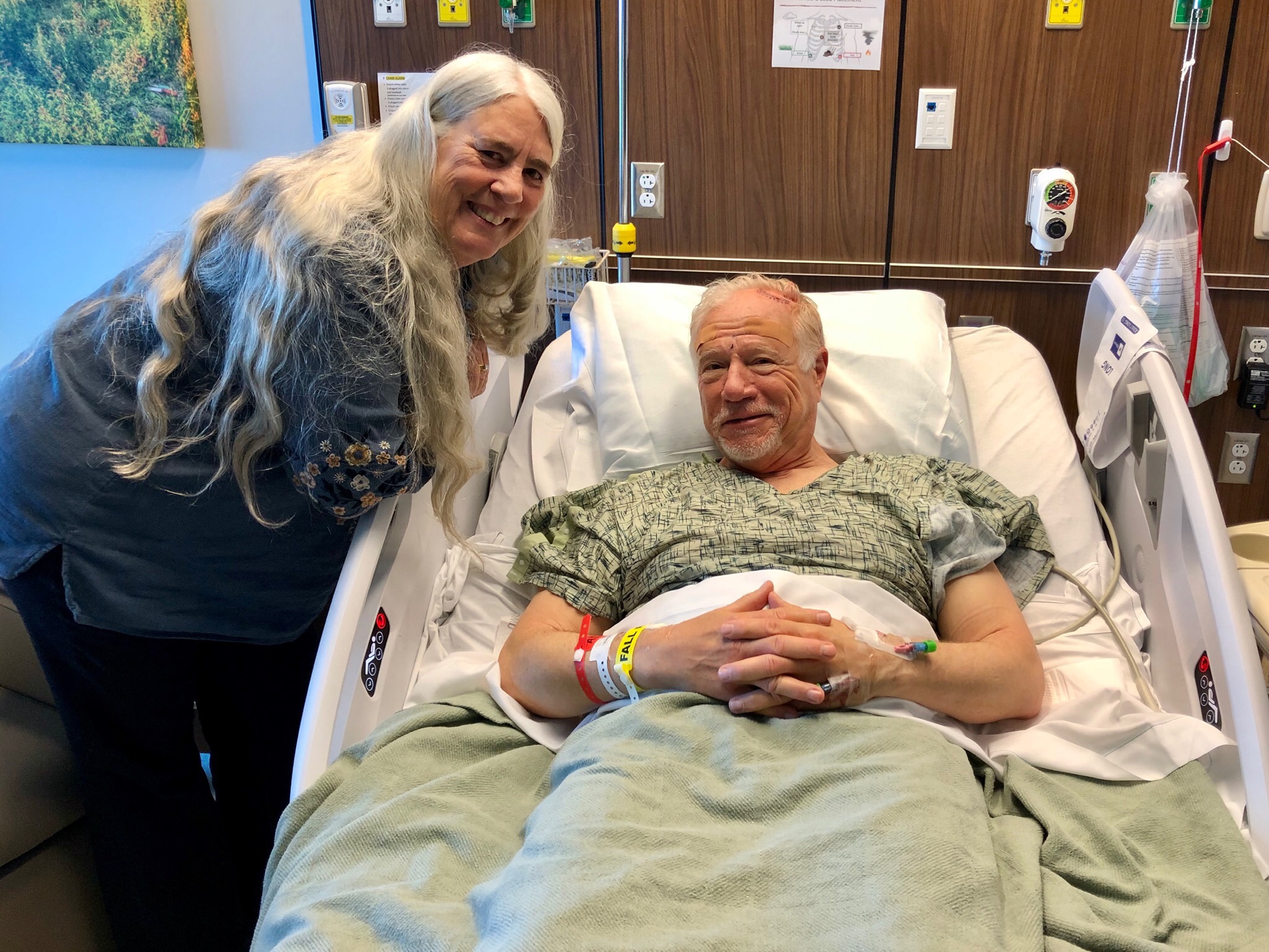 Written July 1, 2023. At Kansas City, Missouri.
On June 2nd, I underwent DBS surgery at the University of Kansas Medical Center. My recovery went amazingly well, until it didn't. On June 7th Christine was rushing me back to the hospital. I was suffering all the classic symptoms of a stroke.
But I'm getting ahead of myself.
For those "tuning in" for the first time here is a recap of what brought me to this point:
I did not come to the decision to undergo this procedure easily. I announced it to my wife in an open letter published as I was hiking in Spain last year. Here is a link to that letter:
I wrote in greater detail the specifics about the DBS surgical procedure. Here is a link to that post:
The day before my scheduled surgery I wrote a post that was both a conclusion to our travels in England and my pre-surgery update. Little did I know how prophetic the title to that piece was to be:
"Shake, Rattle, and Roll (the dice) Surgery"
The big event began the morning of June 2nd when I reported at 5:45 a.m. for Deep Brain Stimulation surgery (DBS). Neurosurgeon, Jennifer Chang, MD, would bore a small hole (about the size of coin) through the left upper area of my skull. My head would be immobilized while she inserts a tiny electrical implant into the left thalamus of my brain.
All was quiet in the pre surgery waiting room. Pre surgical prep went smoothly. I was relaxed and perhaps even confident. Some brief testing established a baseline against which my tremors could be judged during the surgery. I attempted to draw a straight line, a spiral, and legibly sign my name. "Attempt" aptly describes the effort.
Under anesthesia my head was securely immobilized, and the actual insertion of the DBS device was under way. At a point in the process I was brought to consciousness. I briefly struggled against my head restraint until my thoughts cleared and I drew focus upon the surgical staff. The tiny emitter which was now centered in the thalamus of my brain was activated.
Various settings were tried until the doctor was satisfied. I was asked to again draw some straight lines, a spiral, and legibly sign my name. Even in the foggy state of my recollection I was amazed that there were no tremors! The doctor reported to my wife and daughter that I had every reason to anticipate an excellent, tremor free, outcome. Post-Op recovery was made all the more tolerable by my nurse.
I spent the night in the hospital for observation. Pain was manageable. The surgical site was not pretty, but hair does grow back. I was discharged from the hospital the following day.
With the doctor's instructions that I was to significantly limit my activities, I began the process of recuperation. Tylenol was all that I needed to manage the pain. The most inconvenient thing was being unable to wash my hair for the first five days. All was going remarkably well, or so I thought.
On the afternoon of June 7th, I began experiencing confusion, numbness and tingling on the right side of my face, and an inability to make my right hand respond to my intentions. I was rapidly losing the ability to speak. I did not need words to communicate my distress to Christine. In a few minutes I was in the car and she was rushing me back to the hospital. Fortunately, it's only about a 10-minute drive. It would have taken longer for us to wait for an ambulance.
The emergency room appeared at capacity; however, staff quickly assessed my need for immediate attention. I was admitted quickly, and shortly thereafter I underwent a CAT scan. I was not suffering from a stroke, although the symptoms mimicked one. Instead, I was experiencing a brain bleed. This is a rare complication and more so in that it occurred days after the surgery. I remained in the hospital overnight and a second CAT scan confirmed that I was stable. The prognosis for complete recovery was excellent, but it would be a matter of weeks for that to occur. In the meantime, the second surgery remained scheduled for June 16th.
Whether a byproduct of the brain bleed or acute situational anxiety, I was in a panic. I have never suffered anxiety at such a level as this. I was prescribed Xanax which did bring some relief from the overwhelming feeling of doom that surrounded me.
On June 16th the controller was inserted into my chest and wires were routed from the original surgical site down my neck to the controller. This was an outpatient procedure. The controller is scheduled to be activated on July 17th.
My speech has mostly returned. I still have some difficulty finding words and clearly articulating those words. There is some residual slurring. Initially, it was a challenge to walk around the block. I am up to about two miles every morning and I no longer drag my right foot. Hiking across England just a few months ago seems like a distant dream.
I am still prone to the occasional moments of anxiety. Fortunately, it is nothing like what I initially experienced. I am no longer dependent upon Xanax for relief. I have lost 12 pounds as the result of a loss of appetite. I would have much rather lost that weight through healthy eating and exercise!
If there is a "silver lining" to the storm clouds of this experience it is a deeper appreciation for the assistance and patience of my wife, Christine. I cannot imagine these last few weeks without her care.
A second silver lining can perhaps be found in the realization of how fragile our abilities are. Writing this post has taken at least twice as long as it would have in the past. I have a newfound appreciation and empathy for those who suffer from anxiety and stroke. The anxiety is not related to rational considerations. It is vague, undefinable, and yet crushing.
A couple of years ago a lifelong friend suffered a stroke. He tried to explain how his thoughts could not be brought into words. In this too I have a newfound appreciation. For days after I suffered the brain bleed, I could think concepts, I could see the concepts, and understand the concepts. Try as I might, I could not communicate the concepts. It is a feeling both frustrating and helpless. Here again my wife Christine displayed a gift of understanding. Rather than put words into my mouth, she would patiently wait for me to do my best to explain what it was that I was trying to say.
As I said in my prior post: "The likelihood of the "unthinkable" occurring is less than 1%. However, this is major surgery and unlike my arm, which is an arm, or my leg, which is a leg, my brain is the essence of me."
Christine and I have had a real wake up call. We have experienced a glimpse into disability that we were not prepared for.
Peace Everyone. Pete
PS. I am not yet entirely comfortable out in public or engaging in social activities. Communication continues to be difficult, but nothing like it was a couple of weeks ago. I appreciate in advance the thoughts, wishes, and prayers of my friends and family. I hope all will understand that I cannot yet engage in deep conversations. "Thank You" will just have to do for now.