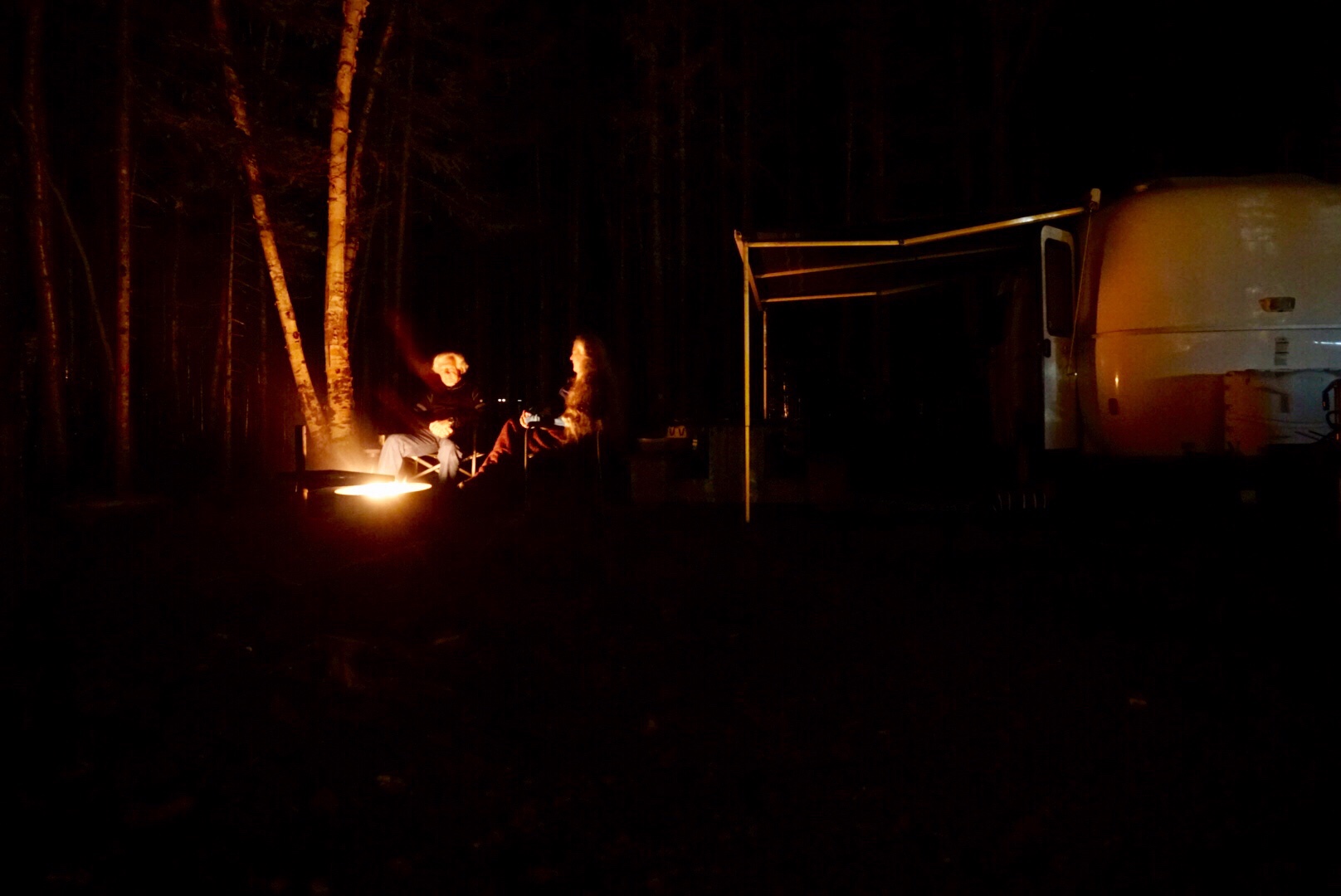 The Quebec City KOA provided us with a morning opportunity to do laundry before driving the 175 miles to Parc National Fjord-du-Saguenay. I shared the laundry facilities with Bob and Joyce, retirees from Valparaiso Indiana. They may be the last Americans that we see for a while as we proceed northeast into the more remote regions of Quebec.
"Urban camping" is decidedly behind us now. The drive ascended from near sea level into the wilderness hills of Parc National de la Jacques Cartier. The highway was sparsely traveled, wonderfully scenic, and abounded with warning signs cautioning of moose and other large mammals crossing the road.
3/4 of the way to our destination was the town of Chicoutimi and a Walmart. Entering the town we provisioned fresh vegetables at an upscale farm stand that displayed some of the most beautiful veggies we have ever seen. The fields that sourced the produce surrounded the stand. Prices were "special", but then we are in an area where the weather can conspire against the farmer. $29 bought us 5 large tomatoes (this was $9 of the total), some potatoes, carrots, onions, and mini-cucumbers. Worth every penny, and as a bonus Christine managed her transaction in French. Walmart provided the rest of our shopping list. We found at the farm stand and at Walmart that English is less common in this region. When it is spoken it is decidedly a second language.
Leaving Chicoutimi we encountered our first sightings of the Saguenay River which will become the fjord as it approaches the St. Lawrence.
The Fjord-du-Saguenay is the largest fjord in the world to be found this far south. The cliffs in the park extend over 60 miles and are renowned as a nesting place for the endangered Peregrine Falcon. The waters are a habitat for Beluga Whales, and at the confluence of the St. Lawrence larger whale species may be encountered, including the endangered Blue Whale, known as the largest animal to have ever existed. Individuals have been recorded up to 100 feet in length and weighing 380,000 pounds!! We are virtually assured of seeing the smaller Beluga, and I am crossing my fingers to sight a Blue as we continue northeast along the St. Lawrence. We understand that we will also be approaching an area where night views of the Aurora Borealis (the Northern Lights) are common.
We will be camping in the Parc National du Fjord-du-Saguenay for at least 3 nights. The small but excellent campground provides electric and water hookups, a clean shower house, and most unexpected a washer and dryer. Our first night saw temps drop into the upper 40's so a campfire was most welcome. The night sky was visible through gaps in the forest canopy and virtually exploded with stars. Tomorrow we have booked a day trip on a boat to explore the Fjord.
Peace Everyone. Pete