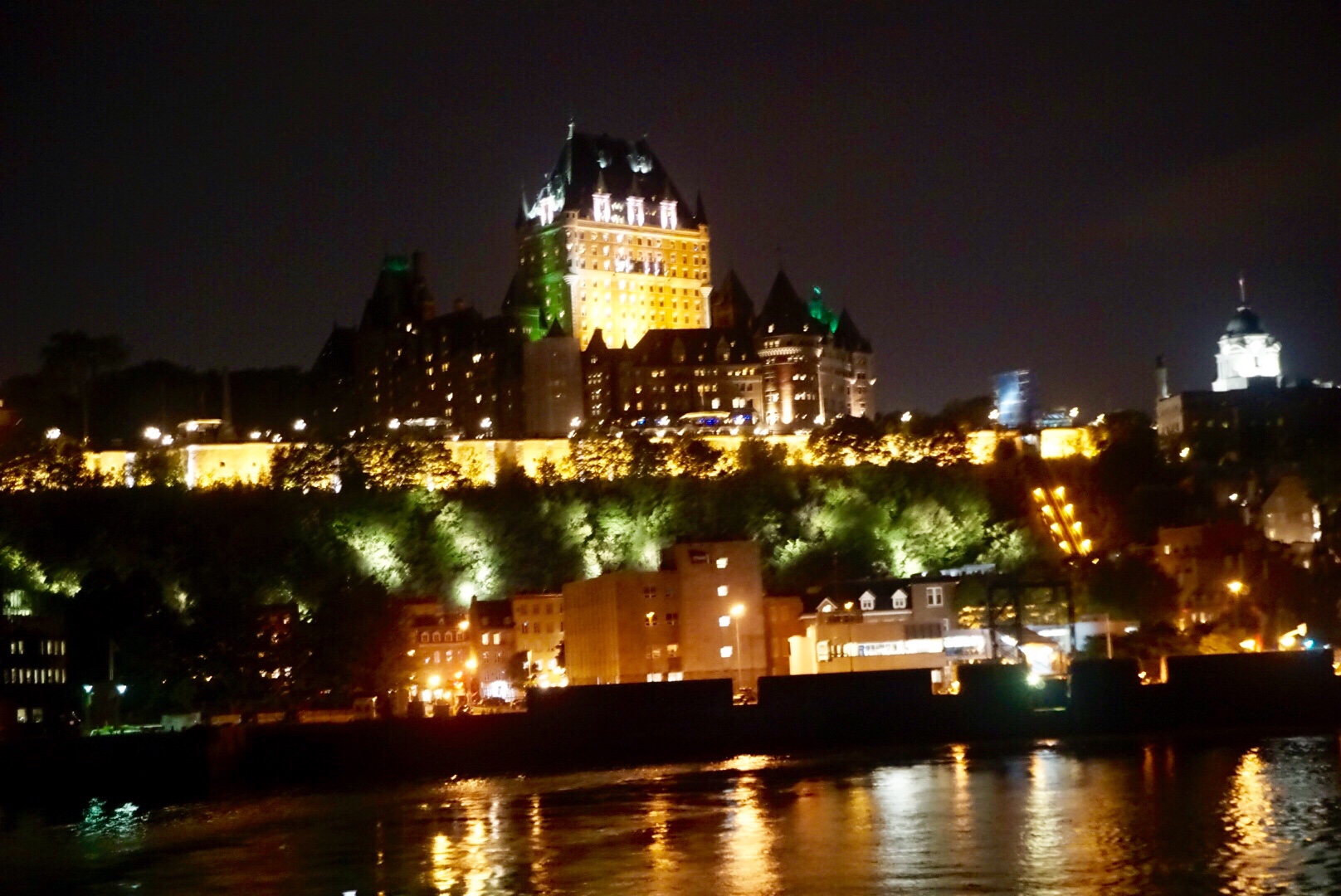 Quebec City was first settled by Jacques Cartier in 1535, but was abandoned the following year. It was again founded, this time by Samuel de Champlain, and became a permanent settlement in 1608. It is one of the oldest cities in North America. With it's intact fortress and classic old European roots, it was declared a UNESCO World Heritage Site in 1985. A walk down any of the narrow winding streets will transport one back to France of an earlier time.
We made camp about 15 minutes from the ferry docks on the south side of the St. Lawrence. We left the car behind at the dock and $6.00 purchased both of us foot passenger round trip tickets to the old city.
This was our second visit to Quebec City. For us the charm has not worn off. By day it is a bustling tourist Mecca with shops ranging from inexpensive tourist kitch to high end (and high cost) haute couture. If one remains within the old city it is easy to forget that Quebec City is home to over 500,000 residents and it is the center of government for the Province of Quebec.
The side streets abound with small boutique hotels and restaurants. "5 star" accommodations and dining are center stage. Indeed, the skyline of Quebec City is dominated by the phenomenal edifice of the Hotel Chateau Frontenac. It resembles a fortress Castle by day, but at night it is nothing short of magical. It is considered the most photographed hotel in the world. Built in 1893, it has 600 guest rooms arrayed on 18 floors. The base rate for a room is $600 per night with the "Gold Experience" floors upping the ante to $950 per night.
We concluded our visit with dinner at Restaurant Saint Amour. A true gourmet experience. Christine enjoyed a combination Beef Wellington and Filet Mignon. I savored the house specialty of Fois Gras with accompaniments and a second plate consisting of smoked octopus served upon Risotto infused with its ink. Remarkable!!
The return trip across the St. Lawrence provided a mystical panorama of the stunning skyline.
Tomorrow we head to the fjords of Parc National du Saguenay. The promise is for incredible scenery, grand hiking, and whale watching.
Peace Everyone. Pete