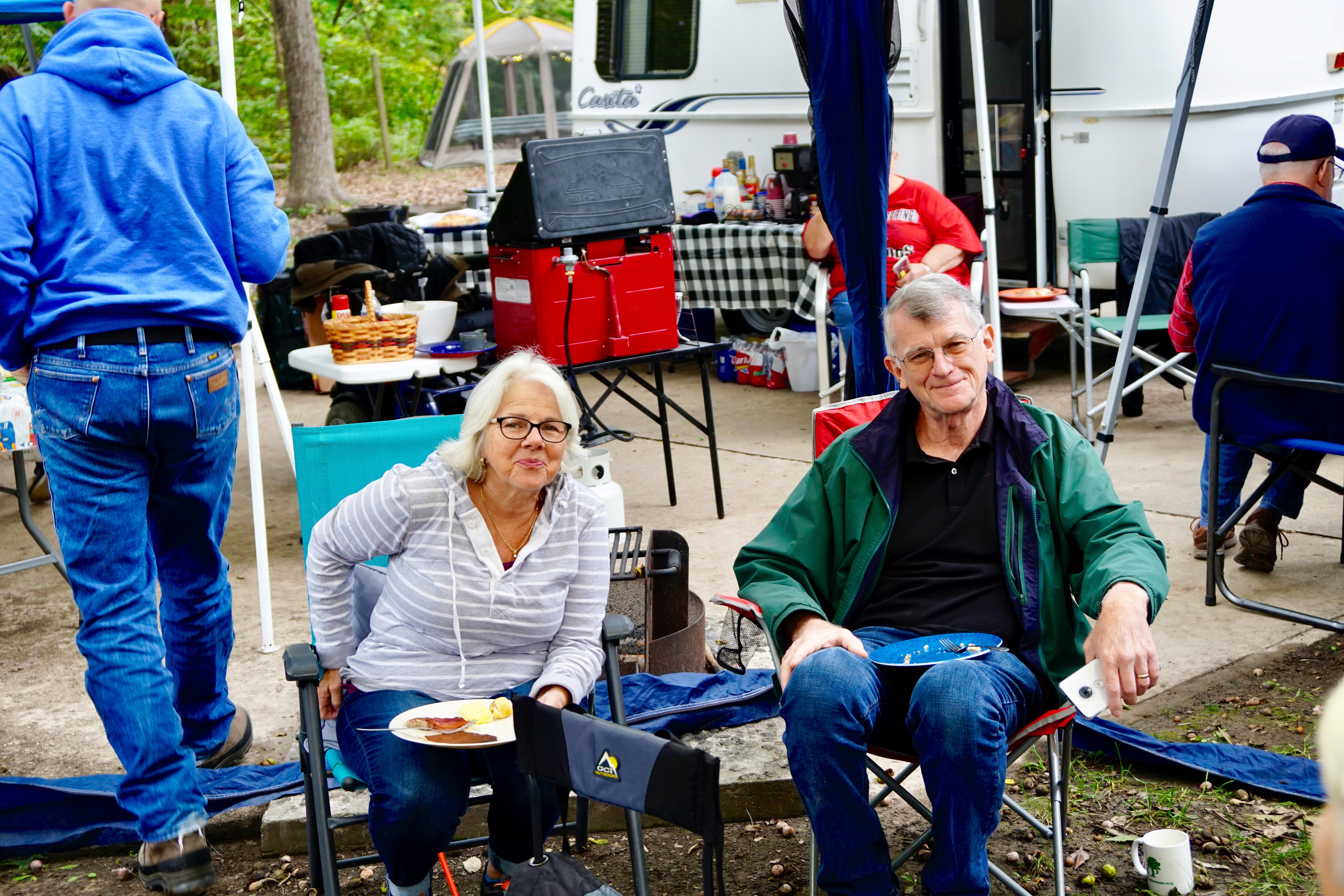 The KCMetro Casita+ Owners Group began in 2015. Shortly after Christine and I purchased our Casita trailer we learned that there were a number of other owners of this relatively "rare" breed of camper in the Kansas City metropolitan area. In fact, there were at least 5 within a mile of our home.
Casitas, and other fiberglass "eggs" are unique in that they are usually sold only by the factories that make them (no dealerships), they are compact, efficient, very solid, and they retain a remarkable percentage of their original price on the pre-owned market.
After a few months of camping Christine and I connected with other local owners and used Facebook as a vehicle to establish the KC Metro Casita+ Owners Group. Since 2015 we have grown to over 65 members and we represent over 30 trailers. While most of the trailers are Casitas, our group also includes Scamp, Oliver, and Escape brands, and a "non-egg" Sprinter RV. All makes of campers are welcome, even non-owners who are just contemplating the purchase. The only requirements for membership are a love of camping and a willingness to participate in our activities.
Each year the membership joins for 4 group activities. In the Winter and Summer we gather for a "Pot-Luck" Supper that is hosted at a member's home. In the Spring and Fall we meet at a pre-selected State or Federal Park for a weekend group campout. This year we met the first weekend of October at Missouri's Watkins Mill State Park, located approximately 30 miles north of downtown Kansas City. What follows is a summary of this years Fall Campout:
A few members made camp on Thursday, but most arrived on Friday. The weekend promised perfect Fall temperatures, but we were operating under a threat of showers on Saturday. We numbered 14 trailers and 25 members present.
On Friday evening we descended upon the Wabash BBQ restaurant in nearby Excelsior Springs for dinner and a group campfire followed. The main activities began early Saturday.
Like the Boy Scouts, we embrace the motto, "Be Prepared"! We erected shelters while Ted began turning out his crowd pleasing pancakes. As with dinner to follow, this is a "Pot Luck" affair with members displaying their camp cooking culinary expertise.
It was our good fortune that the rains held off until breakfast and cleanup had concluded. When the rains came it was with a vengeance! Many of the campsites became swamps, but we were not to be deterred from our enjoyment of the day. At noon the Watkins Mill State Historic Site opened for visitors, hosted by an array of period-dressed reenactors.
Born in 1806, Waltus L. Watkins left his family's farm in Kentucky at the age of 18. By his 22nd birthday this poly-math had become an expert weaver and machinist.
He moved to Liberty, Missouri in 1830, and in 1839 purchased 580 acres of land in northern Clay County where he and his wife established a farm. By 1880 his holdings had grown to 3,660 acres located in Clay and Ray Counties. In addition to farming he engaged in a variety of industrial operations that included a sawmill, grain mill, and brickmaking. Notwithstanding the energy that he dedicated to his commercial endeavors, Waltus found time to father 11 children with his wife, Mary Ann. Including workmen, boarders, and other family members the household usually numbered 15-20 people. The farm raised livestock, made butter, cheese, honey, and cured meats. During planting and harvest an additional 25+ hands were hired and fed.
In 1860 Watkins constructed his woolen factory which has been restored and can be toured for a nominal charge. Our afternoon did not include the Mill, rather focusing upon the special activities featured at the mansion, and nearby school and church. (The Mill photo and portrait are courtesy of Missouri Parks)
The Woolen Mill employed over 40 skilled workers and was powered by a huge 60 horsepower riverboat steam engine. The Mill closed in 1890, but over the 30 years that it operated it had produced many types of cloth, blankets, yarns, and clothing. Its goods could be found in every city and town within 60 miles.
Our tour of the home included visits to the various rooms which featured authentic period pieces, many of which were original to the Watkins family.
The home, started in 1850, took 4 years to complete. The rock-solid grand staircase had taken artisan carpenters 2 years to build and has not yet required repair.
Crafts on display included spinning, weaving, cider making, operations in the summer kitchen and a blacksmith at his forge. The well-arranged visitors center provided a wealth of information on the history of the Watkins Farm and Mill.
A short distance from the Watkins home are the restored Mt. Vernon Missionary Baptist Church (1871), and Franklin Academy School (1856).
The Church was active until 1917 and although there is no active congregation it is available for rental as a wedding venue. Its interior is original and authentically restored.
The octagonal brick school predates the public schools of the area. It was a "subscription" school where local families paid tuition which was based upon a family's financial means. The desks are original… the teacher is not.
By late afternoon the grounds had begun to dry and campers had retired to their individual campsites to begin food preparation for the evening gathering. Our contribution would be a Dutch Oven Lasagna. Others prepared a dizzying display of salads, mains, sides, and deserts. There would be few leftovers.
Rather than set up on the still damp ground, it was decided to make use of the wide paved driveway to gather for dinner. The sky had cleared for a spectacular evening meal, campfire, and even some antics with a Hula-Hoop.
By the end of the evening we had already planned and scheduled our 2020 Winter "Pot Luck" and Spring Campout.
Peace Everyone. Pete
PS. Coincidentally, Christine celebrated her birthday on Saturday welcomed by these good friends and Medicare. Life is good.