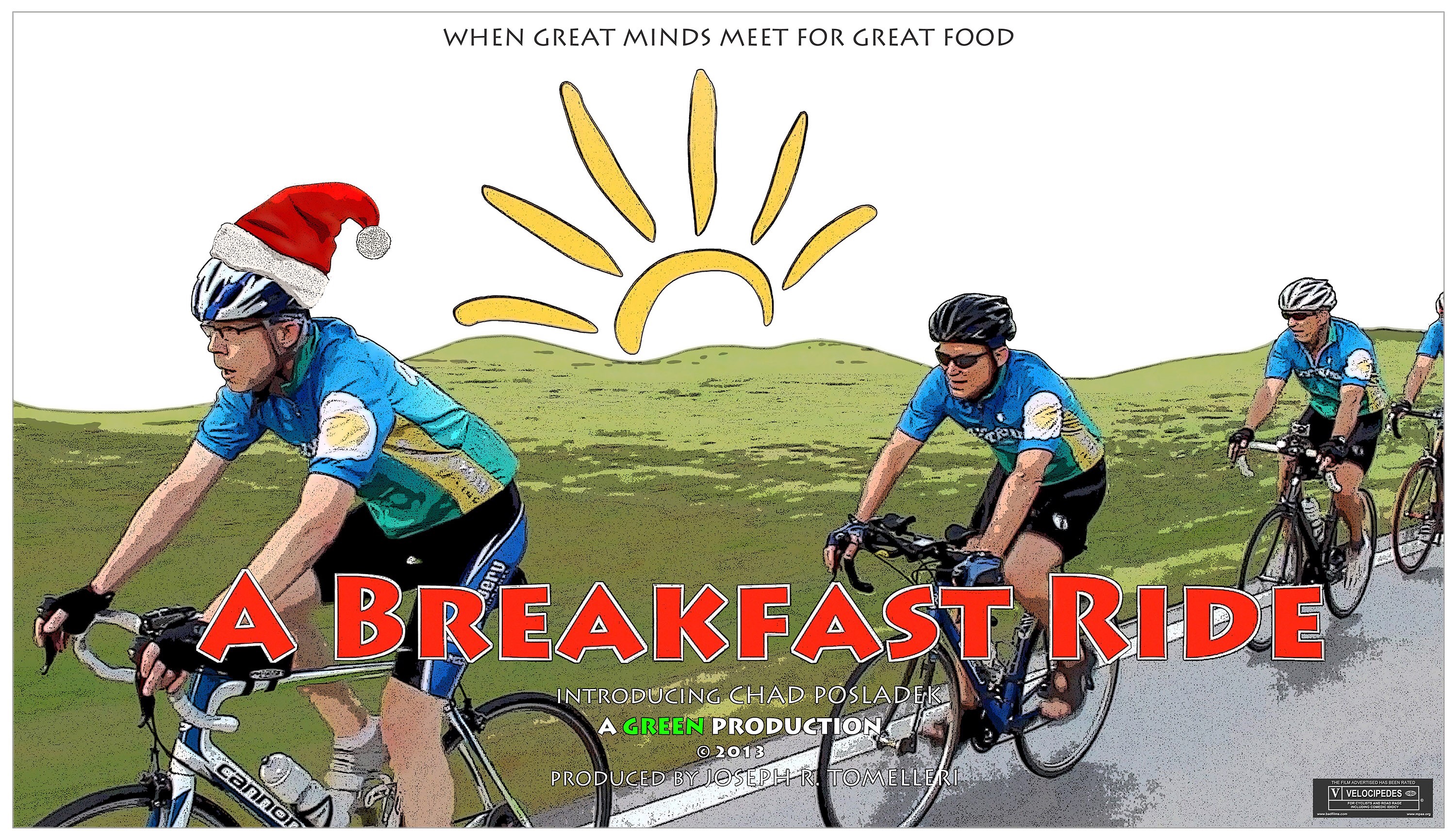 Ponce de Leon sought it in the swamps of Florida, Dorian Gray sold his soul that it might be preserved, and Peter Pan traveled beyond the "second star on the right" to avoid losing it. Eternal youth may be a fiction but retaining the spirit of one's youth is not. For the members of "The Gravy Train", the inner child is found at the end of an unremarkable driveway in Leawood Kansas and is exercised weekly from the seats of our bicycles.
(Some of us in days of youth… I'm third row, second from the right)
For over 15 years a small band of riders have assembled each Saturday, Sunday, and the odd weekday morning to ride their fragile creations of metal and carbon fiber. Powered by muscle, bone, sinew, and at times force of will, they briefly escape the responsibilities of adulthood. Clad in second skins of spandex and protected only by their helmets (which some may say are only good enough to preserve an open casket option) they leave before dawn, pounding the roadways of Johnson County Kansas and beyond. They are deterred only by rain and ice. Never by the cold. The inner child is energized!
I was welcomed into The Gravy Train as a rider in 2008. Each of the riders own a story of their path into cycling and then to the Gravy Train. Mine began in 2006 at the age of 54 during a family vacation.
My daughters had rented bicycles to ride about Rehoboth Beach Delaware. I was curious to test the old adage that once learned one can never forget how to ride. The bike was small, clunky, and a poor fit. 14 miles down the road and I was awash with the memories of my bicycling childhood… racing friends, jumping curbs, attaching playing cards to the fenders that the neighborhood might resonate with the sound of my imaginary motorcycle. Upon our return to Kansas City I bought my first adult bike, a hybrid.
Hybrids are a compromise. Not just as bikes, but perhaps as a symbol that the rider's commitment is made with reservation. My reservation lasted a little more than a year. In 2007 I ordered a custom fitted and fabricated titanium steed. Bikes do have "bells and whistles", and this one had all of the ones that a serious rider would recognize. It cost nearly twice what I had paid in 1974 for my first new car. "How much?!!?" Christine exclaimed at the time… "It's guy jewelry", was my reply.
I ride my "Seven" (the brand name) to this day. Over tens of thousands of miles it has launched me into the idealism of charity rides: cure cancer, cure multiple sclerosis, even cure poverty. It has taken me across Kansas, Missouri, and 5,000 miles across the United States. I have ridden up to 125 miles in a single day. I've gotten my money's worth and so have the charities.
There are fishing widows, golf widows, and bicycle widows.
Christine does not count herself a member of any of those groups. While she does not ride, she has been actively supportive in other ways, not the least of which was when she assumed the role of support driver, manager, and "herder of cats" for me and 11 other riders known as "Cycling for Change" who crossed the country on behalf of Catholic Charities.
As we neared Kansas City, The Gravy Train rode to meet us in Atchison Kansas and to my honor they escorted us into Kansas City.
The Gravy Train rides typically begin before dawn and end with a full day yet ahead of us. This tends to immunize us from complaints at home. Saturday rides cover at least 20 miles at a brisk pace. 10 years ago that might have been a 19+ mph average for me. These days my 67 year old legs can serve up the occasional 17 mph average. We stop for breakfast at a local First Watch restaurant where our arrival is anticipated. Sometimes server Alan has come out to hand me a cup of coffee just as I am dismounting. After breakfast we continue another 5 miles or so at a more leisurely pace, regaling in the experience that we are sharing.
The Gravy Train breakfast ride has even been memorized in a well executed, if tongue-in-cheek, video produced by our resident Ichthyologist, Joe T.
Tap on the picture to see the video.
Our group's name derives from the "Gravy Train", a breakfast item once featured by First Watch and favored by a few of the riders. I don't know if it still appears on the menu, but most of us now opt for a healthier selection.
The Sunday rides are a bit more relaxed and usually take in one of the areas upscale coffee houses.
Weekday rides are a serious hour in the saddle that ramps up the cardio-vascular system.
Other rides and events include tours of area Christmas decorations, rides to and from Lawrence Kansas that, depending on the route, put 70 to 100 miles on the odometer.
Members join many of the local organized event rides, some of which are competitive in nature. There are rides to Lake Lotawana and an annual Christmas party that each include our "significant others" in attendance. Christine and I look forward to hosting this year's Christmas gathering.
Our bicycles are the common thread that binds us. Rarely is there discussion of work, politics, religion or anything else that might detract from the celebration of our comradery.
I had ridden with the group over a year before I came to know of the other riders' occupational lives. The talents of the group include expertise in engineering, technology, business, medicine, architecture, and of course there is a sprinkling of lawyers. One rider is a nationally known ichthyologist and illustrator who is to fish what John Audubon was to birds.
When I first joined The Gravy Train we were in our 30's 40's, and a few of us were in our 50's. Today we have aged up a decade. I am currently the oldest active rider at 67. New blood continues to join and refresh our ranks.
It is common for us to ride in a "pace line". The lead rider holds a speed that he cannot long sustain. The following riders take advantage of the opportunity to draft in the front rider's slipstream. It is said that drafting reduces the effort required to sustain a speed by as much as 30%. Reaching a point of fatigue the lead rider leaves the line and coasts back to take a position at the rear, his original place being taken by the next rider. Down the line of riders the distance between a rider's rear tire and the next rider's front tire may be less than a foot as the serpentine line of cyclists reach speeds well over 20 and even 30 miles per hour.
A sudden surprise movement by any cyclist would spell disaster for all of those behind. Thus, hand and voice signals have been developed that warn of vehicular traffic, debris/irregularities in the road or that the rider is slowing or stopping. Our trust in one another is taken for granted, but not taken lightly.
I conservatively estimate that The Gravy Train rides cover over 30,000 rider miles in a year, over 300,000 miles since I joined the group. Skill and good fortune have been our protection from misfortune.
Rides are a treat for the senses…
A full moon dips below the horizon. The sky grows scarlet as sunrise approaches. Vistas of Spring greenery are the counterpoint to the blaze of Autumn color that we experience at opposite ends of the seasonal spectrum. Roads snake stream side with dips into valleys draped in dew laden fog.
Searing Summer heat requires two water bottles to maintain hydration, while in the cold of Winter the speed creates a wind chill that numbs the face, feet, and hands. No two rides are alike.
Returning to that driveway at the end of a ride I am often physically spent. However, I am always energized with gratitude for the friendships and experiences that I have shared with The Gravy Train. It's a good trade.
Peace Everyone. Pete
In Memoriam: Mark T. Fisher, Ph.D. (1954-2018)
I met Mark Fisher through our participation in another bicycling group. We became good friends and frequently rode together. Two years into our friendship we learned through casual conversation that we had grown up mere miles from one another in the south suburbs of Chicago. We further determined that his wife, Kathy, and I attended the same grade school and that his brother-in-law and I had been good friends throughout 8 years of parochial school. It is indeed a small world woven with complexity.
I introduced Mark to the Gravy Train. He became an immediate friend to all. Mark was an amazing bicyclist, proud that he did not own a car as he managed his daily commutes to and from work on his bike. Like the US Mail neither rain, snow, ice, cold, heat, or dark of night deterred him. This we knew about Mark: He was an incredibly strong rider, a loving father, and a devoted husband. He lit up our rides with his raucous wit and humor. He would have given any of us the shirt off of his back.
What Mark rarely (and only when pressed) mentioned was that he was a world class research professor in Biochemistry and Molecular Biology. His alter ego, Dr. Fisher, held a number of firsts in his field. He was a top world expert in "kinetic protean partitioning" and related topics that I haven't the slightest understanding of. He developed the world's first "chaperonin-based biolayer interferometer biosensor to detect pre-aggregate species of concentrated protein therapeutics". Mark authored over fifty published manuscripts, was awarded two patents, and delivered countless lectures nationally and internationally. To the Gravy Train he was always just Mark.
Mark died suddenly and tragically in 2018. His absence from our ranks remains palpable, and painful.