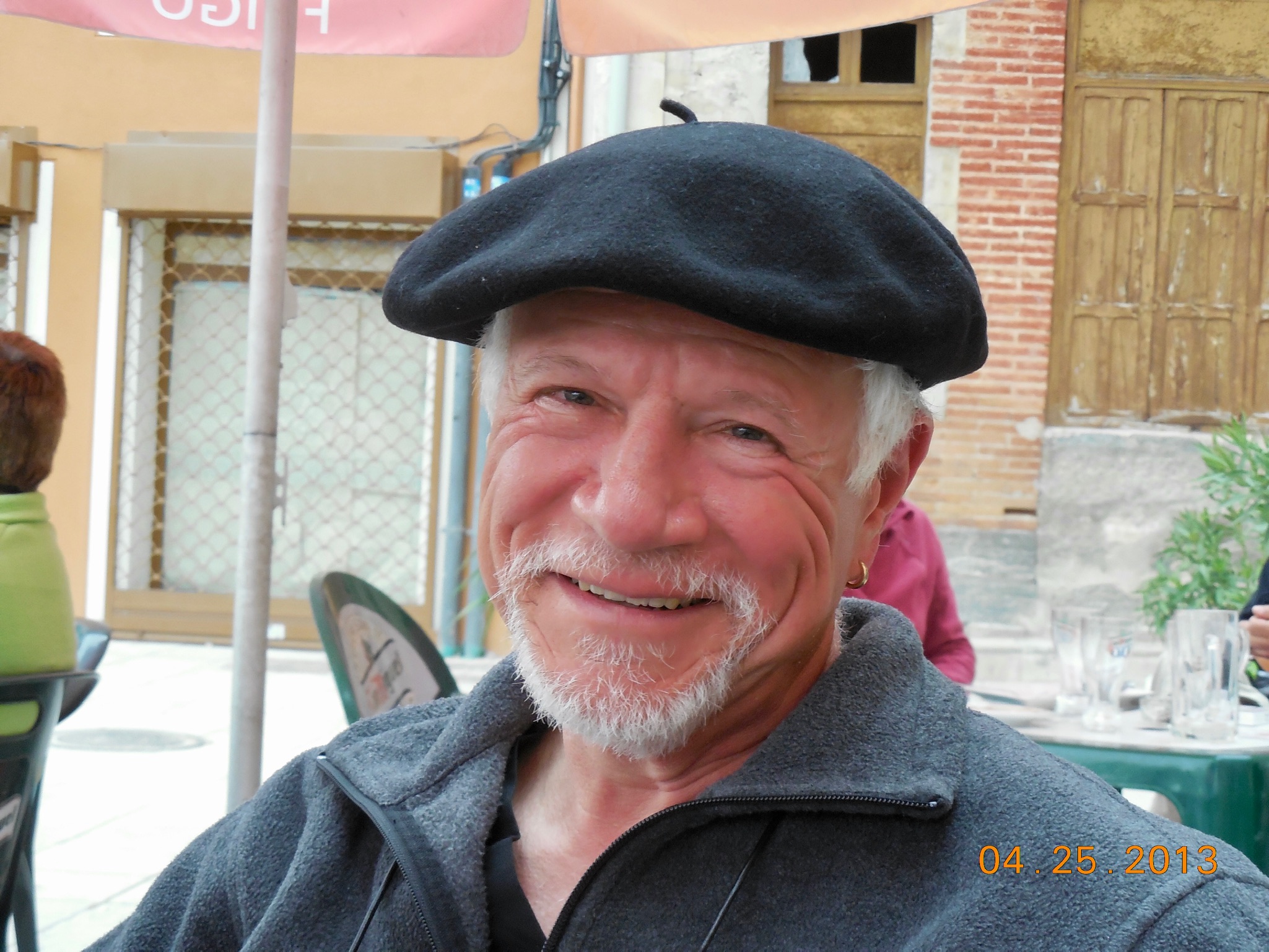 April 25, 2013. Santa Domingo de la Calzada to Belorado.
As days go on the Camino this one was fairly straightforward. 23km uphill across largely open country.
Leaving Santo Domingo we crossed the Puente del Santo (Saint's Bridge, built by the town's namesake) over the Oja River.
A few unpleasant kilometers followed the track of a dusty gravel frontage road along the busy (and noisy) Highway N-120. The heat of the day was building and with it glistening sweat that annoyingly bound road grime to the skin.
As if to provide us with some compensation for the inconvenience, markers appeared each kilometer to remind us of our progress.
Tantalizing visions of snowcapped mountains appeared to the north, hinting that there was cool fresh air to be found somewhere. The highest of these is Pena Vieja at 8,500 feet.
We came upon an unusual iron cross. It was large and unlike most monuments along the Camino, modern. I later learned that it was erected as a representation of a much older "Cross of the Brave" one that could once be found about a kilometer south off of the route.
Hundreds of years ago landowners from Santo Domingo and nearby Granon made conflicting claims to the same land. As a way to resolve the dispute short of war they submitted the matter to "divine judgment", each community selecting a champion who would represent them in trial by unarmed combat (a wrestling match). It was believed that God would decide the matter by empowering one over the other. Allegedly, the champion from Santo Domingo arrived with his entire body slathered in grease. Granon's resourceful champion, Martin Garcia, nevertheless prevailed by cleverly sticking his finger up the opponent's ass and thus throwing him to the ground. Indeed, the Lord does work in mysterious ways.
A few kilometers down the road we entered Spain's largest autonomous region, Castilla Y Leon. It is 11 times larger than the region of Madrid yet has a population of only 2.5 million. Nearly 400km of our entire Camino would be spent in this region.
The three-quarter point of our day brought welcome relief in the form of a pleasant park and fountain in the tiny town of Viloria de Rioja (pop. 70). This village was the birthplace of Santo Domingo in 1019. The Park is alleged to be the place of his baptism. Today a fountain provides a constant supply of natural spring water for thirsty road weary Peregrinos, such as us.
We found such fountains along the route of the Camino to be ubiquitous. Virtually all provide potable water, and those few that are not safe to drink from are posted with signs to that effect.
Belorado (pop. 2,000) capped a 23km day made longer by the heat and the long uphill 1,000 foot climb in elevation. A café/bar in the town plaza drew Peregrinos like moths to a flame.
Of course there was a ancient church to visit. Here it was the 16th Century Church of Santa Maria. It was built into the face of a cliff where ancient caves that once housed hermits are still visible.
We registered at the popular Albergue Cuatro Cantones where hiking boots and trekking poles must remain at the entrance. There was little chance of mistakenly taking another pilgrim's boots, but the same could not be said for the poles.
With pride, the Albergue featured a restaurant that served the pilgrims a dinner one could have expected at a finer restaurant.
Faces on the Camino:
"Eyes are windows to the Soul" is a phrase that has been variously attributed to a host of poets and philosophers, William Shakespeare, Leonardo da Vinci, Cicero, and St. Matthew among them. But what then if the soul is so overflowing with emotion that the eyes cannot contain it?
At the end of our day in Belorado I and a host of other Peregrinos found relaxation in the town's peaceful Plaza. As I looked from pilgrim to pilgrim I was struck by the joy that radiated from each face. Joy and contentment which were infectious.
With permission from each pilgrim I took a series of portraits seeking to capture and preserve the moment. Among the faces I have selected are several whose names and origins I no longer recall: Perhaps there are Peregrinos from that time who may read this post and remember.
Martin from Ireland.
Even our Chef at the Albergue, Fernando.
Peace Everyone, and Buen Camino. Pete