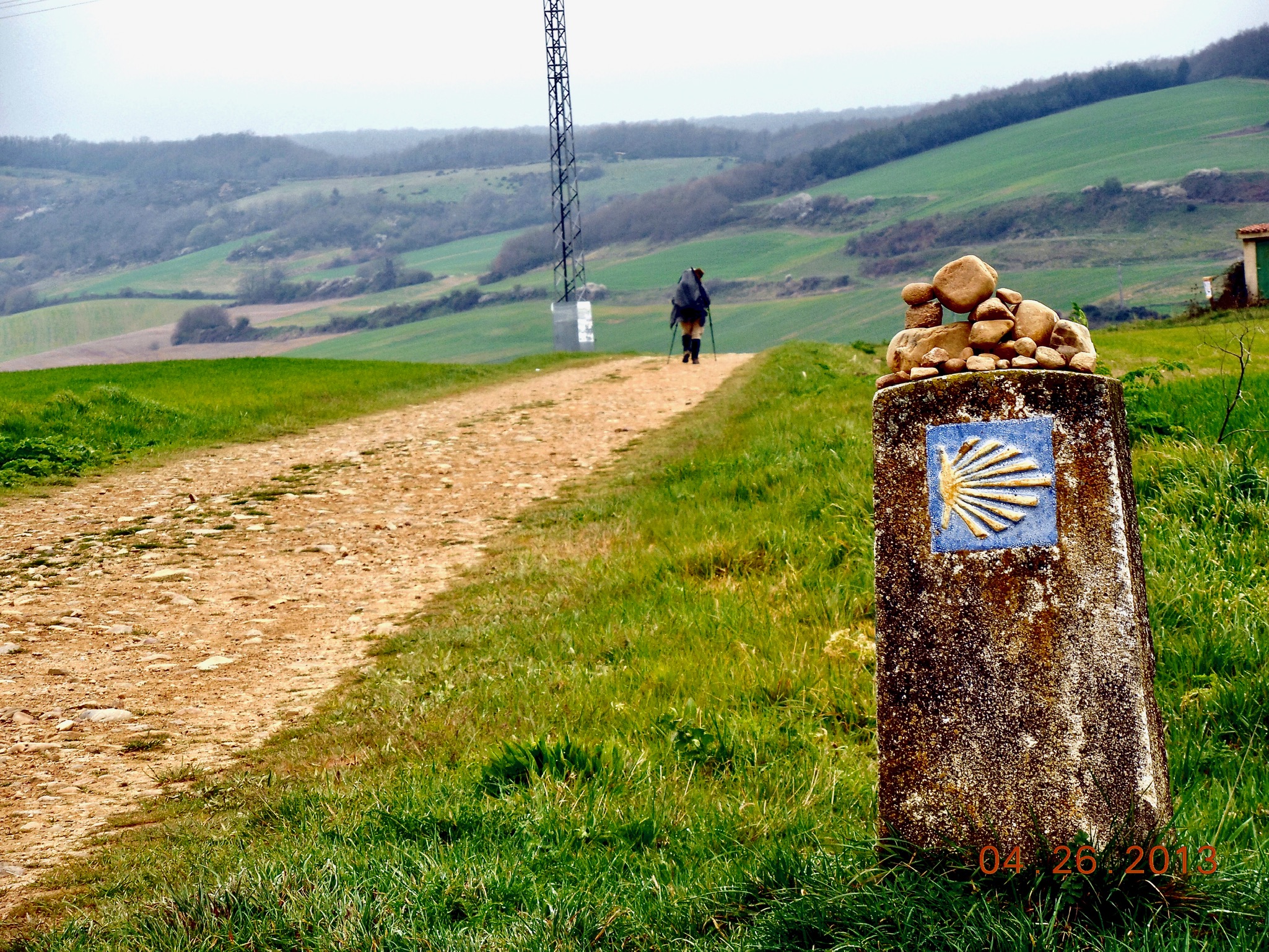 April 26-27, 2013. Belorado to Villafranca and on to Burgos.
We traded yesterday's heat and sweat for a day of cooler rain threatening skies. I suspected that any pilgrims suffering from arthritis were reaching for pain relievers.
Our ponchos were made ready for deployment and gaiters were securely fastened to prevent any annoying trail mud from finding its way into our boots.
Villafranca Montes de Oca (pop. 200) was a mere 12km down the trail. However, there was reason for our abbreviated day. We had learned that the little community featured a private Albergue, San Anton Abad, that was meant to be experienced. More on that later.
We crossed the Tiron River via a footbridge that paralleled the Highway N-12 bridge that replaced the one built centuries ago by Santo Domingo.
The path was shared by creatures more adapted to the damp earth. In some cultures these giant mollusks would be welcome guests for dinner.
800 years ago in the tiny village of Tosantos (pop. 60) a woman known as La Ermita lived in a cave above the town. She spent her life ministering to passing Peregrinos. In her honor the town built a church into the cliff and still holds an annual procession in her honor to the cave.
Our way wandered through the pleasant square and fountain of even smaller Villambistia (pop. 45).
These micro villages as well as the yet smaller Espinosa del Camino (pop. 36) each featured small Albergues.
Shortly before reaching our destination for the day we passed the ruins of the 6th-9th Century Monastery of San Felix de Oca. Originally built on the site of a Roman Villa, it is believed that the founder of the City of Burgos, Count Diego Rodriguez Porcelos (died 885) was buried here. The archway and ruins though sparce, were a moving testament to the ancient history of the path that we walked.
Having strolled a leisurely pace we arrived at the Hotel*** San Anton Abad shortly after noon. While not quite up to the standards of a Parador (a series of nearly 100 ultra-luxurious hotels in Spain built in castles, palaces, and other historical structures), San Anton Abad represented high quality for its full pay guests. For we Peregrinos it was palatial.
The owner, once a pilgrim walking the Camino, generously dedicated a wing of the Hotel to the hosting of Peregrinos. For only 12 Euros we were furnished with single tier semi-private accommodations set out in two dormitory style rooms.
Pristine bath facilities provided us with unlimited hot showers, towels and linens furnished.
The real joy was that we were welcome to join the "full pay" guests in the bar and restaurant. We were served with the same grace and aplomb and even acquired a bit of celebrity due to the nature of our journey.
There was an incident that darkened our stay. Christine and I slept in neighboring twin beds. Late into the night I was awakened by the yells of a woman. She stood over Christine, on the verge of reaching down to grab her. I leapt to my feet and thrust myself between her and my wife's bed. She kept repeating in broken English, "She Snores!… and She Coughs!" In turn I began responding with competing volume, "LEAVE HER ALONE!!!" Eventually the woman, who appeared mentally unstable, relented and left to sleep in the adjoining dorm room. I was shaken. What chance would I have had in a foreign country to defend myself from a charge of assault had the confrontation become physical.
Christine does snore, but no more so than the average adult. She also coughed that night. But in that room there were a few world class snorers. Among them Christine was hardly a medal contender.
What a change 48 hours made! We had gone from the dusty heat of the 25th to the cool threat of rain on the 26th to snow and near freezing temperatures on the 27th.
Burgos was nearly 40km distant, and Christine was not feeling well. She had never fully shaken the breathing issues and it seemed that her difficulties were flaring up in the form of a nagging cough. Whether it was the incident in the middle of the night or the lingering bronchitis, I felt it best that we make it to that large city rather than proceed by foot with an overnight in another small town. The snow and cold provided just enough justification that we proceeded with our packs to the nearby inter-village bus stop. We were not alone.
Instead of feeling a sense of failure at having to seek transportation the atmosphere among the waiting pilgrims became quite festive.
The bus ride itself was very pleasant and the more so as we were insulated from the frigid countryside by the bus's huge windows. An outside temperature display in the cabin further reminded us of what we were avoiding.
The entire ride, including stops, took less than an hour. Humbling, considering that we would otherwise have been 2 days afoot.
Burgos (pop. 170,000) is a destination city that features one of the three great Cathedrals on the French Route of the Camino.
We had planned to spend two nights in the city which negated the use of an Albergue since they generally only permit single night stays. That and Christine's health bid us to seek the services of a hotel. For the next two nights we once again gloriously assumed the roles of "Pampered Pilgrims", this time at Burgos' Hotel Norte Y Londres.
What I did not know was that dark and ominous clouds lay just over the horizon of our Camino.
Peace Everyone, and Buen Camino. Pete