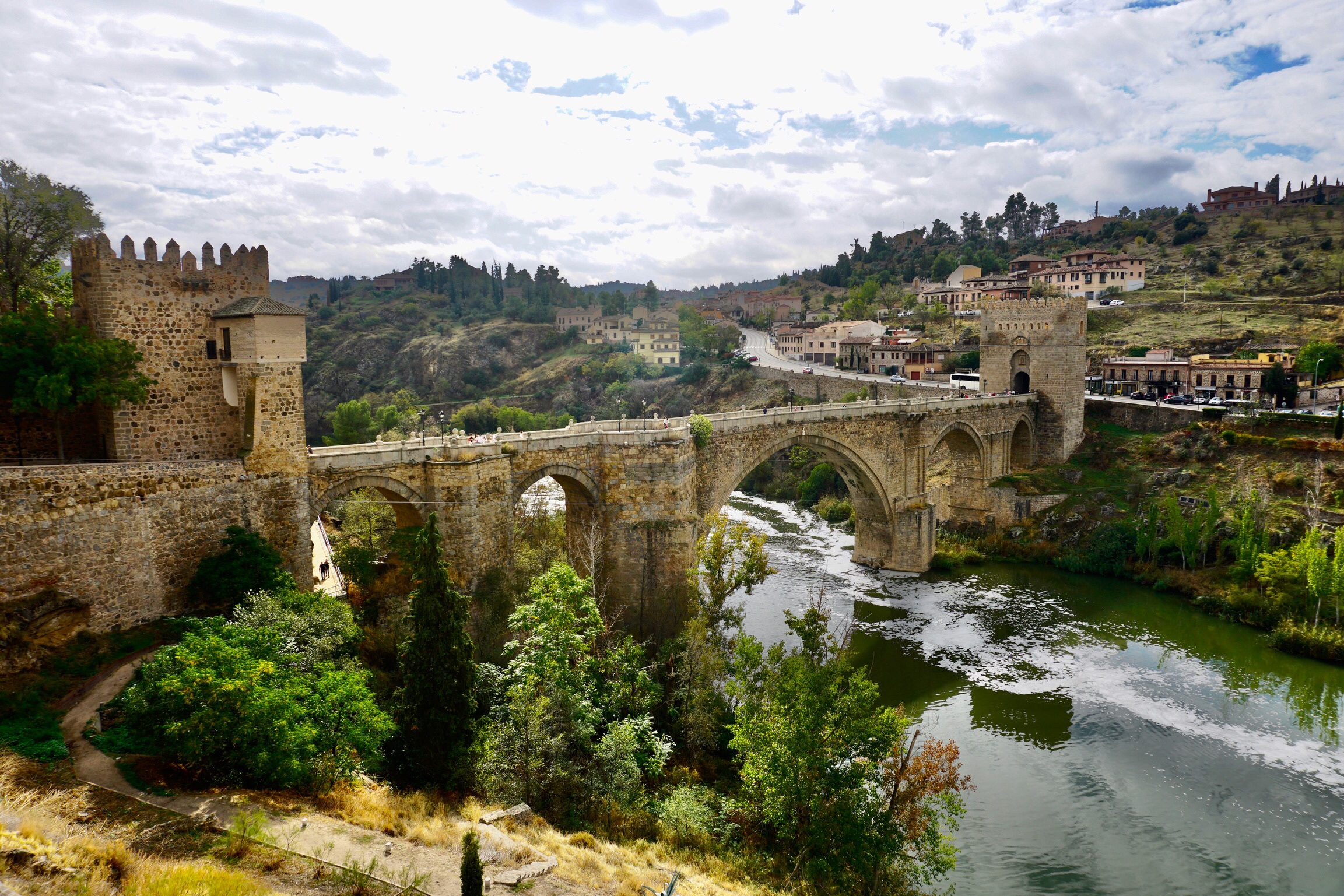 November 2, 2022. Aboard a Renfe high speed train between Madrid and Valencia, Spain.
Dear Christine. At the urging of a friend I spent yesterday in Toledo, Spain. It is only a 30 minute trip by high speed train.
I originally had scheduled to be there for a little over five hours but upon reaching Toledo I modified my ticket for a later return. I'm glad I did.
Toledo is a marvel! It has managed to retain the character and charm of a well preserved medieval fortress city while providing excellent tourist accommodations, restaurants, and accessibility.
I departed Madrid from the Puerta de Atocha station. It's an old station that has been modernized. Rather than destroy the old steam train canopy it has been turned into a greenhouse full of huge tropical plants.
At the Toledo train station I purchased the ticket for the "hop on hop off" service. It was my first impression was that it was a little pricey at €24, but that also included transport to and from the train station, along with a tour of and paid entry into the cathedral. Entry to the cathedral would otherwise have cost €10.
The train station would have been a bit of a walk to town, doable but the daunting part would have been the arduous climb to the citadel.
Muslim/Arabic architectural influences were immediately apparent at the station and throughout the city.
The old city is surrounded by a river that served as a natural moat in ancient times. There were remarkable arched bridges from those days. but they now only provide pedestrian access.
With the elevated city on one side of a bridge and the deep river separating the two sides, it is the perfect location for a zip line. If Tom were here I am confident that we would have done it.
By the way, I just looked up to see the train speedometer, 300 kph! That works out to over 180 mph. It is smooth, and I am in business class which borders on elegant. Comfortable leather seats that recline, a movie overhead, and an expansive view of the countryside. An attendant has made the rounds providing moist warm cloths to clean one's hands/face and breakfast for those who included the service with their ticket.
My initial impression was that accommodations in Toledo would be expensive. However, a quick look at "booking.com" indicated that there were also moderately priced options. I think this is a place that you and I should someday plan to spend at least two consecutive nights.
The city is full of museums and attractions. Some are "kitschy", like the torture museum and the catapult museum, while others are "must see", like the cathedral which is the center of Catholicism in Spain.
As with the other huge cathedrals, this one also featured a beautifully arranged and carved choir.
Most of the streets are narrow and winding which adds to the charm. It is very easy to get lost but since the central city is relatively small that becomes part of the entertainment. It's like wandering in a maze and discovering new things at every turn.
I had not intended to see yet another monumental cathedral, but "when in Rome (or Toledo) do as the Romans ("Toledans") do! This one did not disappoint. It is considered the second largest in Spain with the wealthiest collection of art and treasure.
The sacristy houses the worlds largest collection of original artwork by El Greco. There are 17 separate paintings by the artist in the one room. What is ironic is that Toledo has an El Greco museum but with fewer of his works.
As far as "treasure" the cathedral has a towering monstrance that stands about 10 feet tall. It is made from 40 pounds of gold and over 400 pounds of silver! It further incorporates the jewels that were once the property of Queen Isabel of Spain. This creation dates to the 15th Century.
Toledo is a photographer's paradise. I hope you enjoy these pictures. I started with nearly 150 images and painfully cut them down to these final ones.
When I returned to Madrid I decided to go back to the Plaza Mayor for dinner and a drink. The place looked like it had been hit by a hurricane! There was trash and discarded alcoholic beverage bottles everywhere. There was also loud singing throughout the plaza from roving groups of young, and obviously drunk, men. There was a heavy police presence. Needless to say, I left the plaza in favor of a quieter neighborhood.
My search was successful. In the restaurant/bar where I ate was a group of Irish football (soccer) fans. I struck up a conversation with one who is a teacher on holiday here to watch Ireland take on Madrid. He said that Ireland is heavily favored and added that Madrid is a good sport so there should not be any post game problems.
Well, enough for now. I hope you and Wendy are enjoying your day! The countdown continues. There are only three nights left before we join in Barcelona. Love, Me.
PS. I have arrived at my hotel in Valencia. It's more like a condominium that is managed by a company as a hotel. In any case, it's an amazing accommodation! I have a kitchenette with washing machine/dryer, dishwasher, cooktop, and refrigerator. I also have my own private patio. It is located in the heart of the old city and only cost $130 a night. What a relief after the last four nights.