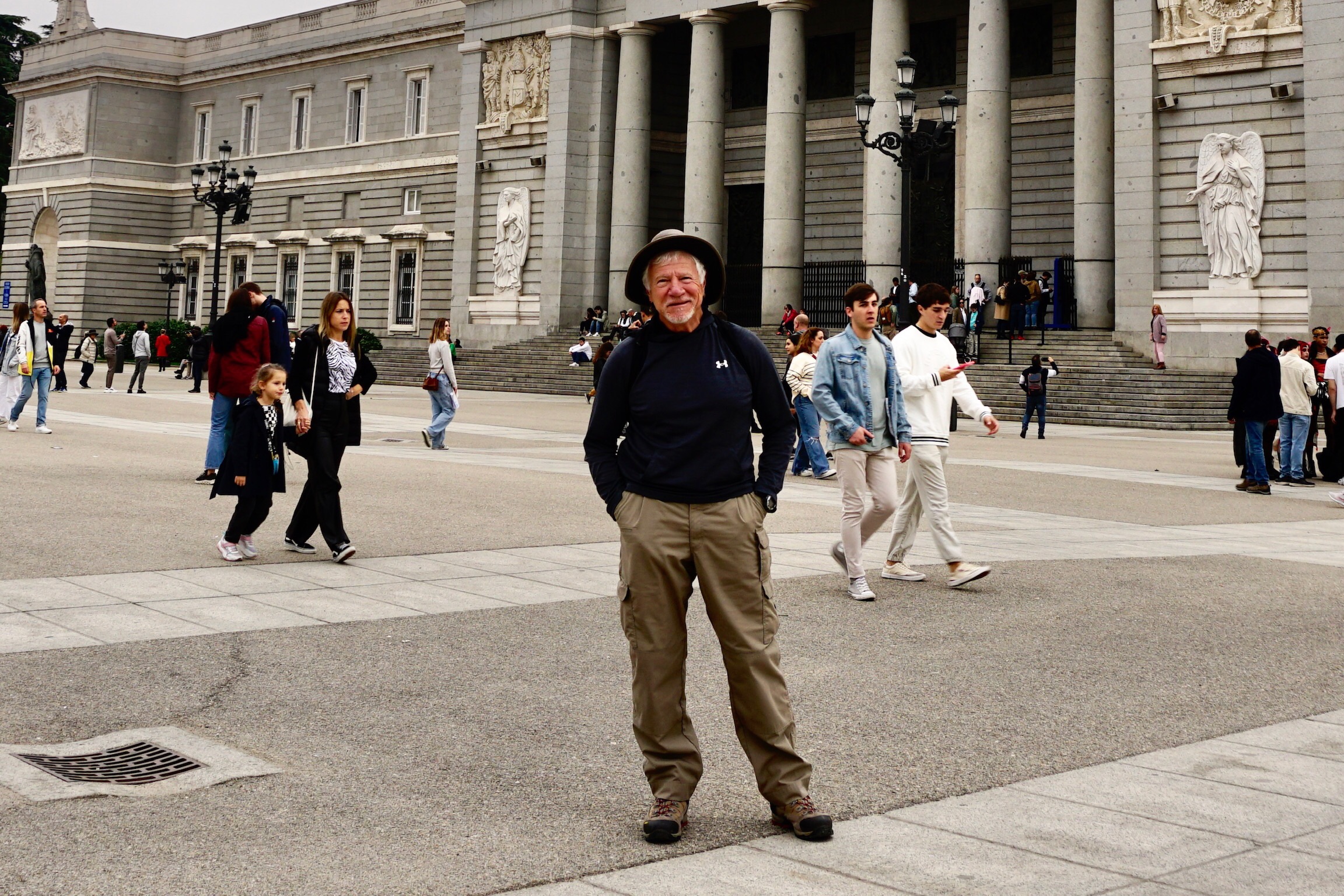 October 31, 2022. At Madrid, Spain.
Dear Christine. I decided to plow a lot of ground today, but leave the furrows shallow. Therefore, there will be a lot of pictures but not a lot of content. Even though I used the metro and also an aerial tram, I still covered 10 miles on foot today. So, here we go!
My first stop was at Plaza Espana where there is a monument to Miguel de Cervantes and his 1605 creations, Don Quixote and Sancho Panza.
After walking through a pleasant park I entered a charming neighborhood and a beautiful fountain outside of a convent.
Next was a visit to another park where the 2nd Century BC Egyptian temple to Amon, known as the Temple of Debod has been rebuilt.
This temple was gifted by Egypt to Spain in recognition of Spain's assistance in rescuing archaeological treasures from the rising waters of the Nile resulting from the 1960 Aswan High Dam project. Unfortunately, the temple is closed on Mondays, but I did obtain an interior image from the Internet.
The park provided an overlook from where I could see the Royal Palace and Cathedral in the distance.
I continued my wanderings through Madrid's Parque del Oeste until I reached the Teleferico de Madrid. This is a remarkable aerial gondola from the 1960's links the park to Casa de Campo, crossing river, highway, valley and city, an 11 minute journey of over a mile and a half.
From Casa de Campo i could see a huge amusement park that appeared to be almost a mile farther off. In spite of the distance, I could still hear the screams of those aboard the rides.
I returned by gondola to Parque del Oeste and then walked down a hill to Roseleda del Parque.
This is an incredible rose garden built in 1915. It features over 4000 different varieties of roses. In spite of this being nearly November it was still flush with color and blooms.
The individual rose varieties are identified by name and date of origin. I came upon roses dated to the Middle Ages, Roman antiquity, and one attributed to pre-Roman Phoenicia.
More walking took me to the Royal Palace and the Cathedral de la Almudena.
You and I visited the interior of each of these in 2018. I was tempted to go into the palace but the line for admission extended nearly a city block. There were better things to do.
Next on my list was a visit to the huge Parque de el Retiro. It immediately reminded me of New York's Central Park.
I sat and enjoyed tapas and a beer while sheltering from the rain under a table umbrella.
The rain was never heavy and certainly didn't discourage pedestrians or street performers.
I visited the temporary art exposition at Palacio de Valazquez located within the park,
and the Palacio de Cristal, also located within the park. It was closed as work was underway preparing an exhibition.
At this point I return to my room for a brief rest and then set off to find dinner.
This was a very satisfying day. I look forward to my day trip to Toledo tomorrow.
By the way, welcome to Paris! I'm anxious to hear about it. Love, Peter