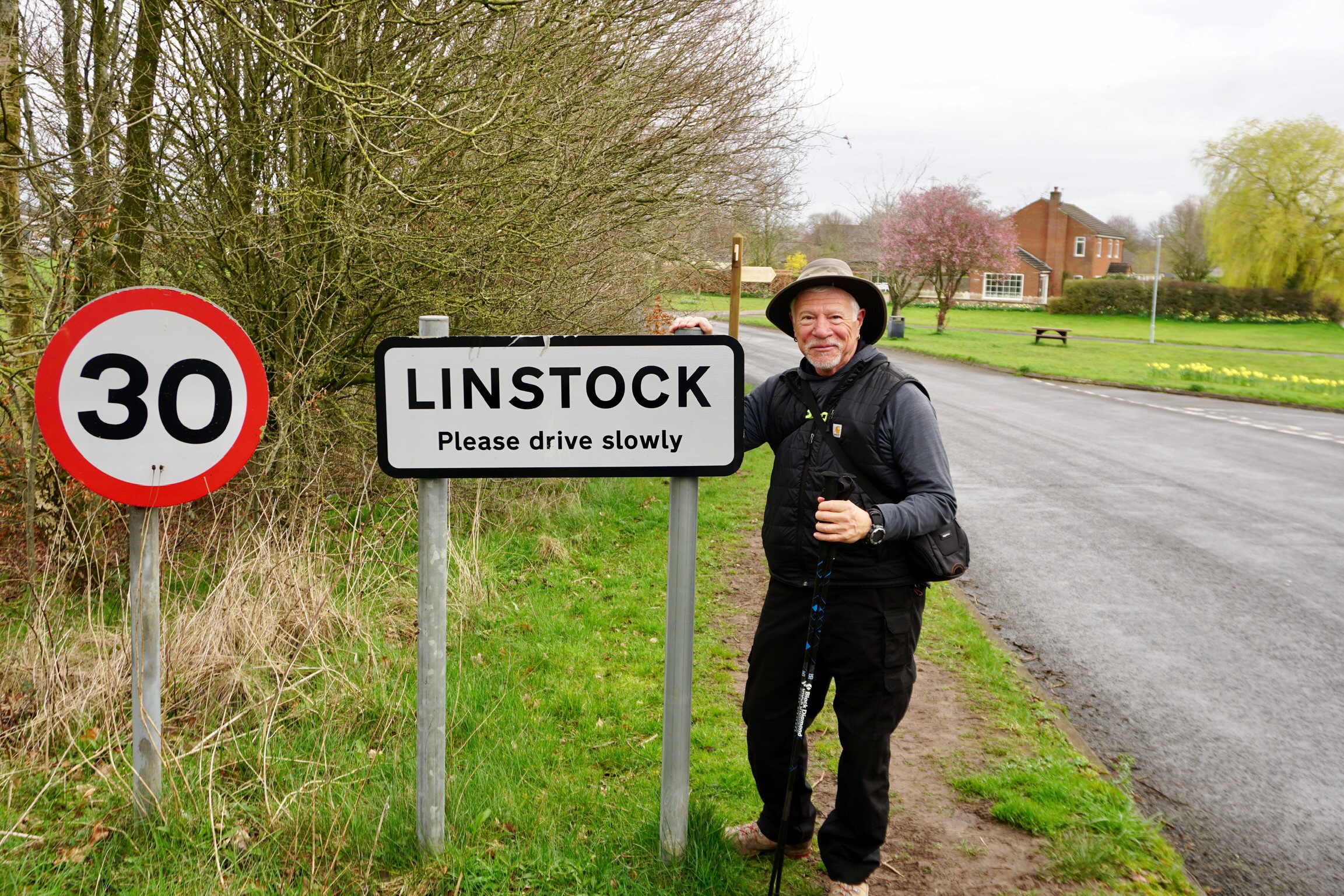 Written March 29, 2023, at Walton, England.
Before I begin, I hope you will honor the memory of two dear friends who each drew life's last breath yesterday. They are mentioned in my postscript.
Today began (literally) as a walk in the park. By day's end I had counted nearly 12 miles and 32,000 steps.
Last night's weather report predicted a 90% chance of showers throughout the day. At breakfast there was a steady drizzle but by the time that I set foot on the path the rain had stopped. It did not resume until I had reached my destination.
Not more than minutes from the start a gentleman strode to my side and began providing me with information on the history of the surrounding area. Stephen is a retiree who walks a lengthy circle route three days a week. He enjoys company and sharing pride in his city. He encouraged me to join him on a brief detour where we approached the bank of the river Eden and a Stonehenge-like structure.
Each of these monoliths is of a different stone found in the area. Each displays a carved explanation of their respective origins. Stephen bemoaned that the display is not better known or appreciated. I certainly appreciated Stephen.
The recent rains and the overcast skies brought the green of the fields into eye popping vibrance.
The paths, roads, and fields better favored walking than on my first walking day, but there were exceptions.
Today I encountered four other people walking "the wall".
Joe and Julie are a couple from Bend Oregon. We spent a mile visiting and soon learned that we shared the same end-of-day destination, the Old Vicarage Brewery bed and breakfast. More on that in a bit.
The other two were young men who were laden like pack mules as they struggled up the path.
There were the occasional encounters with dog walkers. This hound pranced and danced circles around me dearly yearning for me to find a ball for him to chase.
Other livestock and wildlife included sheep, goats, swans, and horses.
As I stopped to snap the picture of these horses in a field one turned head-on to me and began a slow approach. I stood stock still, my anxiety rising. Was he "friend or foe"? He continued toward me until softly giving me a head butt, soliciting pats and scratches on his forehead and behind his ears. Priceless.
The vistas and views included everything from grand estates to "glamping pods".
There were churches, and of course I stopped.
Christine had transported to our final destination, the Old Vicarage Brewery, by taxi. She was able to track me through our iPhone "find me" applications. Just as I turned the lane for the final 100 feet she was standing there before me, arms open wide.
The brewery is a bed-and-breakfast with two amazing suites in the old caretakers cottage.
Owners, Graham and Charlotte renovated the buildings in 2018. Graham is an accomplished brewer, to which I can now personally attest.
Shortly after I arrived, Joe and Julie joined us for drinks and later for dinner, courtesy of the Brewery.
The Old Vicarage Brewery's two rooms are booked solid throughout the hiking season. We are incredibly fortunate to have successfully made this reservation.
Today included the first visible evidence of Hadrian's Wall and the related defensive fortifications. Here the central flat area is what would have been the base of the wall. To the left is the Vallum (ditch) situated on the north side of the wall. The depression on the right further enhanced the apparent height of the wall. The grassy area on the right was an where the Romans quarried stone for the wall's construction.
Tomorrow I press on 8 miles to Gilsland. It is probable that there will be a detour that will add a mile or two to that distance.
Peace Everyone. Pete
P.S. yesterday I lost two dear friends. Jason Christensen and I met in 2010. We were among 12 bicyclists who rode 5100 miles across the United States as part of an initiative on behalf of Catholic Charities to draw attention to the crisis of poverty in the United States.
We were accompanied by four support drivers, Christine among them. Jason was a deeply spiritual man, a powerful bicyclist, and a devoted father. He and I enjoyed friendly competition throughout the ride and an enduring friendship for the rest of his life. Pancreatic cancer ended his life at 53.
My dear cousin, Samuel "Nelson" Elliott, passed suddenly and unexpectedly at the age of 67. He was a pillar in his West Virginia community, a revered high school teacher and coach. His passion was such that he chose to forego retirement and continued in his profession, literally to the day that he died.
Nelson was prominent in his church community, freely giving of his time to those in need. He was a model husband and father. I can not imagine the depth of pain that his family, siblings, and 95 year old mother are now experiencing.
I hope that both of these very good men have found eternal peace and look down with love upon us.