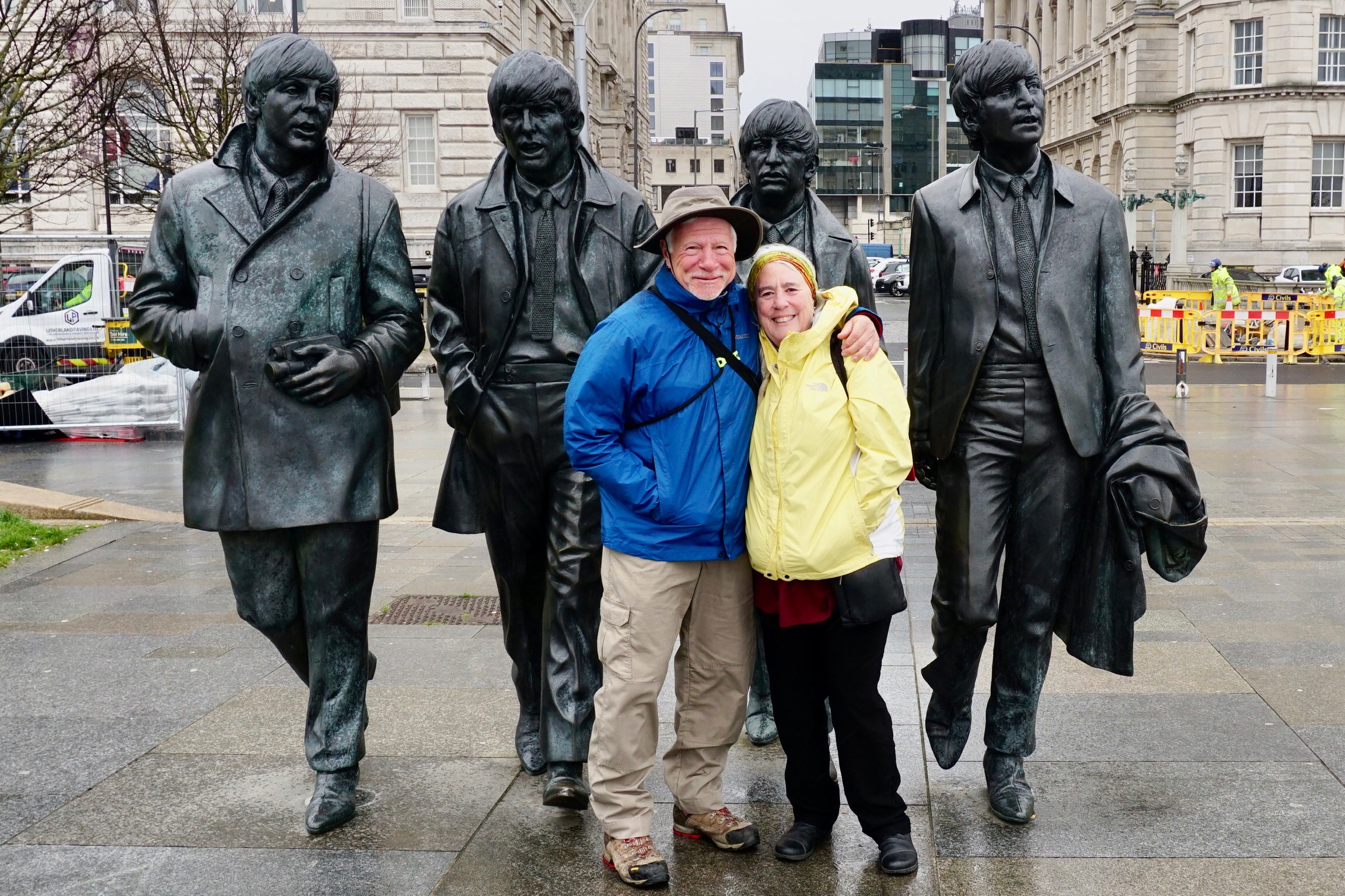 Written April 12, 2023, at Liverpool, England.
We are a day and a half into Liverpool with a day and a half here to go. The weather has been hell, commanding us to wear every bit of cold-weather clothing we have packed.
Nevertheless, we have enjoyed a number of sites and tours including the first day of a two day "Hop-on-Hop-Off" bus ticket that gave us a nice overview of the city-center today. This has helped us craft tomorrow's itinerary.
We also took a 90 minute Beatles history bus tour. While we were mostly protected from the elements, the weather did dampened these experiences (pun intended).
We visited a top-secret underground Second World War complex that had been sealed and forgotten until the 1990's. This was the site where throughout the war Britain evolved the Allied's anti-submarine tactics and directed the crucial Battle of the Atlantic.
On a lighter note there was also a visit to a gin distillery and bar.
Switching gears: Last Summer I put together our itinerary for this trip, and secured reservations in the various establishments that have hosted us. To date, we have lodged in 12 separate hotels, inns, and B&B's. I selected each by relying upon patron reviews, price, and proximity to our needs. The choices have largely met our expectations. A few have been amazing standouts, and then there have been three "glitches".
The first of these was not so much a glitch as a sad commentary on the economic times. I had secured the reservation in the small "mom and pop" B&B, including breakfast, for the price of £100 (about $125). At check out the proprietress rang the bill up at £120. I brought this to her attention. At first she indicated that I must be mistaken, but when I showed her the date of her confirmation email she agreed that it had been the price confirmed in 2022. With a sigh she began a sentence with, "Inflation has been so hard on us…" and then trailed off as she corrected the bill. Christine and I looked at each other. 46 years of marriage meant that between us words were unnecessary. I reached into my wallet and placed an additional £20 on the counter. The hostesses look of relief was priceless and worth every pence.
The second disappointment was straightforward. The hotel was virtually on the path of the Hadrian's Wall trail, it was of average price, and the staff was attentive. There was nothing else positive to say about it. The room was beyond "tired". The walls, carpet, and bathroom were dingy, and it felt more like an hourly flophouse from a 1950's detective movie then an overnight lodging. We were happy to be gone the next morning.
That brings me to Liverpool. We arrived yesterday for check in at 2:30 PM. The young man at reception took my credit card and had me sign the registration forms before he somewhat casually remarked, "I'm sure you received our General Manager's email explaining that our elevator is broken". No, I had not.
It turned out that the elevator had broken down a couple of days earlier. The General Manager did send me an email, but just two hours before we checked in, and coincidentally, after the time for us to cancel the reservation without cost had expired.
I took a deep breath. Since our room was on the "third floor" the attendant offered assistance carrying our bags upstairs. In Europe the first floor is one higher than the ground floor. Also, this building dates to either the early 20th or late 19th Century. There are "mezzanine" floors. The "third floor" turned out to be multiple flights totaling 77 steps. I counted each one.
I returned to reception and engaged the young man in a "difficult conversation". He said that he could not grant my request to cancel the reservation but that perhaps the evening on-site manager could get that authority. His name tag should've read "Pass the Buck Chuck".
The night manager arrived about an hour later, a delightful young lady. She knew how to think out of the box. She arranged for us to immediately relocate to a first floor room (still 30 stairs from reception), and to receive a refund for the difference in the value of the rooms. Her attitude was the important difference in salvaging the situation.
I have intentionally omitted identifying these last mentioned establishments. There were good hard-working employees at each of them that I would not want innocently blamed.
The poor weather is predicted to continue tomorrow but our activities should be mostly indoors. If the forecast is to be believed there should be a dry warming trend in place when we take command of our narrowboat. Fingers crossed.
Peace Everyone. Pete
P.S. In a terse E-Mail to the General Manager of the "77 Step Hotel" I stated how unacceptable the situation and his communication was, adding, "…I'm 71 years old and my wife is 68…". Later Christine remarked to me with a smile that, except for securing senior discounts, it was the first time I had ever pulled the "age card". She was right, and I admit it was a bit disingenuous given my recent hike and having to help the young staff person carry our bags up the 77 steps.