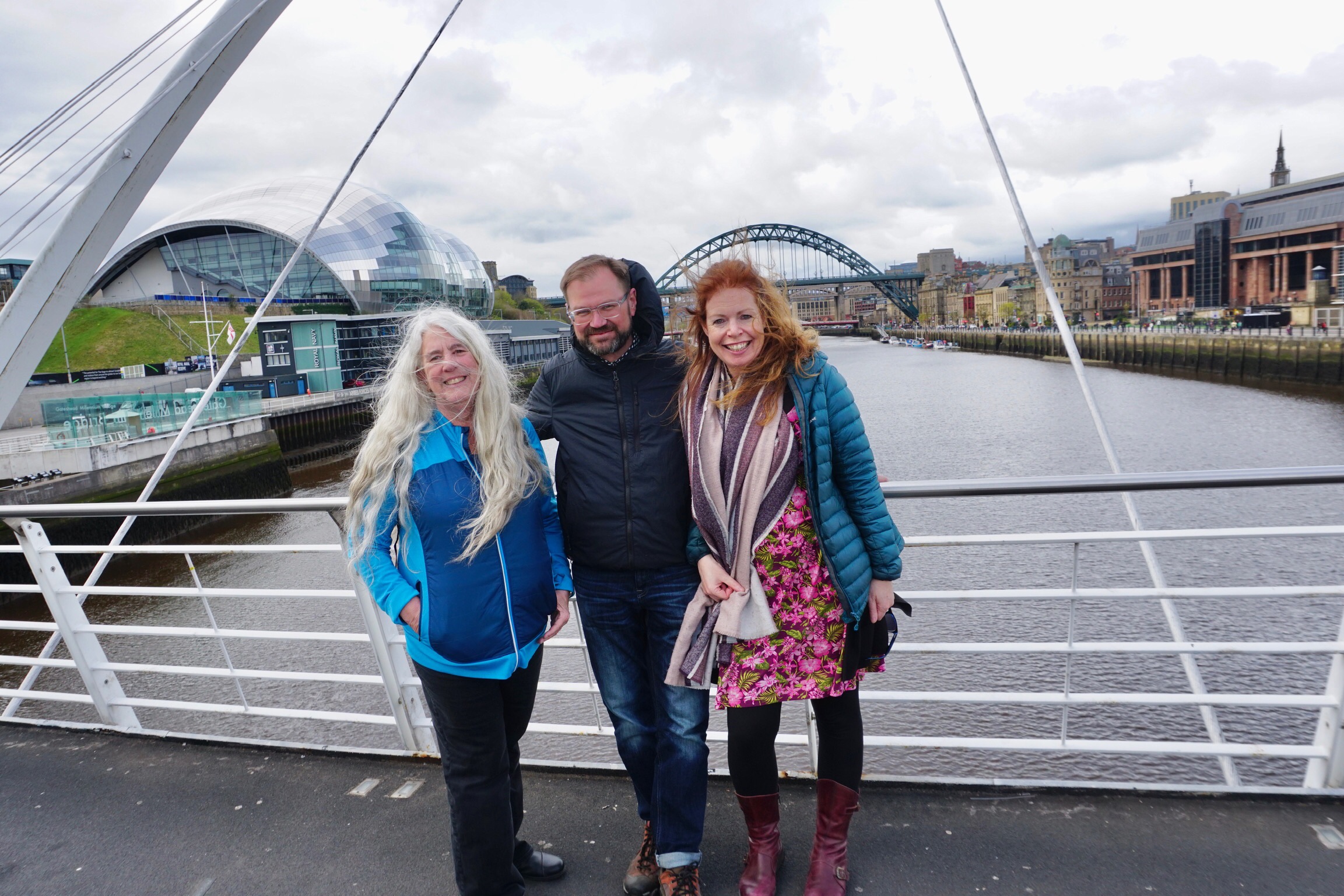 Written April 11, 2023, in transit aboard an express train from Newcastle to Liverpool, England.
Yesterday was more practical than tourist. We needed to get laundry done and to do so through the hotel's service would have been insanely expensive. One pair of socks, £2. One pair of underwear, £2. A pair of pants, £7. Our combined cleaning would have easily exceeded £100, that is more than $125!
Instead, Mr. Google directed us to a small community laundrette a little more than a mile from the hotel. Laden with our dirty clothes it made better sense to catch an Uber. At £6 it was a bargain compared to the fare for laundry at the hotel.
The Caring Hands Community Laundrette appeared on the internet to be self-service and coin operated.
However, when we arrived we were greeted by Brian. Brian takes the laundry, washes it, dries it, folds it, and sends you a text message when it's ready. Ours totaled £9, and Brian provided the labor and soap. A bargain!
Brian also provided a bit of entertainment. The neighborhood where the Laundrette is located appears working class, with some student housing associated with two nearby universities. He has an affection for travelers and maintains a large wall-mounted map of the world. Brian takes pictures of foreign travelers who visit him, posts them on the periphery of the board and then extends a colored string from each picture to a pin on the map indicating the visitor's hometown. We happily posed for Brian and will be only the second visitors posted from our state, the other is a young man from Columbia Missouri.
Rain threatened but we had a pleasant walk back to the river where we met Kate and her husband Simon for coffee.
I had encountered Kate and her dog on the eighth day of my Hadrian's Wall walk. We had a delightful 10 minute conversation (with Kate, her dog only wagged its tail), and exchanged contact information. Kate knew that we would be staying a few days in Newcastle. On Sunday I received a text message suggesting that she and her husband meet us for coffee on Monday.
We had a wonderful visit with Kate and Simon.
They are professors, each at one of the two nearby universities. Kate is a psychologist and Simon works with individuals who have learning disabilities. They look forward to sharing 5 days on the Camino this summer after which Simon will return to work but Kate who has secured a sabbatical will continue on to finish her Camino.
Simon and Kate have previously been visitors to Kansas City. It is our hope that they will return someday and allow us to share the hospitality of our home and city.
It continues to be a wonder how travel creates opportunities for fast and sometime enduring friendships. Just on this trip so far that has included Susan at the Manchester train station,
Garry and Kathleen of Glasgow,
John and Michelle (also from Glasgow),
Malgorzata and Tadeusz of Poland,
and Joe and Julie of Oregon.
Of course, there have also been special connections made with our various hosts such as Charlotte here in Newcastle.
How is it that there are families in our Kansas City neighborhood that we have never met and yet thousands of miles away from home everyone seems a friend?
Peace Everyone. Pete
P.S. We will be in Liverpool the next three days continuing the pursuit of our "magical mystery tour" (pun intended). Then it will be on to Middlewich for three days before connecting with Kansas City friends and beginning our 3 week narrowboat journey.