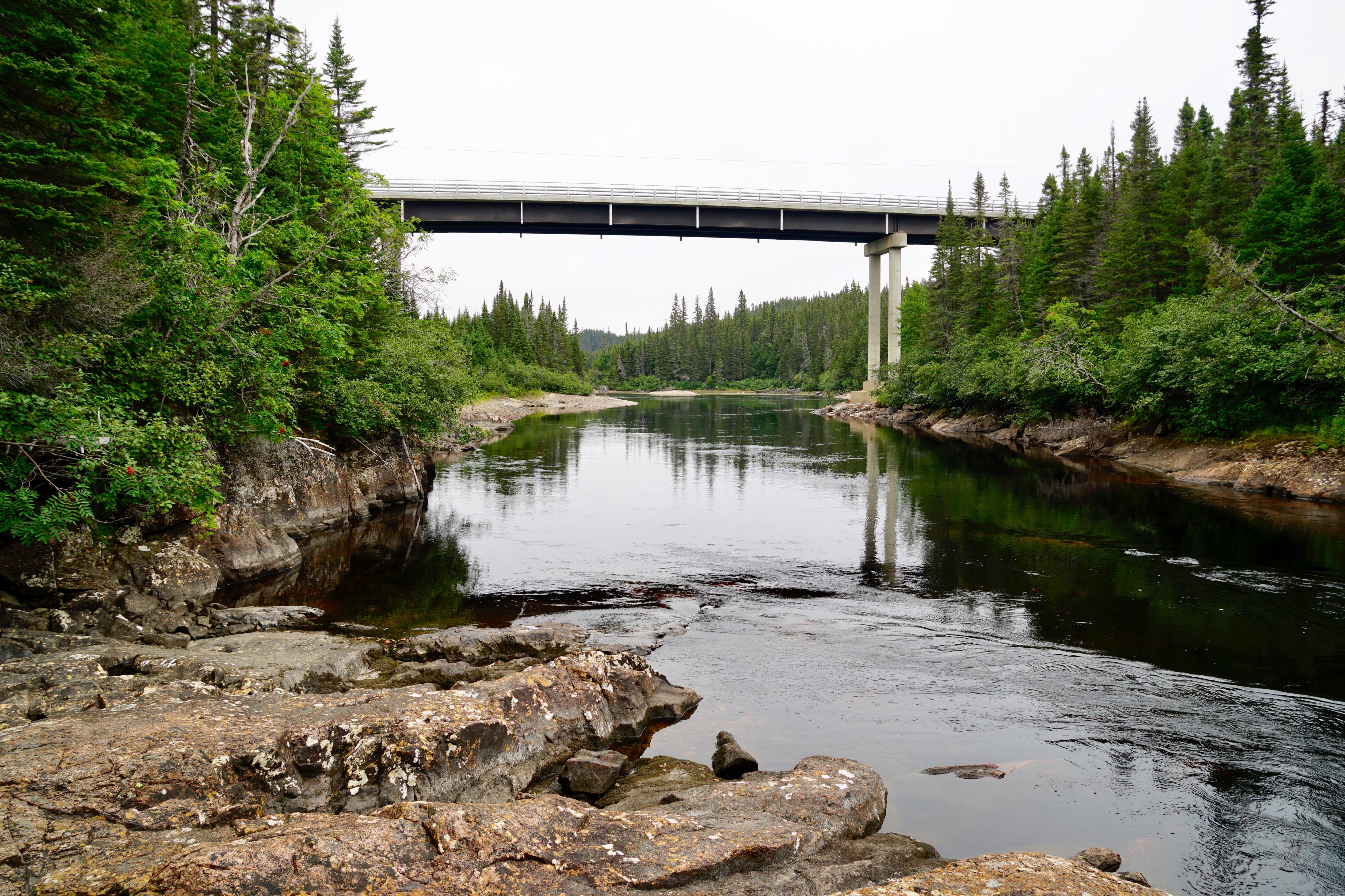 We have arrived at Havre-Saint-Pierre which is the end of our road, but Canada 138 continues east for at least another 150 kilometers. The 250km (about 150 miles) we traveled yesterday was both beautiful and remote. With the exception of a few small seashore villages there were no signs of habitation. A sign warned us early on that there were no gas stations for 110km.
We enjoyed an opportunity for a brief hike to take in views of one of the many rivers cascading from down from the north on to the St. Lawrence.
The Municipality of Rivière-au-Tonnerre is comprised of the town itself and 3 small neighboring villages. The total population for the 244 square miles of this political subdivision is 307 people, down 21% from 10 years ago. There are no gas stations, no restaurants, no cell service, and we saw only one small convenience store. Folks are almost exclusively employed in fishing to supply crabs to a local processing factory. However, there is a remarkable church. Built in 1903, L'Eglise Saint-Hippolite is surprisingly large and constructed entirely of wood. It is like no church that we have ever seen before. We had the good fortune to be given a tour by its caretaker who only spoke French. Christine hung on linguistically for all she was worth as he gestured here and there about the church, speaking with obvious pride in rapid-fire French.
We have also entered a region where First Nation people predominated. Signs are now printed in both French and the local indigenous language. Political authority in many places is here vested with the local First Nation Tribe.
Ordinarily Havre-Saint-Pierre would be an oasis for tourism, however the season has ended. We arrived at the relatively large seaside municipal campground (86 sites) only to find that the electricity is off, the bathrooms are locked up, and all of the seasonal tenants are long gone. The gate has been left open for the few hearty souls like us who still wander this area. The camping is now free and fortunately the water is still on and the trailer sewage dump appears to still operate. We are the only camper visible in either direction.
The fog along the coast has been relentless. The inland air is clear as crystal, but on the shore it is as if the crystal has been frosted opaque. Moreover, the dampness really drives the cold inside of you. The temperature dropped to 40 degrees in the night and as we are now "boondocking" (only using our self contained propane and battery power) we embrace a heightened sense of adventure.
We came here in hopes of visiting the Mingo Archipelago National Reserve. It is renowned for its flora, fauna, and the remarkable stone monoliths that abound along its shores. Unfortunately, it can only be reached by water. Fortunately, the daily boat is still operating. Ordinarily the vessel would carry dozens of people to the reserve, but we will be joined tomorrow by only 6 other passengers. We are keeping our fingers crossed for clear skies and most of all, no fog.
Peace Everyone. Pete