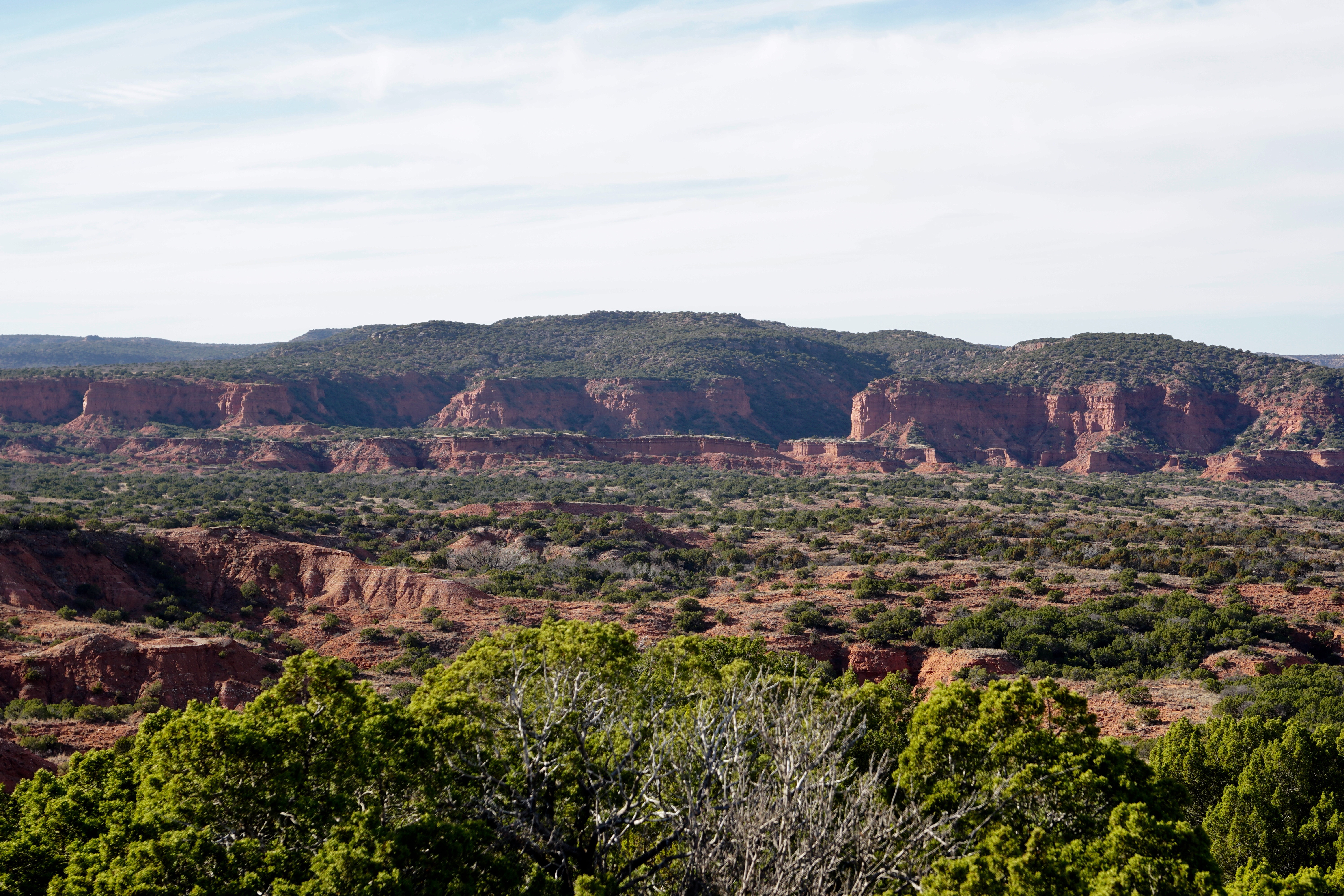 We are in Texas. I know this for the obvious reason that a big sign with a "lone star" told me so. I also know this for the less obvious reason that waitresses and female cashiers automatically know me by one of a number of sobriquets… "Sweetie!", "Dahrling", "Sugar", "Honey"… this could go to my head. Back in Missouri I might be "Sir", or "Mister"… usually just "Hey You!"
We traveled to Caprock Canyon State Park which is about 10 miles north of Quitaque Texas and 100 miles southeast of Amarillo. This is reached solely by secondary roads which at times were long, straight, and very lonely. The countryside presented some of the most beautiful nothing that we have seen in quite a while. In the middle of "nowhere" we passed through Altus, home of a thriving US Air force base. There is no doubt that the economy of Altus is dependent upon the base given the array of car dealers, a big Walmart, and such entertainment options as a motel that proudly advertises "Fantasy Rooms". I wonder what the hourly rate is?
Onward through more open spaces we found ourselves in Turkey Texas, hometown of country singing legend Bob Wills. A downside to the extensive travel we have enjoyed is that we sometimes forget that we have been somewhere before. Such is the case with Turkey. It took seeing Bob Wills' tourbus which is displayed on the main drag to refresh our recollection.
Caprock Canyon State Park is spectacular! The campgrounds are first rate with level pads, sheltered picnic tables, water, electricity, and fire pits at every site. The shower house is heated and spotlessly clean. Best of all we have this all to ourselves with the exception of 3 other campers. Actually, let me back up a second. The campground is also inhabited by thousands of prairie dogs and a large herd of very large Bison. I missed the opportunity to take pictures of the Bison… tomorrow for sure.
The Canyons present myriad opportunities for hiking. After making camp, Christine opted for a solitary rest while I headed out on foot for few miles of reconnoitering. SPECTACULAR!
With luck the weather will favor more hiking tomorrow. We are committed for two nights and it won't take much of an arm twist to make it three. Enjoy the images!
Peace Everyone. Pete