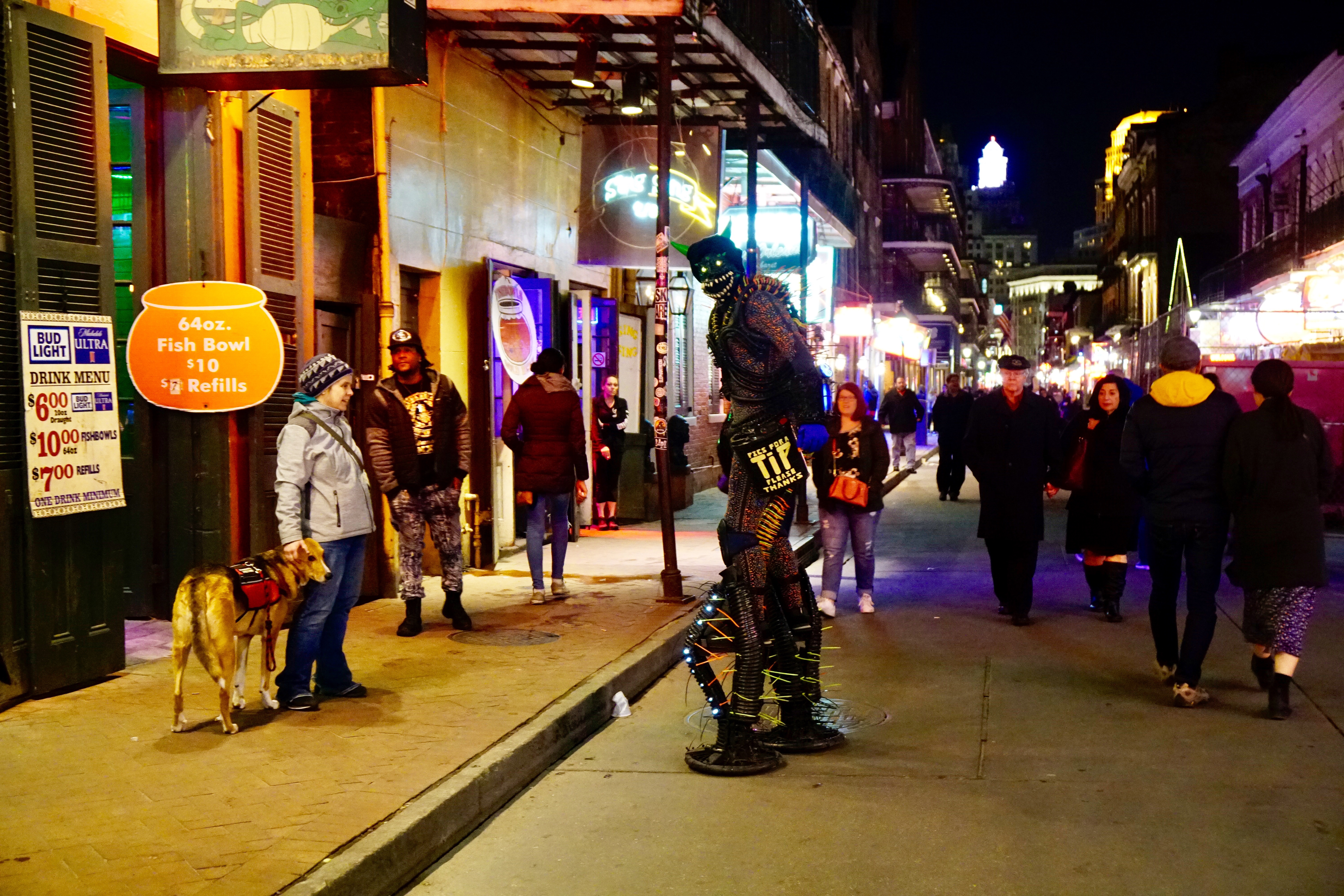 Most days of our lives present a relatively narrow range of experiences. The most memorable may be those that expand that spectrum and allow us to appreciate a fuller range of the human condition. Today was such a day.
Morning sprang with the chill of near freezing temperatures in a lush Louisiana State Park. In less than 3 hours we were entering the environs of "The Big Easy"… New Orleans. As we approached our destination we beheld hundreds of tents pitched beneath the overpasses of I-10. These were not recreational campers, but those whose circumstances have reduced them to the struggle of seeking food, warmth, and the next day of life. We passed them and turned right into our "campground", The French Quarter RV Resort.
The "Resort" is located in gated environs, protected by an 8 foot concrete wall that is topped by inconspicuous razor-wire. It looks like a Soviet era gulag from the outside, but within it is an elegant $100 dollar per night RV park that is only 2 blocks from the French Quarter and 4 blocks from Bourbon Street. Passing through the gate I felt like Dorothy did as she awoke to the technicolor experience of OZ.
The Resort provides a swimming pool, hot tub, rec-hall, fitness room, plus the usual amenities of bathrooms, showers, and laundry. Full hookups are a given. Most of the "campers" are in large "sun blocker" motor coaches that cost more than the average home. We count ourselves among the few micro-campers. We are not envious… au contraire, we pity them the burden of their mass.
After making "camp", we walked 10 minutes to Alice's Wonderland, here known as Bourbon Street.
Sex and Alcohol are the prominent neon lit themes that adorn the antebellum buildings and illuminate the street. The effect is intoxicating, even for the sober pedestrian.
Liberally mixed among the tourists are those whose hands are reaching out for spare change. There is sadness to be found in some, and larceny in the intentions of others… not easy for the uninitiated to discern.
We were approached by a friendly 50ish woman who represented that she was seeking donations for "Meals for Wheels". Christine donated and we then received the gifts of a Hare Krishna Cookbook and Bhagavad-Gita. It was not the "Meals on Wheels" that we assumed she represented. Were her intentions honorable? We will never really know… I choose to presume the best of intentions until proven otherwise. I believe that she holds as firmly to the dedication of Diety as any Christian, Jew, or Muslim. Had I the presence of mind I would have liked to have engaged her in a serious discussion.
A few days ago we walked the beaches of the Texas Gulf Coast. I happened to look down upon an ocean clam and suddenly wondered at the chasm of intellect that separated it from me. How could it ever fathom my intentions as a superior being. If the Universe is the creation of an omniscient and omnipotent Being, how much greater is the separation of it's intellect from mine. Is it not presumptive for humans to claim to know the mind of that Being, and yet as a species we have been driven to do so for nearly a hundred thousand of years (human and Neanderthal ritual burial has been documented for that long). It seems to me that The Bible, Koran, Book of Mormon, and the Bhagavad-Gita, among others, are human expressions of an inadequate effort to understand the Infinite.
Back to Earth… We enjoyed some music and the 2 for 1 beer specials that abound up and down Bourbon Street.
The spectacle allows one to turn a blind eye to the well worn establishments, street hawkers, and less than sanitary bathrooms.
Hunger drove us to first find Chicory coffee and Beignets at Cafe du Monde, a New Orleans tradition since the mid-19th Century.
We then adjourned to the very upscale Restaurant GW Fins. Less than a block from the helter-skelter of Bourbon Street we found the calm opulence of white linen table cloths, a well ordered bar, and a dignified professional staff.
This was another expansion of the spectrum of the day's experiences. Christine, a "slightly dirty" Martini, me a Rye Manhattan (served up, but in a rocks glass). We then settled into a review of the last 41 years.
Dinner followed. Christine, a succulent Filet Mignon, and me a flaky, melt-in-your-mouth Halibut-Scallop combination. As spectacular as the meal was it was overshadowed by the attentive staff. We were graced with the exceptional services of Rod, Benjamin, and Moose.
It is common for a patron to ask directions to the restroom, but entirely uncommon for the waiter (Benjamin) to then take the arm of the lady (Christine) and accompany her to that destination much as one would be ushered in a wedding. Totally endearing!
We count today memorable and leave tomorrow for consideration on another day.
Peace Everyone. Pete