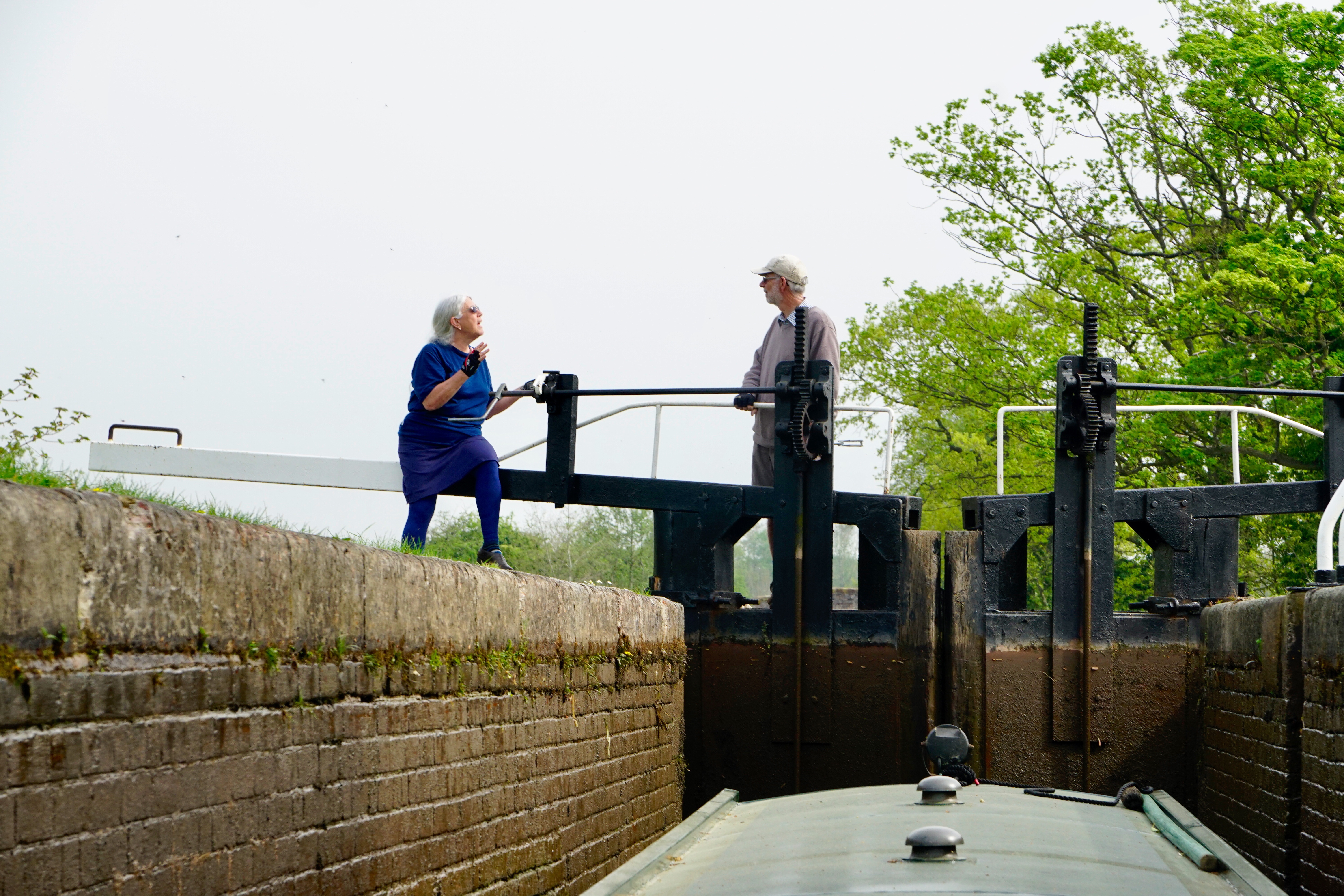 We navigated 9 locks on our way from Wrenbury on the Llangollen Canal to to Nantwich on the Shropshire Union Canal. The entire passage took just under 6 hours and covered less than 10 miles.
Canal travel expands time and invites a microscopic examination of the flora, fauna, and folk that pass in slow motion before us.
It also creates a meditative climate for the examination of ones thoughts. Insignificant things trigger an expanded awareness like winter frost crystals blooming across an automobile windshield.
So it was as we approached a solitary lock in the countryside. No other vessel was in sight, yet standing sentinel at the lock was a lone gentleman who appeared well into his eighth decade. As is practice, I slowed before the lock to drop Christine off for her short trek to open the water gates and enable our passage. It is a job best accomplished by two, but she has become adept at fulfilling the duty single-handed. Unbidden, the elderly gentleman produced his own windlass handle and began operating the port side mechanisms as if he were one of the crew. With her own windlass handle Christine mirrored his action on starboard. I slowly piloted Salten-Fjord center between them into the lock.
The gentleman engaged me in conversation as I and our vessel slowly sank with the water level that was being released from the lock downstream. He provided me with some helpful insights into canal and lock conditions. He looked longingly at our vessel and commented approvingly at her condition and canal-worthiness. He then added that he loved life on the canals. It had been central to the years and memories that he and his wife shared. Unfortunately, she was no longer physically able to help aboard a narrowboat. A few years ago they sold their boat. Throughout our pleasant talk he smiled but his eyes were tinged with sadness. I imagined him returning to his wife at the end of the day with a cheerful greeting that fails to conceal the sadness from her. I further imagined that she assumes his burden through her faultless inability to return to their days together on the water. Love long held pierces the artifice that otherwise conceals deep feelings from the rest of the world.
The lonely lock keeper now tastes his moments on the canal with each passing narrowboat. How many of those who pass through pause to consider, "What I am, he once was. What his is I will become."
Peace Everyone. Pete