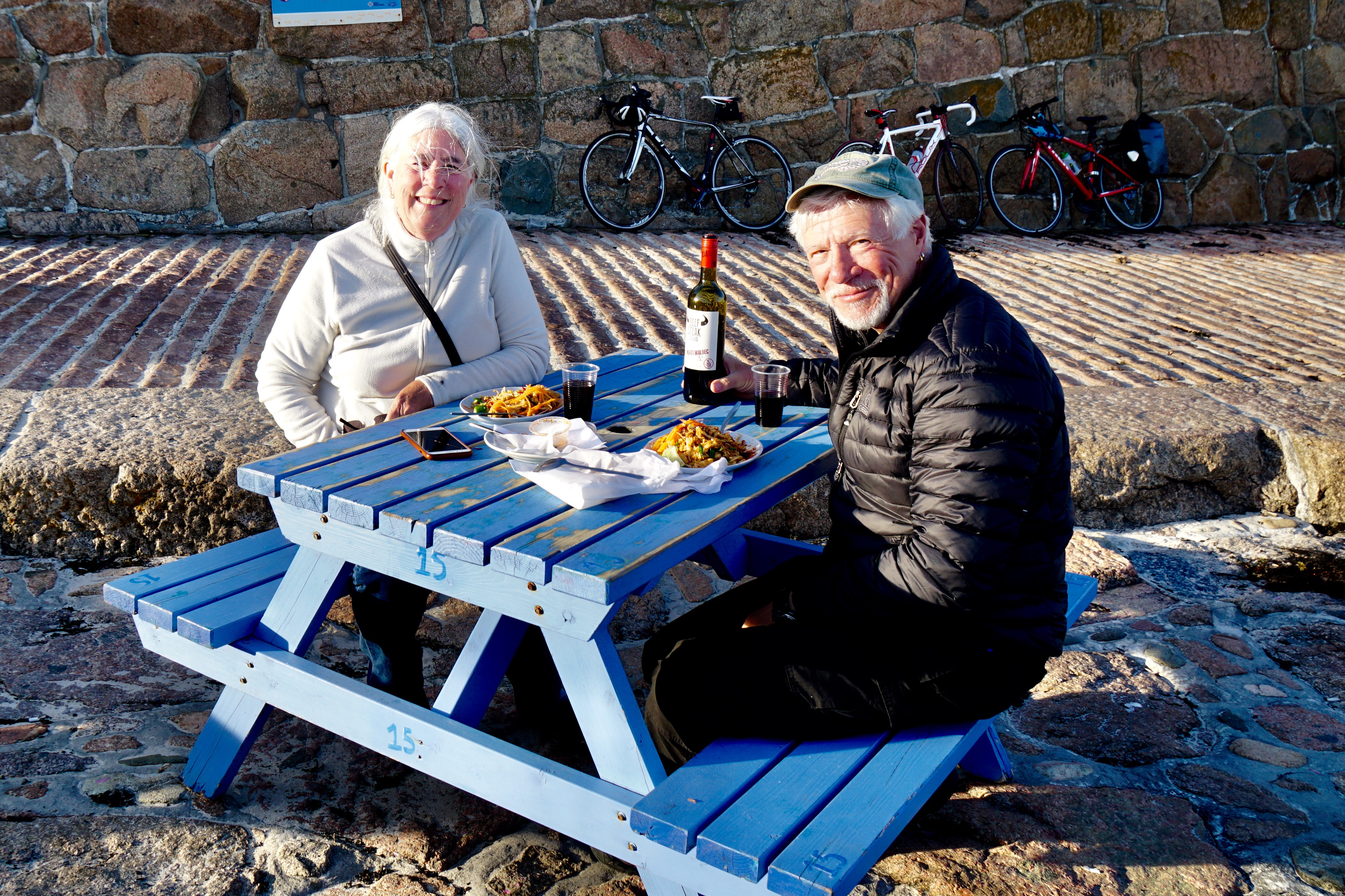 Dawn broke on our second day on Jersey Island with an unwelcome suprise.
I began receiving email notices of a series of small charges to our credit card from "Taxibeats" of London. Within a span of minutes 3 of these "Card Not Present" warnings had arrived. I was then on the telephone to our credit card issuer. Fraud! Some miscreants had started testing the waters on my card number. They did not have the card or supporting details of the account, but it was a virtual certainty that these small "test" charges were a precursor to a much larger spending spree.
Card Services locked our account but gave me a telephone number to call with a special code to temporarily enable the account for 15 minute periods when needed. This happened to us once before while traveling in Canada. We learned from that incident to always have backup cards handy. Imagine being 6,000 miles from home without the means to convienently finance the basics of food, shelter, and transportation.
Stress resolved, the rest of the day was much the traveler's equivalent of "just breathing". With a few exceptions one proceeds in an automatic and unconscious way. For me it is a sign that my thoughts are becoming more homeward centered.
(We just received a video call from Tom and Nanci who are currently in Italy. The 15 minutes of conversation and laughter were a real boost. The times that we spent with them on the Portuguese Camino, in Ottawa, and on the Narrowboat have forged a cherished friendship.)
The morning view from our window at the charming Hotel DeL'Etang is of a large 19th Century tidal swimming pool that was built in the 1800's as the result of a tragedy that took the lives of two young boys.
We walked the streets of Saint Helier, the capital of Jersey. It is more modern and developed than Saint Peter Port in Guernsey, yet we understand that most of Jersey remains pristine with expanses of beach, natural cliffs, and woodlands. The island is also laced with miles of dedicated bicycle paths… something to consider for a longer future visit that would include travel to Normandy.
As with Guernsey, the harbor is dominated by a fortress from the Middle Ages that became a Nazi fortification during the Second World War.
Elizabeth Castle dates to the 1500's. During the early 1600's Sir Walter Raleigh was placed by Queen Elizabeth as its governor. This assignment (banishment?) may actually have been a punishment for marrying one of the Queen's Ladies-in-Waiting without first securing the Queen's permission.
The Castle is connected to land only 4 out of every 12 hours. The rest of the time the tide submerges the causeway. Unaware pedestrians risk drowning if caught by the rising tide. During the remaining 8 hours access to Castle Elizabeth is made via a 10 minute ride in an amphibious bus.
The site of the Castle has an earlier history dating to the Sixth Century when it was the home of the hermit Hellerius. His lofty hermitage allowed him to see approaching raiders and issue warnings to the residents living ashore.
His claim to sainthood derived from his efforts in the year 555 to tame and convert a band of the Viking pirates. Legend has it that they promptly beheaded him, but he just stooped down, picked up his head and then continued about his business by walking hundreds of feet back to Jersey Island. He was sainted, renamed Saint Helier, and a monastery was founded on the site of his former hermitage. It remains to this day a place of pilgrimage. Saint Helier is the patron of Jersey and the capitol city bears his name and symbol, two upturned crossed axes.
As with Guernsey, we continue to be amazed by the tidal range. I delight in taking low vs. high tide photos for the comparison.
Our hotel features a well regarded Greek restaurant. Unfortunately, it is closed on Mondays and Tuesdays. Walking along the seawall we came upon a quirky but popular Thai restaurant, The "Dicq Shack".
It is little more than a shack that has served great Thai food to beach customers since 1963. There is no inside dining. Instead one places an order and takes a seat at one of the colorful outside picnic tables where the food is served.
The only complications occur nearing high tide. Customers often find that they must hastily move their tables or risk being overtaken by the surge. Unusually high tides deny access to the restaurant, causing it to suspend operation until the waters recede an hour or so later. This place is a BYOB affair and the nearby mini-mart is happy to oblige with inexpensive wine and plastic glasses. This was fun, memorable, although a bit cold.
Enough for now, and of course…
Peace Everyone. Pete