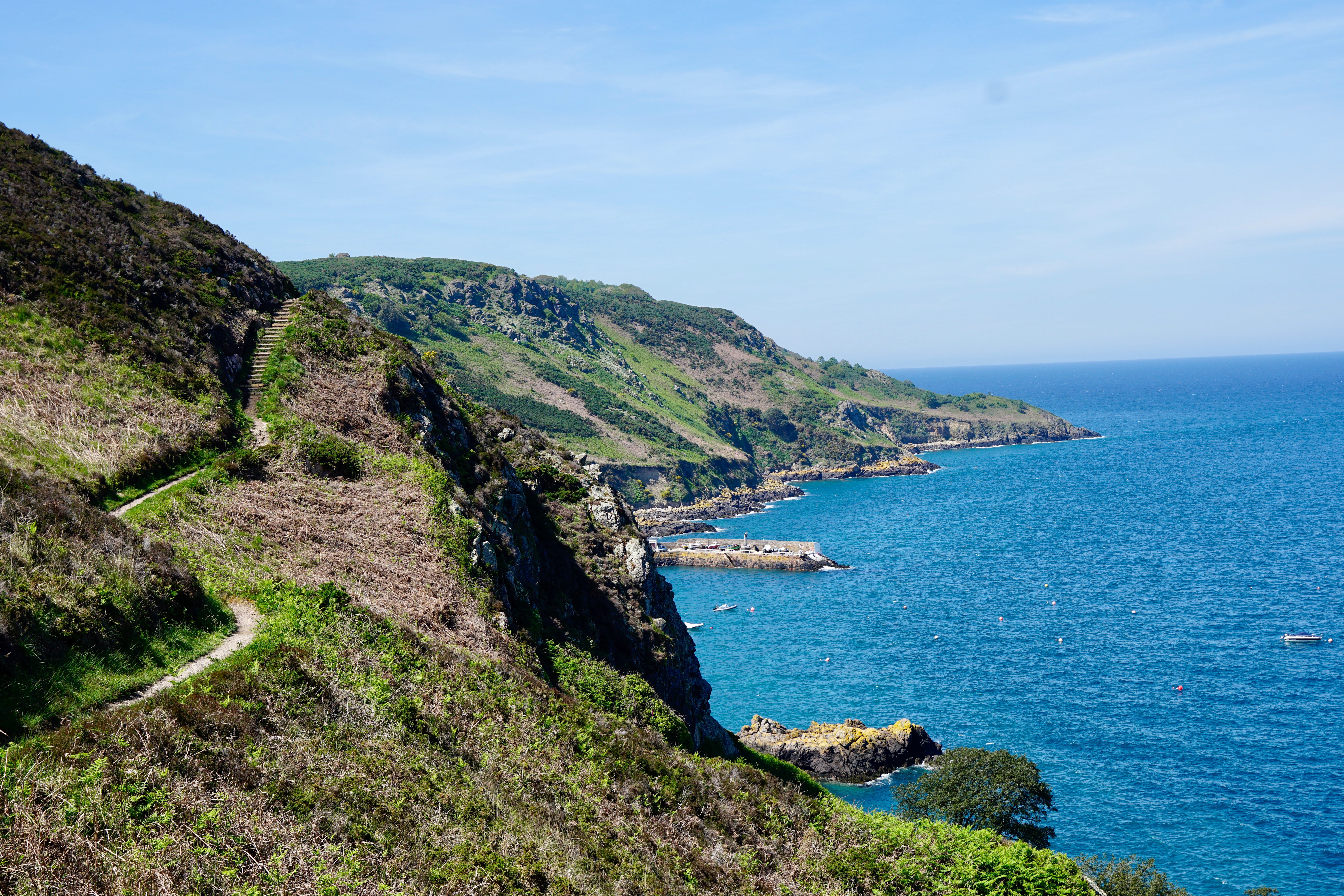 Yesterday we took in the urban delights of Saint Helier. After breakfast today I set off on bus 4 for the remote north coast of Jersey Island. Christine chose to again "chill-out" in town. We were each rewarded in our own way… I will focus on my most remarkable day:
The north Jersey coast is verdant and rugged in a way that congers up memories of last year's hike along Ireland's Cliffs of Moher. Given a few days, one can easily walk the 45 mile circuit of this 45 square mile island. The Jersey features over a hundred miles of well marked and maintained footpaths.
Unfortunately, I only have the one day for a serious hike which is something that I hope to rectify in a future visit. I chose a portion of the coast that was represented to be both rugged and beautiful.
Starting out at Bonne Nuit Bay the well maintained trail makes a serpentine course east along the coast. A choice was soon presented; whether to take the upper or lower cliff path. I figured that what comes down must eventually go back up, and elected the lower (and more rugged) lower path.
Paradoxically, Bonne Nuit ("Good Night") Bay derives its name from a local legend when on a night in the 6th Century, pirates destroyed a monastic community that was situated there.
The vistas were stunning! This was a day that featured an electric blue sky, and radiant sunlight that made the green foliage fairly explode before the eye. The path not only wound into and out of countless inlets, but up and down the precipitous cliff sides. Most of the time hobnail covered timbers were provided as steps on the steeper portions. This was nothing short of glorious!
In the distance I saw a fortification that I was soon to learn was the early 19th Century La Crête Fort. It has been modernized and is now maintained as an event space that is available for hire through Jersey Heritage.
A few more miles into my hike I came upon a monument to the tragedy of a failed Allied commando raid during the 2nd World War. An older gentleman, very fit and perhaps in his mid-80's, stood before the stone and casually remarked to me, "Isn't it a shame that they are allowing Phillip's name to degrade like that?" I politely agreed as I noticed that the name of the honored dead was "P. Ayton". I was left to wonder if the gentleman actually knew the deceased Captain. From some post hike research I learned that "Operation Hardtack" was a series of commando raids conducted by the Allies in the Channel Islands. These were intended to secure intelligence and German prisoners that might prove valuable in making plans for the eventual D-Day Invasion. Captain Ayton died of injuries caused by the explosion of an anti-personnel mine.
About 5 miles on I came to Bouley Bay and the welcome sight of toilet facilities and refreshments. Signs pointed the way to "Mad Mary's". Rounding the corner I found a series of tables just above the beach and a small trailer with signage that touted crab sandwiches. Inside was "Mad Mary" in the flesh! Mary Seaford is originally from Ireland and she has been a larger-than-life personality since her arrival in Jersey over 30 years ago. Her beachside cafe is a "must visit" for anyone who comes within 10 miles of Bouley Bay… in other words anyone who visits Jersey.
I was not disappointed. Her homemade crab sandwich and "millionaire shortbread" are to die for. The experience of meeting Mary is alone worth the visit!
Continuing I encountered an 18th Century Guardhouse,
and later I passed a curious formation of house sized rocks. I regret not taking a picture as I later learned that these were remnants of a thousands of years old neolithic fortification. The coast of France was visible in the distance.
My hike concluded by locating a roadway and bus stop. For the price of £2.30 a 50 minute bus ride brought me back to Saint Helier where Christine was waiting for me. We later enjoyed dinner at a wonderful Portuguese restaurant that was recommended to us by our hotel host, Rebecca.
I did not bring my serious Camino walking boots on this trip. I will have pleasant memories of this 9 mile walking day long after my less pleasant reminders have healed.
Peace Everyone! Pete