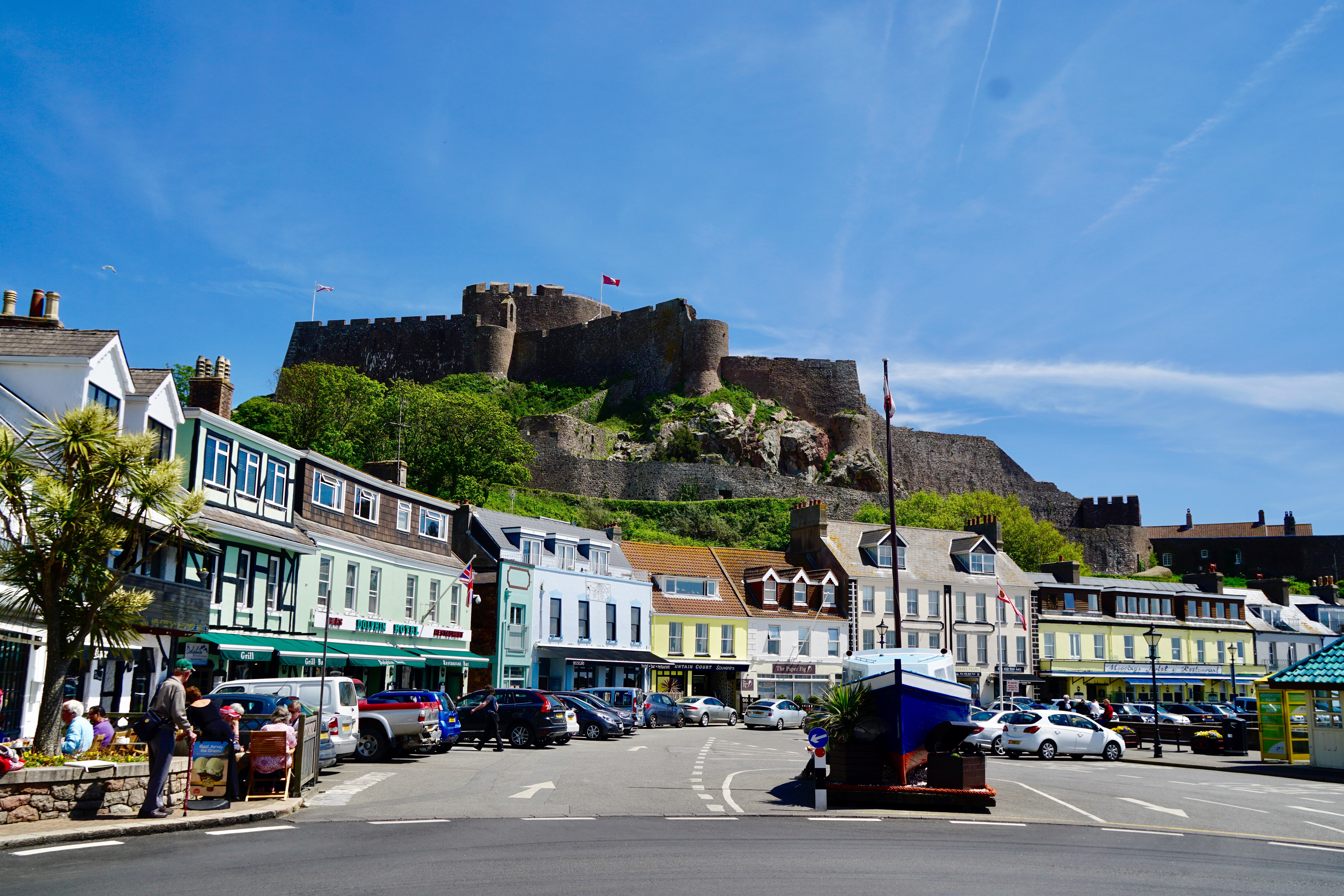 Our last day on Jersey Island was extended due to the change in the ferry schedule and ferry destination that was unfortunately imposed upon us. We took the opportunity to "make lemons into lemonade" by spending the day at Mont Orgueil, better known as Gorey Castle.
"Gorey" was built in 1204 upon a site that had featured fortifications for thousands of years dating back to Neolithic times. It remained Jersey Island's primary defense until advances in gunpowder and cannon rendered it obsolete in the early 1600's. Over the preceding 400 years Castle Gorey underwent many additions and improvements.
It was ideally situated for viewing the coast of (then) military rival France, only 14 miles across the water.
It again became important with the Nazi occupation in 1940. Those troops, with the use of imported slave labor, converted portions of the castle into reconnaissance and gun positions.
As currently presented, Gorey is a well preserved labyrinth of rooms, stairways, and passages. We frequently found ourselves turning a corner only to find that we had traveled in a circle.
It also has become a venue for a variety of interesting and unique art pieces that are relevant to the Castle's place in history.
We boarded the ferry at 7pm for an 8pm departure. The terminal, and subsequently the vessel, were significantly more crowded than our previous two passages. This was due to the combined passenger loads of two ferries, the one we were on and the cancelled ferry we had intended to travel. Fortunately, we still were booked into a private en-suite cabin that allowed us a good night's sleep and hot showers.
Not so lucky were most of the other passengers who passed on the extra cost of a cabin and instead curled up in whatever nook, cranny, or floor space was available to them.
Before bed Christine and I secured a table in the bar for a nightcap. Tables were at a premium so I held the table while Chris went for drinks. There were 4 chairs at our table, two obviously unclaimed. An attractive woman of our generation approached and asked is she and her husband might join us. This was the most fortunate question of the day as Liz and her husband Fred, who happened to be standing next in line with a Christine at the bar, were as pleasant a couple as one could hope to meet.
We spent the better part of 3 hours laughing and sharing our "stories". They were originally from mainland England but years past had fallen in love with Jersey and made it their home. We agreed to meet for breakfast aboard ship at 6am prior to our arrival in Poole.
Before our evening ended the discussion turned to my annoyance with the change in the ferry itinerary and the challenges that this presented to us. A gentleman at the next table overheard and joined the discussion long enough to offer to drive us to our hotel in Portsmouth. This was Kevin, and his offered kindness saved us over 2 hours of travel and $150 dollars in added costs the morning of our arrival. Kevin declined our offers of compensation explaining that the detour only added a few miles to his trip home. Of course he was ignoring the fact that the rerouted ferry also impacted him. Sharing his cost would have been fair.
Liz, Fred, and Kevin are good examples of the friendliness and generosity that we have continually experienced in the UK. These good people are our "neighbors", our Allies, our brothers and our sisters. We share the bonds of a common heritage. As a people, we should not allow those gifts to be thoughtlessly trashed by the whims of any one person or administration.
Peace Everyone. Pete
PS. The afternoon I typed the above (May 17th) we encountered a English gentleman who upon learning of our nationality waxed longingly of a trip he dreams of one day taking across the States traveling old Route 66 on a Harley Davidson motorcycle. His ardor had a pilgrimage quality and he specifically mentioned the "Rocket Man" statue located in Wilmington Illinois, a scant 30 minute drive from where I grew up. Pilgrimage may be defined as an intentional journey to a place of spiritual significance. Some may scoff at the notion that icons found along Route 66 are spiritual. However, spirituality is found within the pilgrim's heart and not that of the audience. I understand how the dream of a journey feeds the soul, even if it is to stand at the foot of a 25 foot tall "Rocket Man". I also know of two Scots from Glasgow, Sean and Garry, who understand this as well. We all need our dreams.