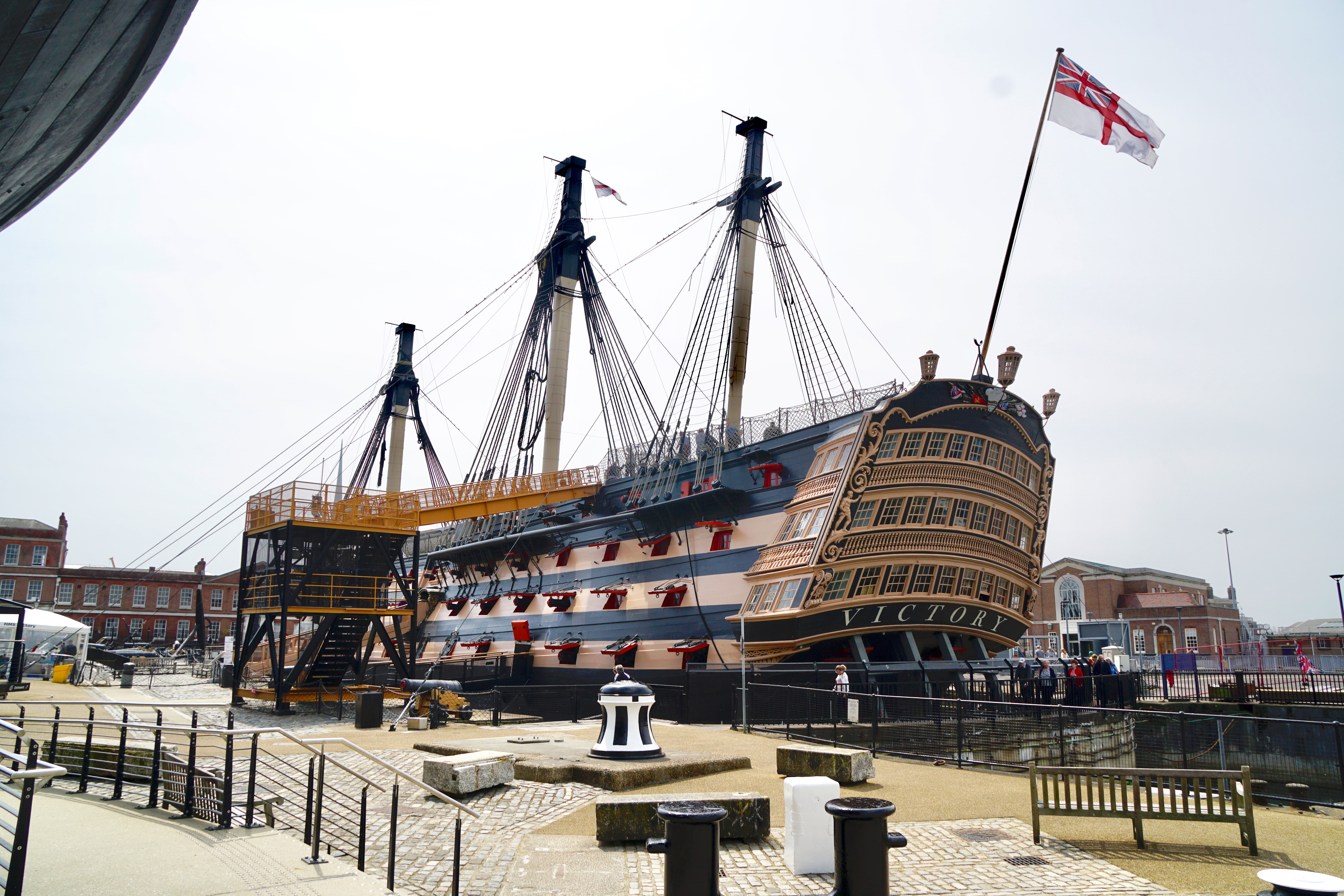 Launched in 1765, HMS Victory was a 104 gun first-rate battleship in the British Navy. In the 200 years since the sinking of the Mary Rose warship technology had significantly advanced. Based on displacement, Victory was at least 5 times larger than the Mary Rose, and at least twice as long. Her firepower was staggering by comparison.
She had a storied sea career that included participation in 5 major battles, the apex of which was her designation as the flagship of Lord Horatio Nelson at the Battle of Trafalgar in 1805. She sailed as a part of the active fleet for over 50 years. Although she has rested in dry dock as a museum ship since the 1920's, she retains her commission and is thus the oldest commissioned warship in the world.
I had thought that this honor belonged to the USS Constitution, better known as "Old Ironsides". However, a bit of research cleared up my confusion. The Constitution, a heavy frigate, was launched in 1797. She remains a commissioned warship in the United States Navy, and is the oldest warship that is still afloat. Apparently, the US and Great Britain can each claim their respective honors based on the distinction of being afloat!
Victory is huge. She is half again longer than the Constitution, carries over twice the guns, and twice the personnel at nearly 900 sailors and soldiers.
She is both elegant and a very serious ship of war. Here are pictures of Nelson's quarters. Note the cannon located on either side of his bed. Even the officer's ward room could be converted into a battle station in a matter of minutes.
Many of her sailors ate, slept, and were punished (being placed in irons) within a matter of feet of their battle stations.
The Battle of Trafalgar may have been her finest moment. Unfortunately for the 47 year old Nelson it was also his last.
Nelson had already secured his place in the annals of British naval history with service that had previously resulted in the loss of an eye and arm. His tactical genius overcame any assumptions that physical disability rendered him unfit for command. He died at Trafalgar of a French musket ball wound to the chest as Victory was pounding its French rival with multiple broadsides. Before taking his last breath Nelson learned that his tactics had resulted in a crushing defeat to the combined forces of France and Spain. His force of 33 ships had overwhelmed the enemy's greater force of 41 vessels.
British losses in dead and wounded were placed at 1,666. Together, French and Spanish losses totaled 21 ships captured, over 6,600 dead and wounded, with another 8,000+ sailors captured. Nelson's body was returned to England where he was accorded a funeral with full military and State honors at St. Paul's Cathedral. Deemed a national hero, he is interred and still venerated within the crypt of the Cathedral.
Our tour of Victory was remarkable for the extensive access to virtually all parts of the ship. Our understanding of the vessel, Nelson, and the Battle of Trafalgar was assisted with high-tech laser pointers that we aimed as electronic sensors located throughout the ship. The pointer then responded with an audio presentation pertaining to the location of each sensor.
Next, we are on to the 1860 battleship "Warrior"… until then,
Peace Everyone! Pete