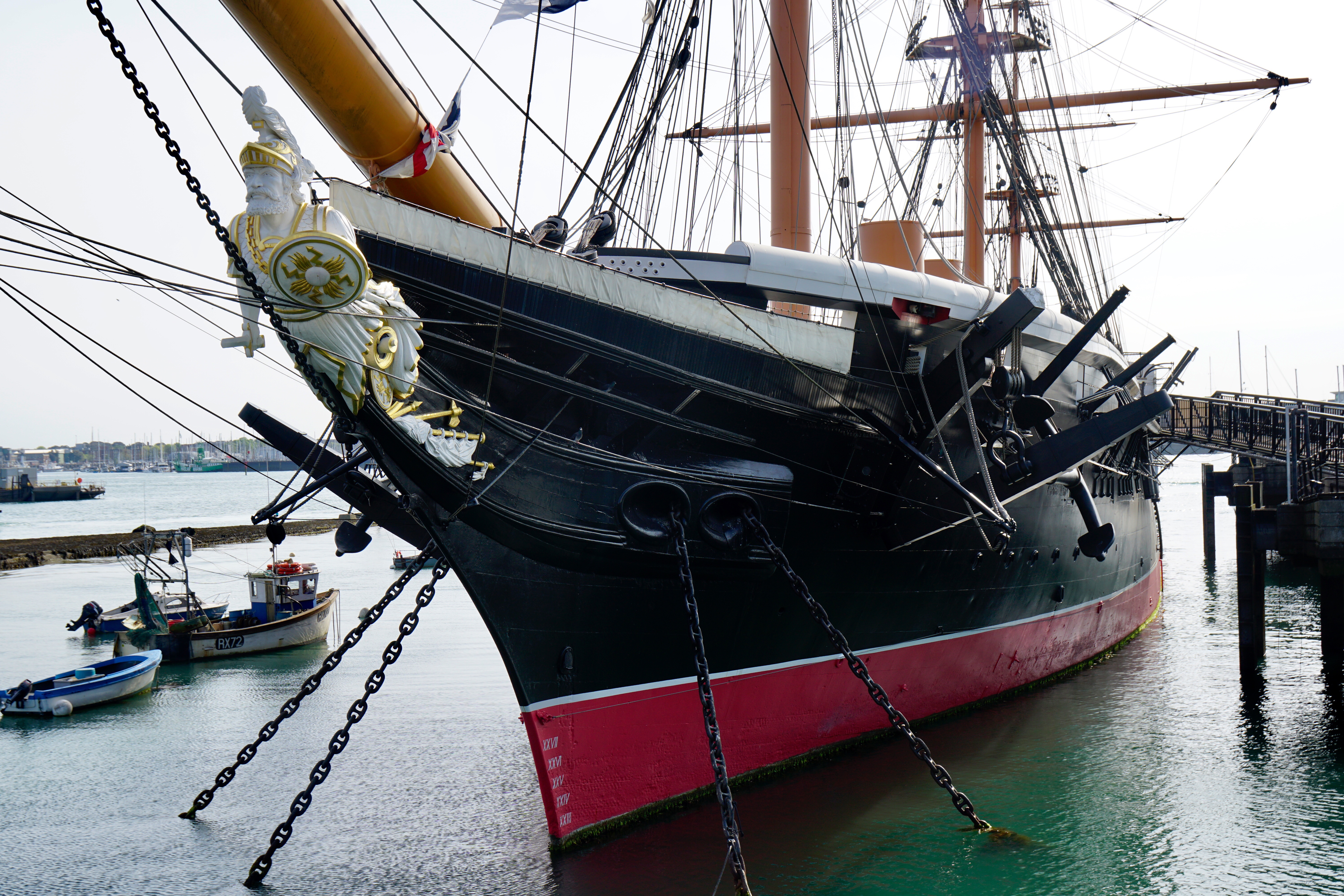 Paraphrasing Charles Dickens, "She was the first of such battleships, she was the last of such battleships…" Indeed this is a fitting statement for HMS Warrior.
She was conceived in 1859 and launched in 1861 at the virtual direction of Queen Victoria who had questioned the readiness of her admirals to meet the challenge posed by France's new armored battleship "Gloire". The Admiralty responded with the creation of "Warrior" and her sister ship, "Black Prince".
When launched Warrior was the world's largest, fastest, and most powerful warship. For comparison, at 420 feet long and displacing 9,200 tons she was 200 feet longer and 3 times the displacement of HMS Victory which had been Lord Nelson's flagship at the Battle of Trafalgar just 45 years earlier.
Warrior was capable of 12 knots under sail, 15 knots under steam power, and 17.5 knots (over 20mph) under the combination of sail and steam. To reduce drag and enhance her speed under sail her smoke stacks retracted into the deck and her massive propeller was hoisted into a hull recess. The hoisting of the prop, as well as the anchors (the largest manually raised in history) required the effort of 500 of her crew.
Some of Warrior's innovations of the first order were her armored iron-plate hull, the largest (26 ton) hoistable propeller ever made, and her compliment of rifled breech loading guns.
She was essentially invulnerable to attack by any other ship of that day. Yet she was still a sailing ship. In ten years Great Britain would launch its first mastless warship, HMS Devastation, which featured larger guns mounted in swiveling turrets. Warrior's sail rigging meant that she was limited to smaller conventional gun placements down her sides.
Whereas Victory served as a ship-of-the-line in active duty for nearly 50 years, Warrior became obsolete in 10!
Warrior never fired her guns in anger. She was retired from first line duty in 1871 thereafter serving in secondary capacities until her masts were found to be rotten and were removed in 1883. She became a storage hulk in 1900, and for 50 years after 1927 she was a floating oil storage platform. Her salvage and restoration began in 1979, a decade long project intended to return her to 1862 trim… including the "brig".
Her masts, many of her guns, rigging, fittings, her engines and boilers are very convincing reproductions. The excellent tour allowed access to most of the ship and questions could be addressed to knowledgeable volunteers dressed in Victorian attire. In response to my questions one such lady dressed in hooped skirts directed me in the operation of the breech loading mechanism of one of the cannons. Warrior is visited by over 250,000 people each year.
This concludes my three day posting cycle on the vessels of Historic Portsmouth Harbour. I am typing this in Oxford England on the evening of May 19th. Tomorrow morning we train to Manchester where we will spend the night of the 20th, departing the morning of the 21st for home.
Peace Everyone. Pete