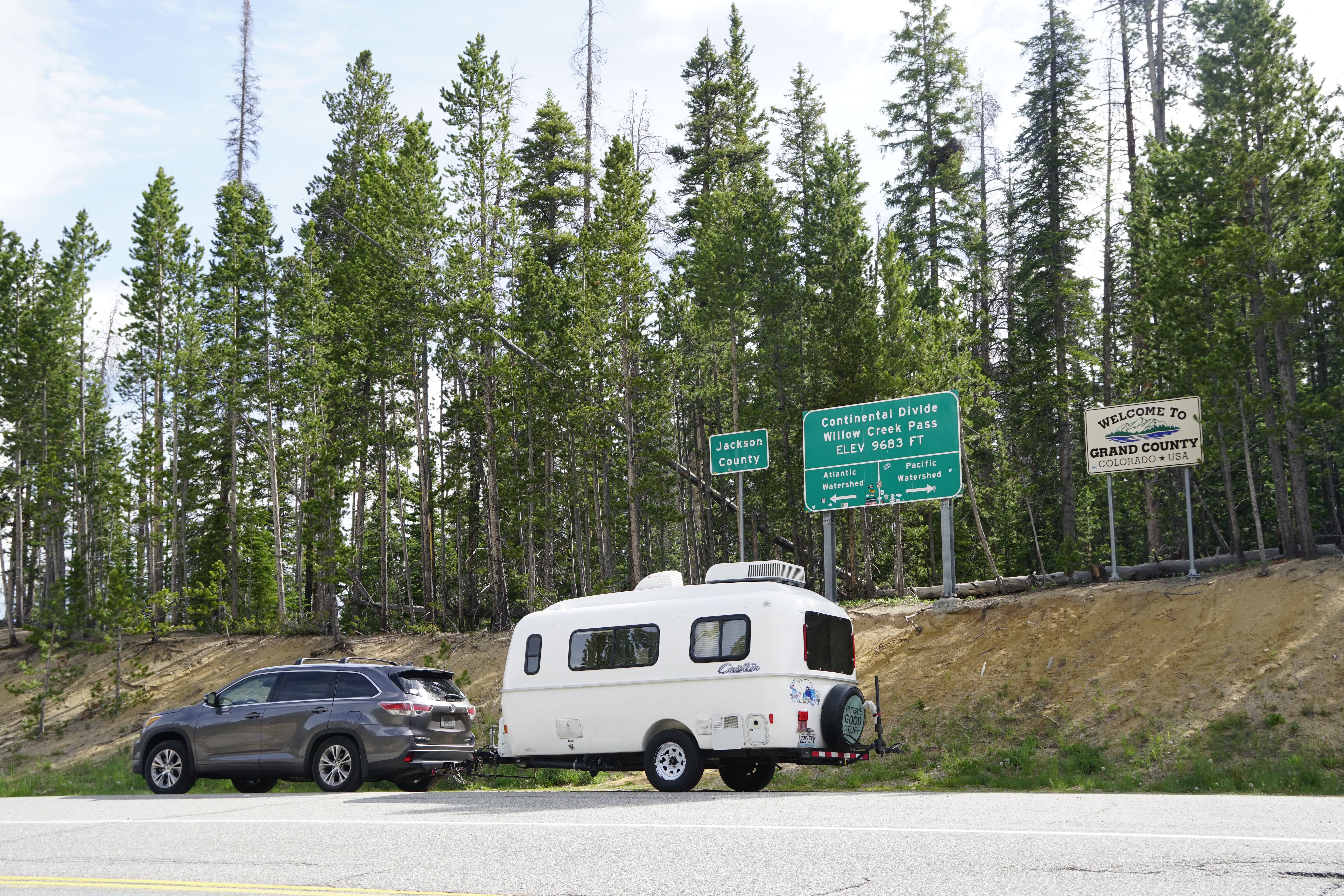 I was up early, made breakfast, broke camp, and was on the road by 8:30 this morning. With a slight press to make my scheduled arrival in Idaho I decided to make this a driving day.
By 8 pm this evening I had put 400 miles behind me. That may not sound like much, but the siren song of remarkable non-stop scenery imposed frequent camera stops.
Tonight's challenge is to pick the best pictures from a portfolio of great shots.
On the route I passed through Walden Colorado and proceeded the 51 miles north to Riverside Wyoming.
This remote stretch of two lane state highway is a popular byway for bicyclists traveling cross-country. I and 15 companions did so on July 3, 2010 as we worked our way south from Cape Flattery Washington to Key West Florida. The drive today was full of memories which included the cabin I shared with Christine in Riverside, and the Antler Inn Hotel where we stayed at in Walden.
As I left Colorado and entered Wyoming I saw cyclists in the distance.
I waited for their arrival at the State Line and then offered to take their picture. Somewhere in my 2010 archive of shots there is one of Christine and me at that very spot… I FOUND IT! (The miracle of "cloud storage"!)
I had thought to stop at a State Park for the night. North of Riverton Wyoming is Boysen State Park near the Wind River Canyon. I stopped long enough to assess that $35.00 would buy me a parking spot, cynically called a campsite, pit-pots, and nothing more. To be fair the scenery was grand but 40+ mph winds blowing off the Boysen Reservoir guaranteed I would not be out to appreciate the view. I passed on the State Park.
I then spent the next 45 minutes winding through the sheer cliff walls of the Wind River Canyon. I regret that I couldn't stop to take some shots until I came to the north end of the Canyon.
Seven miles later I stopped at the Southside Exxon Travel Center in Thermopolis. Christine and I learned early in our retirement that when the goal is to make miles it doesn't make sense to pay $30+ for a campsite when many truck stops feature showers, laundries, and other amenities intended for over-the-road truckers, but just as available for RVer's. I filled the gas tank and bought my first real shower since Denver for the princely sum of $8.00. They provide towel, washcloth, soap, and shampoo. Overnight parking is free, and there is even free WiFi. The scenery isn't much, but there is indeed something to be said for gas station camping.
Tomorrow I should make it to Red Lodge Montana and the Bear Tooth Highway.
Peace Everyone. Pete
PS: More pictures follow below.