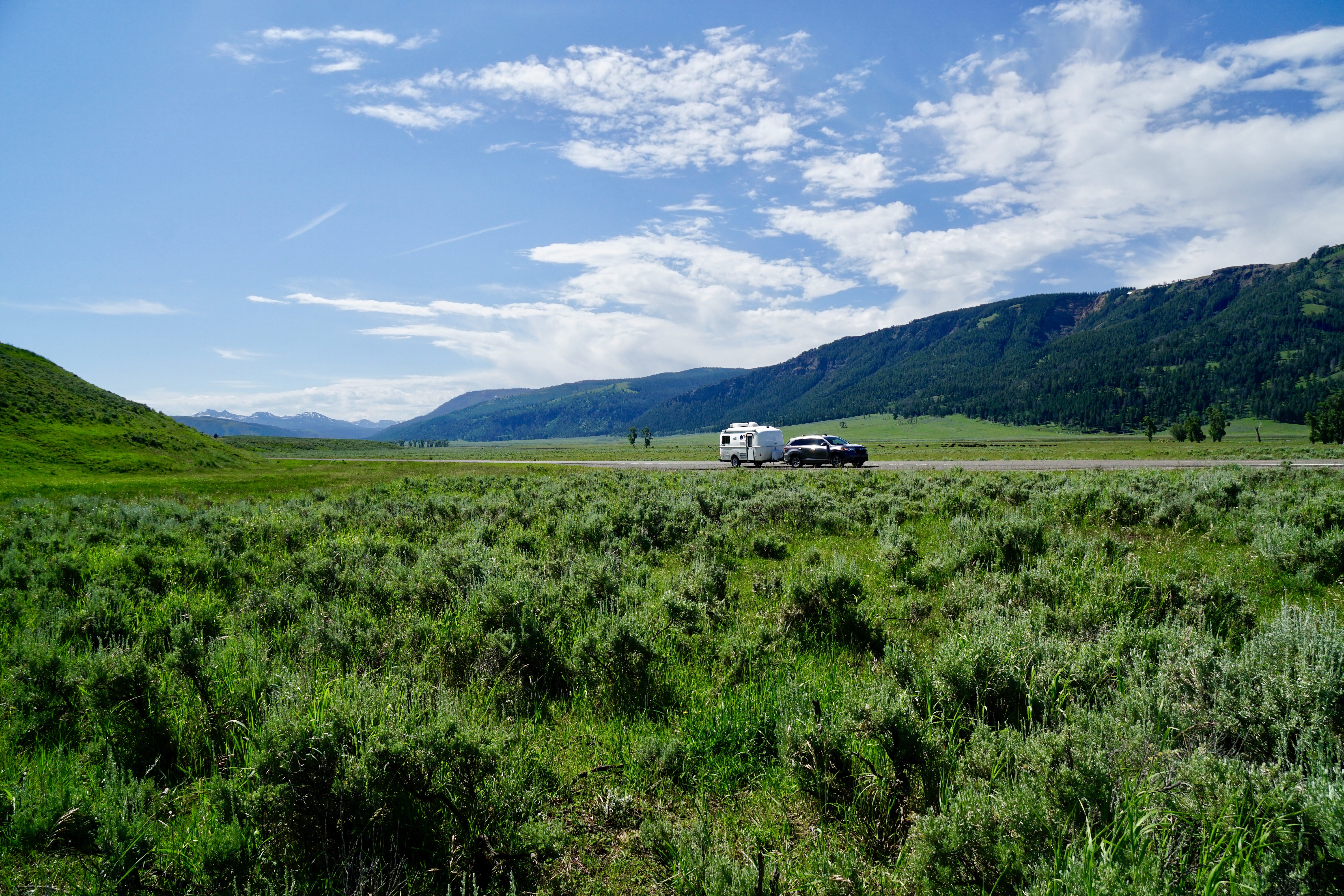 This morning, July 13th, I broke camp and headed west and north to Missoula Montana. However, yesterday is worth a note as I enjoyed a 5 mile round trip hike to a closed Forest Service Fire tower at 10,000 feet near Beartooth Butte.
From the tower I could view the lake where I was camped.
It was above tree line and commanded a near unbroken 360 degree view of the surrounding wilderness.
I would say that I embraced the solitude, but the truth of it was that I had cell service at the top and I took the opportunity to call Christine and my Mom. An afternoon thunderstorm chased me off the mountain, but not before I had the best of a great experience.
Today was an early start that took me back to Cooke City where I shared a table and breakfast with a father and son (Brian and Chris Wilson) from Australia who are touring on rented BMW motorcycles.
Brian is a retired adventurer and world traveler, and Chris lives in New York full time where he is employed in the tech industry. We did not lack for conversation as our discourse wandered from travel and father/son relationships, to the virtues of the 1970's Norton motorcycles. The bills paid, we parted company, I on to a transit through Yellowstone National Park.
This was at least my 5th time in Yellowstone, and the briefest. Christine and I camped here 42 years ago on our 30 day camping trip "honeymoon". It was her first camping experience and she endured 30 straight days tenting across 9 states. She persevered through downpours, freezing temps, and even nursing me through the flu. Love is grand (and blind).
My first visit to Yellowstone was in the early 60's with my parents and 3 brothers. We were crammed into a 14 foot camping trailer with us boys sleeping like sardines in the "overhang". My parents slept on the dinette that made into a bed. They once tried putting one of us boys above them in a canvas pipe berth… All was fine until he wet the bed and that was the end of the pipe berth.
Back then Bison were a rarity and slowly clawing back from the precipice of extinction. Today they seem to be everywhere in the park.
It is one thing to watch them from the comfort and safety of an SUV, but in 2010 I bicycled through Yellowstone on my way to Florida and every time I passed one of those beasts near the road i experienced more than a twinge of anxiety.
This was a 350+ mile day that has brought me to Missoula Montana. It is a longer drive than I like, but I wanted to get close to Coeur d'Alene for my arrival in Wallace on Tuesday and perhaps find a nice Forest Service campground for tomorrow and Monday.
One piece of drama on the drive today was a foray through a microburst thunderstorm. Within 10 minutes the temp dropped from 85 to 55. A torrential downpour with hail all but eliminated visibility. Fortunately the hail was "slushy" or windshields (and insurance companies) might have been the victims. The winds seemed to zephyr from all direction, but within another 15 minutes the sun was out and the temps were climbing back toward 80.
I will miss the Beartooth.
Peace Everyone. Pete
PS: I spent a little time walking the historic district of Fort Yellowstone before exiting the North portal of the Park. Here is some information that you may find of interest:
Yellowstone was established as a National Park by act of Congress in 1872. It claims to be the first and thus oldest to have that designation, which is both accurate and not quite so. Hot Springs Arkansas was established as a special preserve by act of Congress in 1832, long before the creation of the National Park System. It had become a favorite haunt of many in Congress and was catching on nationally. Members of Congress wanted to preserve it, perhaps out of selfish considerations. This was the first time that the government had set aside an area for purely recreational purposes.
While Yellowstone was founded in 1872, it was not funded and thus was looted and overrun by civilian squatters and entrepreneurs until the Army stepped in and established Fort Yellowstone in 1886.
A military presence was then maintained until 1918. The original Fort was comprised of temporary structures, but in 1890 Congress appropriated $50,000 for the construction of a permanent post.
Many of the buildings remain as private residences and others as tourist attractions. One even featured a "guard Elk"
Yellowstone is the only place in the United States where Bison have existed from pre-history without interruption. Furthermore these creatures, some weighing over 2,000 pounds are considered the largest native land mammals in North America. Yellowstone's is the largest herd on public land in North America and is special in that the herd has not been hybridized through interbreeding with cattle.
In my opinion summer is not the time to visit the Park as one must compete with the throngs of tourists and tour buses. If you can, reserve a visit for the Fall, or perhaps late Spring.