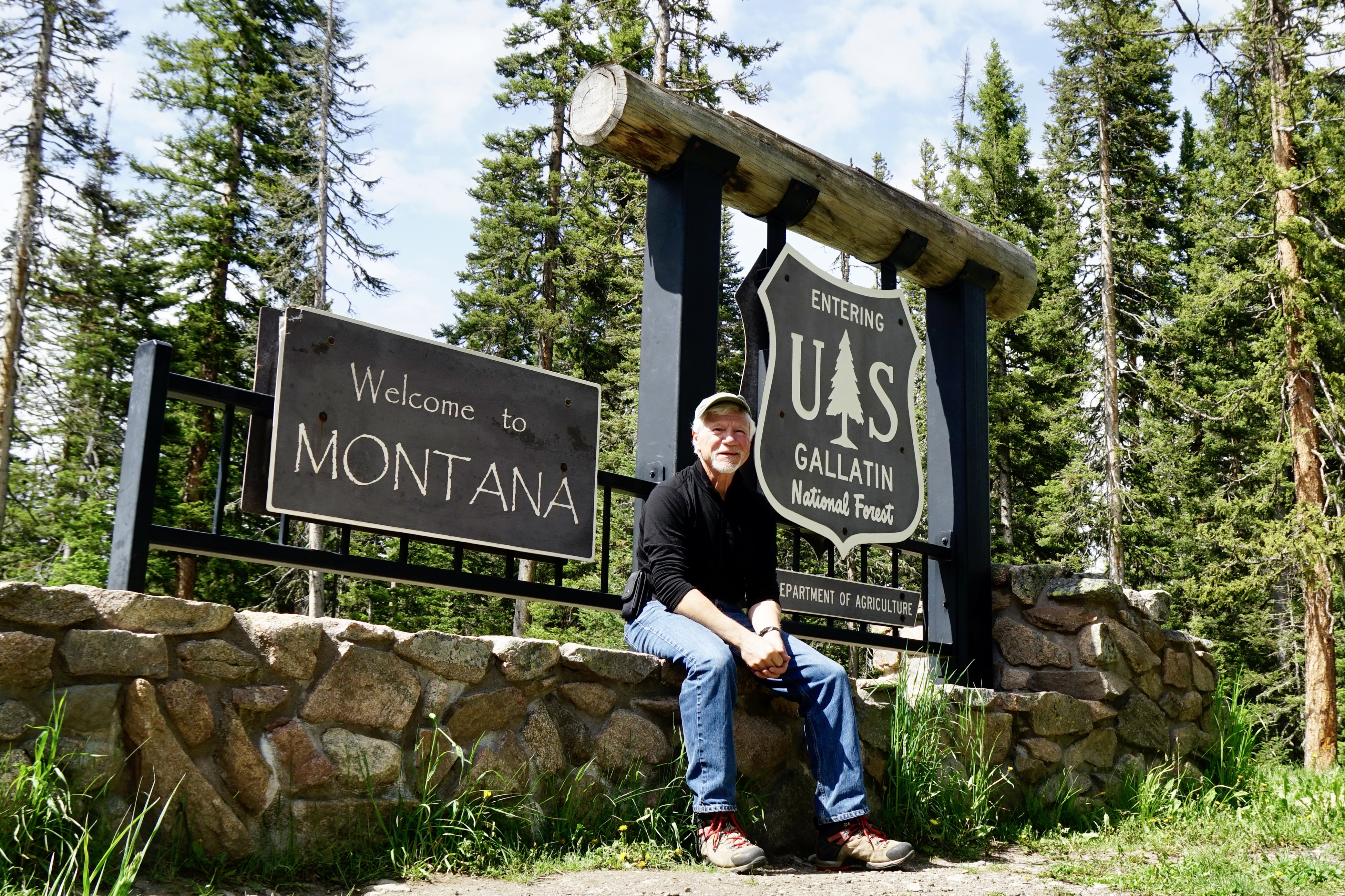 The Beartooth Highway spans a little over 70 miles from Red Lodge Montana in the east to just beyond Cooke City Montana in the west. It is there that it enters the northeastern portal to Yellowstone National Park. Its journey is split between the States of Montana and Wyoming as it serpentines across the boarder 3 times.
Built in early post-depression America it was a marvel of engineering that sought to flex the muscle of America's emerging optimism, the despair of the late 20's and early 30's becoming more a scare than an open wound. It has been declared "America's Highway", a pre-Interstate Highway conquest of terrain and climate.
The Beartooth retains much of its rugged individualism. It is closed in the winter, is subject to late Spring and early Fall snowstorms, and in mid-season frost heaves occasionally pock and fold the pavement.
It is not a road of commerce as vehicles longer than 30 feet are discouraged by the daunting switchbacks that demand white-knuckled attention to steering and brakes.
Interspersed along its path are US Forest Service campgrounds. These are primitive affairs offering only pit-toilets, picnic tables and fire grates (no water, no electricity, and no cell service) yet they fill quickly in mid—season. They attract a certain type of camper who wishes to flirt with the edginess of the wild, yet have the security of a shared encampment. Cautions of bear activity abound and are not mere words. Many campers, and the camp hosts walk about with cylinders of bear repellent holstered like a six-shooter. I count myself among them.
What a rare bear encounter may do in one paw-swipe, swarms of mosquitoes (the little blood sucking bastards from hell!) invariably do a drop at a time. These mosquitoes are a hardy lot as they seem just as active at 40 degrees as at 80. Oh well, another predator, another spray.
Most folks don't linger on the Beartooth. It is a passage experience with occasional stops at overlooks that flood the senses with Nature's proudest sights, and smells.
The day visitor tends to embrace "the other Beartooth", to be found in Red Lodge on the east and to a lesser extent at Cooke City to the west. For those desperate for a tourist fix mid-route there is the Top of the World Store which features a single gas pump, a concentrated assortment of souvenirs, and a few shelves of snacks and booze.
Cooke City is a city in name only that is narrowly spread for a few blocks on both sides of the Beartooth.
Eateries/bars, souvenir shops, sporting goods, lodgings, fuel, and a couple of minuscule casinos are its main offerings. It attracts visitors from beyond America's borders.
At mid-day many of the restaurants present waits of up to an hour for a table. I found an exception at the east entry to town.
The Antler Lodge features a newly opened restaurant and bar, yet to be discovered. 15 craft beers on tap and gourmet burgers… I saw an "appetizer" of onion rings, enough to feed two lumberjacks. They were at about 50% capacity when I lunched there. That should change as the word gets out. While the restaurant is new, The Antler Lodge itself is one of the oldest traveler rests in the region.
Log construction, lots of trophies adorning the walls, and a welcoming hearth room make this an original Beartooth experience.
The "town" of Red Lodge is a much larger and more vibrant big brother to Cooke City.
It is more accessible and features stores and shops that serve the needs of a general population as well as the tourist trade. It's a fun visit, but for me only as a punctuation mark to the experience of 4 days camped at 9,000 feet on the Beartooth.
At camp last night I engaged a couple of my generation in some fireside chat. The conversation took a turn to "the young people of today". The couple launched into an opinionated slog that the youth of today are lazy, lack ambition, lack morals, and in spite of those deficiencies, generally worthless. The wife offered as proof, "I worked retail.. I know". Rather than engage into controversies I held my tongue and shortly thereafter excused myself.
I have heard it said that "youth is wasted on the young". Perhaps youth may reply that "retirement is wasted on the old". In either case is seems that some of my generation are jealous of the world that waits to be explored by the young…perhaps regretting opportunities missed in their own youth.
Many who read my "Thoughts" have expressed that they are traveling with me vicariously, taking in as a virtual experience what they can not in everyday life. Similarly, I take vicarious pleasure in visiting with young people… tasting the thrill of a seemingly limitless horizon of possibilities.
The camping couple have apparently missed the joy of knowing my children and youth like them. Hard working, moral, bright with optimism for their future and the future of the children that they bring into this world.
In that same vein I wish that the couple could have met my server at the Antler Lodge Restaurant.
Sarah is a recent college graduate who bubbles with excitement as she shares that she will soon be off for a year in Austria. She has hired on for the year as an au pair to a family with two small children. She will assume the role of nanny and English teacher to the children for 18 hours each week, living with the family and taking intensive German language classes throughout her tenure. Beyond that graduate school awaits Sarah.
Bright, personable, hard working, and ambitious. She is "the youth of today" who hold America's future in their hands. It is the duty of the older generations to give them an America worthy of their talents and ambitions.
Peace Everyone. Pete
PS. In Red Lodge I came upon an unusual fossil shop. I was fascinated by the mounted trilobites and crinoids. Is it possible that I may be bringing a souvenir back home?