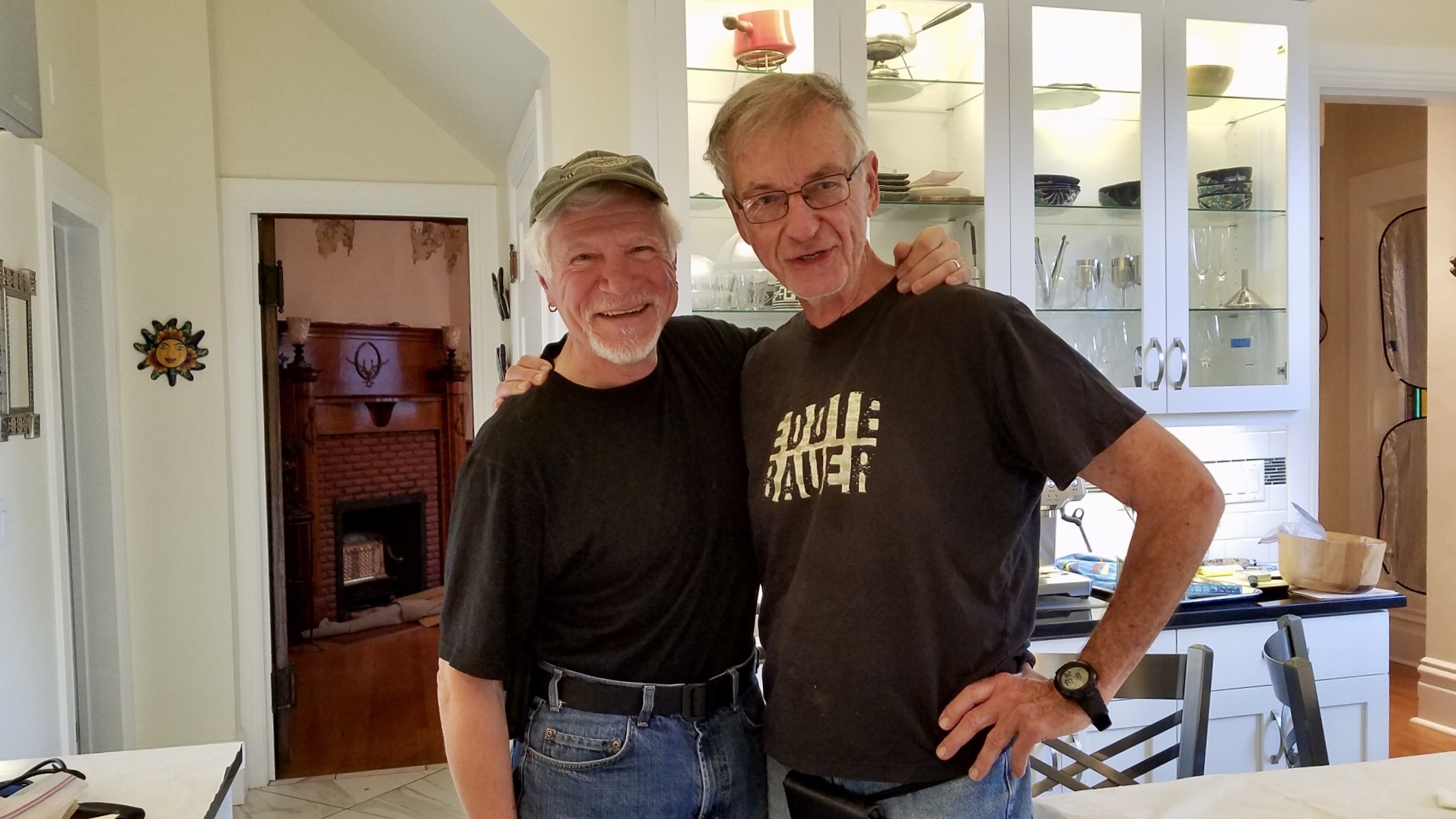 I left at dawn on the 22nd from the US Forest Service "Cabin City" campground where 47 degrees was my morning's greeting. While in the mountains this was one of the warmest overnight temperatures I have experienced on this trip. One morning was just below freezing. Kansas City has not been so fortunate.
It was a long driving day that took me half way to Salt Lake City where I planned to visit our friends Lena and Ron at their home. More on that visit later…
I took advantage of a truck stop to do laundry, catch a shower, and then I put more miles behind me before overnighting with the "Big Rigs" at an Interstate rest stop.
The morning of the 23rd was another early riser in order to time my arrival in Salt Lake City before noon.
As I drove south into Utah on I-15, I enjoyed an extraordinary panorama that must have cried "Promised Land" to the Mormon pioneers of the mid-19th Century. I had to mentally blot out the Interstate and the occasional sounds of 18 wheelers, large RV's, and passenger cars pounding the pavement of this arterial highway.
The roadway was completed around 1990. The section that I traveled just south of the Utah/Idaho boarder was perched on a rise with a shallow valley to the west on my right. In the distance the crystal clear air revealed mountains to the east and a well laid out western town of a few hundred citizens down in the valley to the west. Perched upon the rise between the town and the highway was an equally well laid grid-work cemetery, the morning sun brilliantly illuminating the hundreds of white stone monuments. The grounds were obviously associated with the town. I guessed that the "citizens" in repose outnumbered the living residents of the town. A question was thus presented to me: Do those now living upon the Earth outnumber those who have gone before us in death? A stop for gas and a hurried consultation with Professor Google provided me with some answers.
First of all, I am not the first person to have asked the question. Secondly, our species (Homo sapiens) has been around for about 50,000 years. They did a terrible job of record keeping until the 1800's. Demographers were left with a puzzle that had clues but no definitive statistics.
Earth is currently home to over 7.5 billion souls. We are replacing our dearly departed at the rate of approximately 20 births per 1,000 people. In and before the Middle Ages this number was likely around 80 per 1,000 people. However, factoring infant mortality the life expectancy of our species during and before the Middle Ages may have been as low as 10-12 years! Today the world-wide life expectancy it is around 67 for males and 71 for females.
Crunching the numbers, the Population Reference Bureau ("PRB") has estimated that more than 108 billion members of our species have been born to date, and that approximately 7% of that number are alive today. That is approximately 14 dead for every person now living.
Kudos and a "tip of the hat" to Arthur C. Clark (author of "2001 as Space Odyssey") who in 1968 estimated the ratio at 30-1 when the Earth's population was just 3.5 billion. His estimate is consistent with the PRB's.
In order for the number of living humans to exceed the number of dead ones the Earth must somehow support well over 100 billion living humans… pretty unlikely. "Whew!!!"
Back to Salt Lake City: Christine and I first met Ron and Lena in 2017 while camping on Sitka Island and traveling to mainland Alaska.
We immediately hit it off with this like minded traveling couple. They were originally from Canada and each achieved their PhD, Ron in Chemistry and Lena in Social Sciences. They founded their own business that involved environmental issues and engineered solutions. They retired around 2000. In 2018 Christine and I were traveling through Spain on our way to walk the Portuguese Camino. I received a message from them. They had been reading my posts and damned if they weren't in Madrid on the same day that we were! We joined them for a memorable evening with promises to get together again. Again came yesterday at their home in Salt Lake City.
Ron and Lena are in the process of downsizing and simplifying life. They have sold the remarkable 1898 home that they totally renovated.
They put aside their packing duties to entertain me with lively conversation, wine, lunch and dinner, and an amazing night overlook of the city.
Within 10 minutes of my arrival in their home we were talking about this year's travels and "next things" for the future. Among those future possibilities are: An RV camping tour of the inner and outer coasts of the Mexican Baja Peninsula… A one-week sailing from Montreal to the Madeleine Islands of the St. Lawrence (Nanci and Tom I hope you are reading this!)… and a voyage to the Arctic up the west coast of Norway on the "Hurtigruten", a mailboat with spartan passenger accommodations for the intrepid traveler (Hege and Jan-Cato I hope you are reading this!).
There are no definite plans, but "next things" have a habit of finding us, and so it seems with Ron and Lena. Beyond amazing is that Ron and Lena know our Denver friend Kris (my next stop as I am homeward bound), having met her in 2016 while walking a route of the Camino in France! Some things simply defy explanation.
Tomorrow I return to Winter Park for an overnight before arriving in Denver. In the meantime…
Peace Everyone. Pete
PS. Speaking of the "Unexplainable". This morning, without any action on my part, my website re-launched two posts from our 2018 Europe trip, one about Norway and the other about Berlin which included a get together with Stanley, a gentleman with whom I had just exchanged email greetings yesterday. I remain convinced that our senses are inadequate to explain the experiences that befall us.