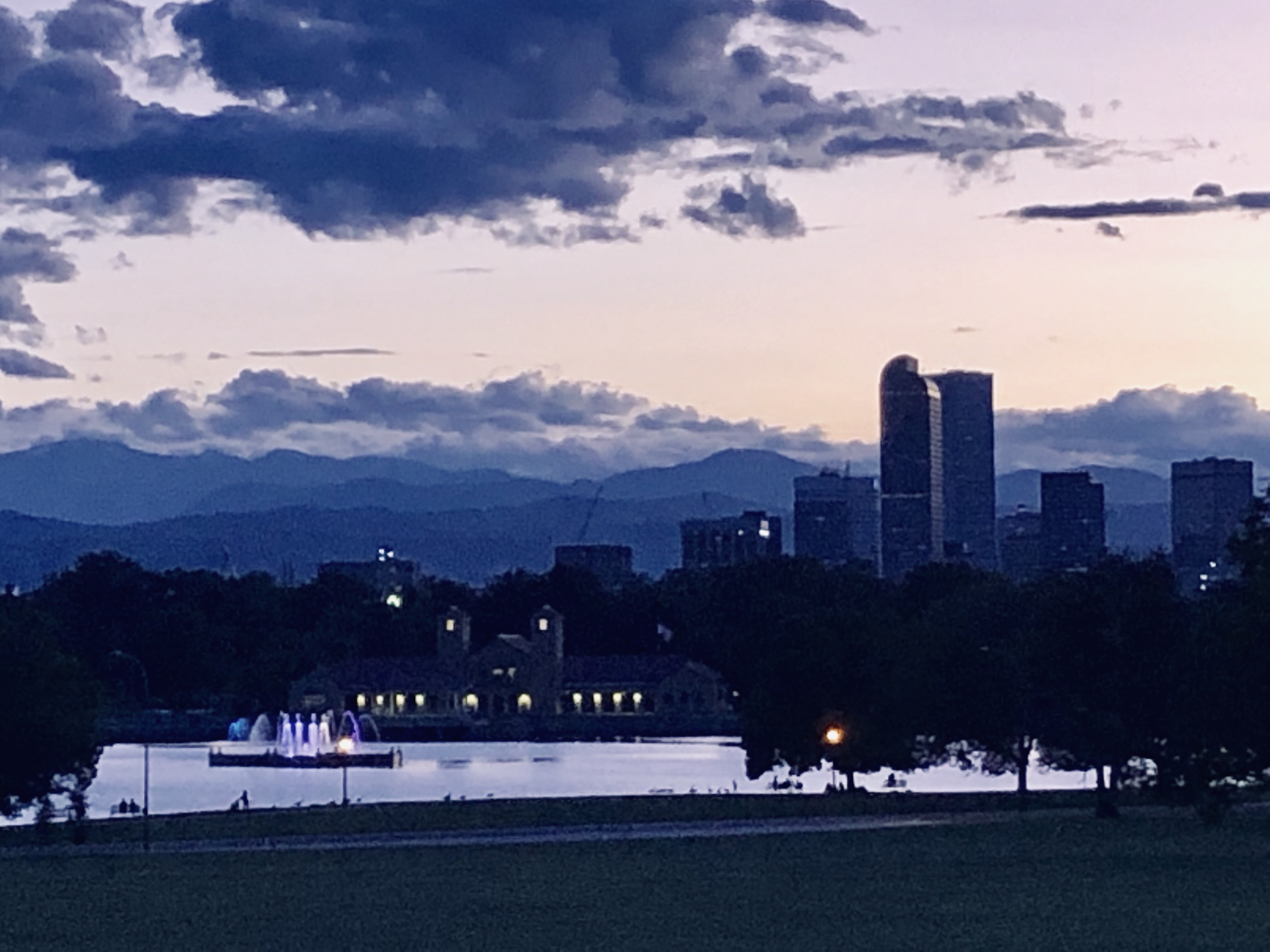 Yesterday, August 10th, Christine and I joined longtime friends Greg and Rebecca for lunch at a very good brewery/restaurant "Fields and Ivy" located in Lawrence Kansas. Ours is one of those very special friendships that sustain beyond the boundaries of distance and time. My 45 year association with Greg warrants comment which I will reserve for later in this post.
Greg and Rebecca both follow our travels. At lunch Rebecca issued a mild reprimand to me… "So what happened?… As far as everyone who follows you is concerned you just disappeared somewhere between Salt Lake City and Denver." It was a light hearted comment, but she is correct. My bad.
The drive from Salt Lake to Winter Park was largely uneventful, except that it coincided with Robert Muller's testimony before two House of Representatives Committees. The proceedings were aired live on the NPR feed hosted on Sirrus Satellite Radio. The mountains effectively limit the use of FM radio, but the satellite broadcast firmly held my attention for most of the day's drive. I doubt that one in a thousand Americans tuned in for the whole thing. I had nothing better to do and I found it captivating. No other comment is necessary lest I become just another talking head.
I overnighted in Winter Park and enjoyed my last Dutch Oven dinner and bourbon accompanied campfire of the trip.
I also savored the 40-50 degree night temperatures which will elude Denver and Kansas City until Fall arrives.
I arrived in Denver for a two night stay with our friend Kris. She lives very close to two paved bicycle paths that are a part of Denver's impressive network of trails that cover scores of miles. I took advantage of the opportunity to get in a pleasant morning ride.
I was Kris' guest to a couple of events, one of which was an evening gathering of a group of her long-time female friends. I was welcome, but I was also the sole male among the 14 in attendance. I mingled but also embraced being a "fly on the wall" with the opportunity to observe and consider how differently women and men socialize with one another in the general absence of the other sex. Something for me to "chew on" in the future.
The second event was an afternoon "Pot Luck" lunch hosted by the Denver chapter of the American Pilgrims on the Camino (APOC).
As one who has walked both the French and Portuguese routes to Santiago de Compostela Spain, and co-founded the Kansas City chapter of APOC, I was right at home with the group.
The night before my departure for Kansas City we went to dinner at a highly regarded restaurant in Denver's Park Hill neighborhood. "Tables" is one of those rare finds where the food and service are exceptional, the price is moderate, and the very talented chefs/owners personally visit your table to ensure that the dining experience meets their standards of excellence.
Kris and I could also carry on a conversation without shouting at each other… a rarity in restaurants these days. It was Kris' first visit and I imagine it won't be her last.
It was time for me to bid an early farewell the following morning (Sunday the 28th). For her part, Kris had preparations to make for a backpacking trip later in the week. She and four friends were hiking the circumference of the base of Mount Rainier in Washington State. The endeavor over rugged terrain would take more than a week, cover over 100 miles, and accumulate over 25,000 feet of elevation changes. She is a strong and adventurous woman.
I had not intended to drive the entire 610 miles home in one day. Towing a trailer can be taxing, especially solo.
However, the Sunday traffic was moderate, the weather passable, and I had a favorable tailwind. Stopping only for gas, a quick lunch, and an occasionally for the bathroom (that is conveniently located in the trailer), I made it home well before dark. I knew I was really home when Christine and I were in each others arms. The solitude that really wasn't had come to an end.
About that "solitude": I previously remarked that the act of writing these posts created an aura of companionship. I wonder if the effect is different when one writes entries in a personal diary. Does the expectation of an audience or of privacy change the experience of examining ones thoughts in writing? I have never been one to keep a private diary. However the impression that when I am writing I am "with" many other people is quite real… and comforting.
I also wonder if prayer brings comfort to the "faithful" out of the sincere belief that their words have the ear of God. Similarly, is understanding of this comfort lost on those who are non-believers?
Whether or not the Creator is listening is a different question than whether or not one BELIEVES the Creator is listening. In medicine it is the placebo effect that renders a sugar pill an effective remedy for pain… the belief, not the pill.
Peace Everyone. Pete
PS: In July 1974 I traveled to Kansas City to accept a position as a Missouri State Probation and Parole officer. I had just completed my undergraduate studies at Southern Illinois University in Carbondale.
On my first day in the office I met Greg Tempel. Greg, also a new hire, had recently finished his undergrad work at Central Missouri State University. Greg was assigned one of two specialty caseloads. His duties included supervision of drug dependent offenders living in a half-way house. The other specialty caseload was assigned to me, supervision of alcoholic offenders living in a different half-way house. We quickly became friends and found that our approaches to caseload/client management were similar and a slightly out of step with more liberal sociological models that were then in vogue.
Greg and I shared an apartment for a time. In our third year working for the State, and without the other's knowledge, we each applied to law school. We were each accepted and by pure chance ended up in the same classes throughout the first year.
Greg was an exceptional student with very disciplined study habits. He was also athletically inclined. Our friendship was flavored with a spirit of competition that called me to do better… although most of the time Greg came out ahead.
In our second year of law school Greg invited me to join him as his partner in a lawn service. It was successful beyond our expectations. We (literally) wore three sets of tires off of our two push mowers the only Summer we operated the business. The telephone rang off the wall with calls for our services the following year, but the requirements of the final year before graduation and the looming stress of the State Bar Examination ended our Student Lawn Service. I have no doubt that we could have grown that joint enterprise into a financially lucrative business.
Another thing that Greg and I had in common was the good fortune to marry well. Greg and his wife Rebecca moved to Colorado to pursue their professions and start their family. Christine and I had married the Summer that I entered law school. We had children born in both my second and last year of school. Greg and I remained in contact over the decades and seized opportunities to visit when they visited Kansas City and when we vacationed in Colorado.
At the end of a vacation in 2014 we met Greg and Rebecca for breakfast at a diner near Fort Collins Colorado. Greg mentioned that he was retiring in April the following year and that he and Rebecca would be moving to Lawrence to be closer to family and Rebecca's KU Jayhawks. Until that moment retirement had only been an intangible for Christine and me. My facial expression must have revealed something to Greg because he exclaimed, "…and damn it, you are not going to retire before me!!" I retired in May.
Greg always brought the best out in me. My general ideology trends liberal while his trends conservative. We each respect the view of the other from his side of that fence. When we get together we have a beer (or two), we laugh about the past, we are grateful for the present, and we talk about the future that will be owned by our children and grandchildren. As I said… a friendship that sustains beyond the boundaries of distance and time.