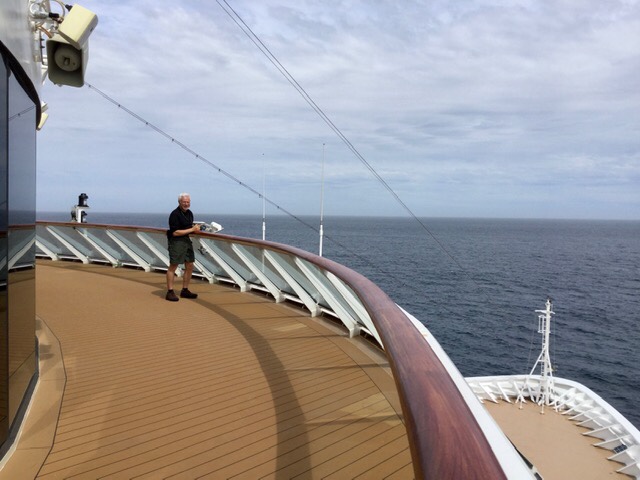 This is our first full day off-shore and thus a good opportunity to present a tour of the ship and an overview of a typical day. However, the day has already included the non-typical with the Captain calling passengers to assemble for important information about a coming "weather event" that will be impacting us. More on that later.
Of course day begins in our state room onboard the Viking Sun. This ship was commissioned 2 years ago and is considered in the small ship category at 745 feet long, 95 feet on the beam, and accommodating 900 passengers and 450 crew. These days the "big ships" can exceed 5,000 in passenger capacity.
We are in what is known as a Penthouse Veranda. It is an upscale category that features a larger room, larger balcony, and other amenities such as a mini-bar that is restocked daily with beer, wine, liquor, soft drinks, and snacks at no additional cost.
There are no "downscale" accommodations as all rooms have balconies.
Our room is very comfortable and inviting, but then we don't intend to spend all our time within.
The ship abounds with luxurious community spaces comprised of lounges, "living rooms" and quiet studies. There are expanses of glass that invite one to feel a part of the elements but without feeling the elements.
A large swimming pool is located center and features a sliding glass roof that permits use regardless of the temperature/precipitation challenges at hand.
Aft is an "infinity pool" where the rear wall is made of glass and extends over the stern of the ship. The effect is a bit intimidating at first, but a cocktail or two presented poolside tend to alleviate any insecurity.
All passengers must be at least 18 years of age. There is no casino. Evening attire is business casual… relaxed elegant. During the remainder of the day shorts, jeans, tees… are all appropriate. We are about in the "sweet-spot" for age, mid-60's to mid-70's. There are some folks younger, some folks well beyond their 80's, and the entire ship is accessible for those who are physically challenged. The crew are highly trained, most professional, and remarkably the general manager for the restaurants and a maitre'd specifically remember Christine and me from our Atlantic crossing last year.
Each day presents a myriad of options for activities, some of which are featured in a large amphitheater. On day one this included the mandatory ship emergency drill.
This was followed up by a presentation on the flora and fauna of Patagonia. Each day includes a number of timely lectures that are germane to the local history, culture, and ecology.
The ship has a number of exceptional dining venues. Whereas some cruise ship companies feature food "by the trough", Viking preserves elegant as an overriding concept no matter the choice. I will present more on the dining options later, but for now I will merely say that all dining, no matter the level, is included at no additional cost. Beer and wine are complementary at all meals.
The ship is a floating museum of art. A downloaded app allows real time access to information on any one of the thousands of pieces on display.
It is also a music venue where accomplished musicians add to the ambiance of classic nobility.
End Part 1.
Peace Everyone. Pete
PS: The "Weather Event".
This morning Captain Lars Kjeldsen made a special announcement concerning an approaching weather system. He convened a presentation in the auditorium for those wishing more detailed information.
Our next port of call was scheduled to be Porto Madryn on the coast of Argentina. Unfortunately, a building weather system is approaching and renders it imprudent to remain in those waters. Winds are predicted to exceed 50, and perhaps 60 knots. Therefore, the Captain is directing the ship to advance directly south to the Falkland Islands where we will arrive early on the 23rd. Rather than 2 days there we will remain only one and then continue on to more protected waters in Ushuaia where we will remain 2 days before rounding Cape Horn.
In spite of these measures it is expected that we will experience difficult conditions for about 12 hours. The ship and crew are more than sufficient for these challenges. The Captain's presentation was reassuring, but realistic. I harbored some hope that this voyage might be memorable… perhaps I am being granted my wish.
The Captain concluded his remarks by saying, "… and as always let's be good each other". Good words for all of us in life's weather both fair and foul.
Pete