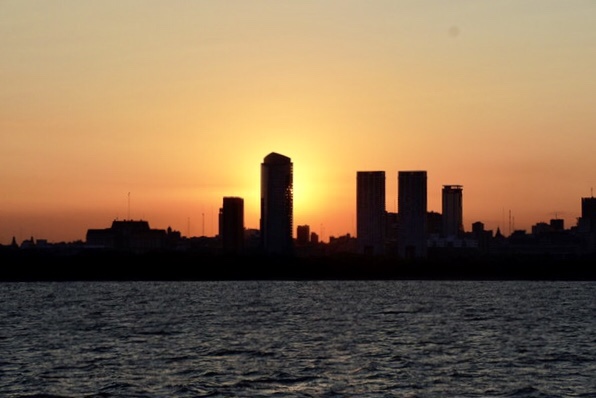 We boarded the Viking Sun on Monday, November 18th and secured our belongings into our "home" for the next 21 nights.
Christine had heard of Uru, a custom leather shop located near the Cementerio Recoleta so rather than just hang out aboard the ship we returned to the port terminal to hail a taxi back into the city center. At the terminal, helpful young ladies offered to secure a taxi for us, "only $25.00 US", double for a round trip. Fortunately our 4 days spent in the city had educated us to the economy. We thanked the well meaning terminal employees who cater to the less initiated and walked to the street where licensed cab drivers were waiting. The fare into the city cost us less than $6.00 US, the return was less than $2.00 US.
At Uru Christine quickly found her heart's desire in a beautiful lambskin leather coat.
Her quest accomplished we returned to the ship for dinner, a nightcap, and a deep breath. As seems typical for us we quickly made the acquaintance of some other passengers, most notably Larry and Sharon from Colorado. They are retired physicians, "horse people". Larry has developed a second life/profession as an accomplished concertina player and principle in a music group that features Celtic and classical music. We have much in common with these good folks and look forward to sharing time with them.
Tuesday was our first full day on Viking Sun. The ship is midway in a circumnavigation of the world that has been qualified as a record by the Guinness Book of World Records as the longest (in days and miles) regular schedule cruise itinerary ever. Approximately 60 of the 900 passengers are London to London passengers who have paid for the entire 11 month voyage. Others, like us, are segment passengers.
We returned to the city for a ship sponsored tour, seeing some new neighborhoods but mostly revisiting sites we had already seen. Our excellent tour guide provided helpful local information that gave extra dimension to our experience in Buenos Aires.
Back at the ship I began photographing aspects of the onboard experience for use in a future post. I also spent some time in the ship's gym. At sunset the Viking Sea sailed from Buenos Aires Argentina for a night crossing of the expansive Rio de la Plata Bay which forms the natural boarder between Argentina and Uruguay. The departure and sunset made for some spectacular pictures and memories.
After sunset we shared dinner, conversation, and a nightcap with Larry and Sharon. Background music was supplied by a violin and cello duo from the Ukraine… Magical!
Our second morning on Viking Sea brought us into the harbor at Montevideo, the capital city of Uruguay. This is a decidedly working port which is abuzz with commercial activity. A curious ship graveyard greets one at the entrance to the protected waters.
We enjoyed a 2 hour bus tour of the city, after which Christine and I walked solo to find a "local's" dining establishment.
Where Buenos Aires had a largely European feel to it, Montevideo presented a much more Caribbean atmosphere. Here is what we saw and learned in this one day port-of-call:
Uruguay is the smallest nation in South America. It is bordered by Brazil to the north and Argentina to the south. Uruguay is home to 3.5 million people and is one-fourteenth the size of Venezuela… one fortieth the size of Brazil. It is further dwarfed by Brazil's 200+ million population and Argentina's 44 million citizens.
Uruguay is a progressive nation where there is universal healthcare and free education, including university studies. Same sex marriage is recognized as are a woman's reproductive rights and decisions. Women were granted the right to vote about 10 years earlier than in the United States. Also, recreational and medicinal marijuana are legal, but restricted to its citizens.
Our tour included a stop at Plaza Independencia, home to the President's offices and executive branch of government. At center is the monument and tomb of Jose Artigas (1764-1850), the national hero and "Father of Uruguay". We also viewed the Parliament which is located elsewhere in the City.
Uruguay, like neighboring Brazil and Argentina, has a 19th Century frontier history not unlike the US American West.
Soccer ("Futbol") is the national passion. The stadium in Montevideo seats over 70,000 and was the site of the first World Cup event (which it won) in 1930. The national team also won the World Cup in 1950, in addition to being victor in two Olympics. It boasts the most Copa America titles of any country. Remarkable for a country that is so small!
We depart Uruguay tonight and we will be at sea for the next two days. Our next landfall will again be in Argentina, but in the Patagonian sub-continent. The temperature today approached 90 Fahrenheit, unusually warm here for this time of year. We are bracing for much cooler temperatures for the next two weeks.
Peace Everyone. Pete