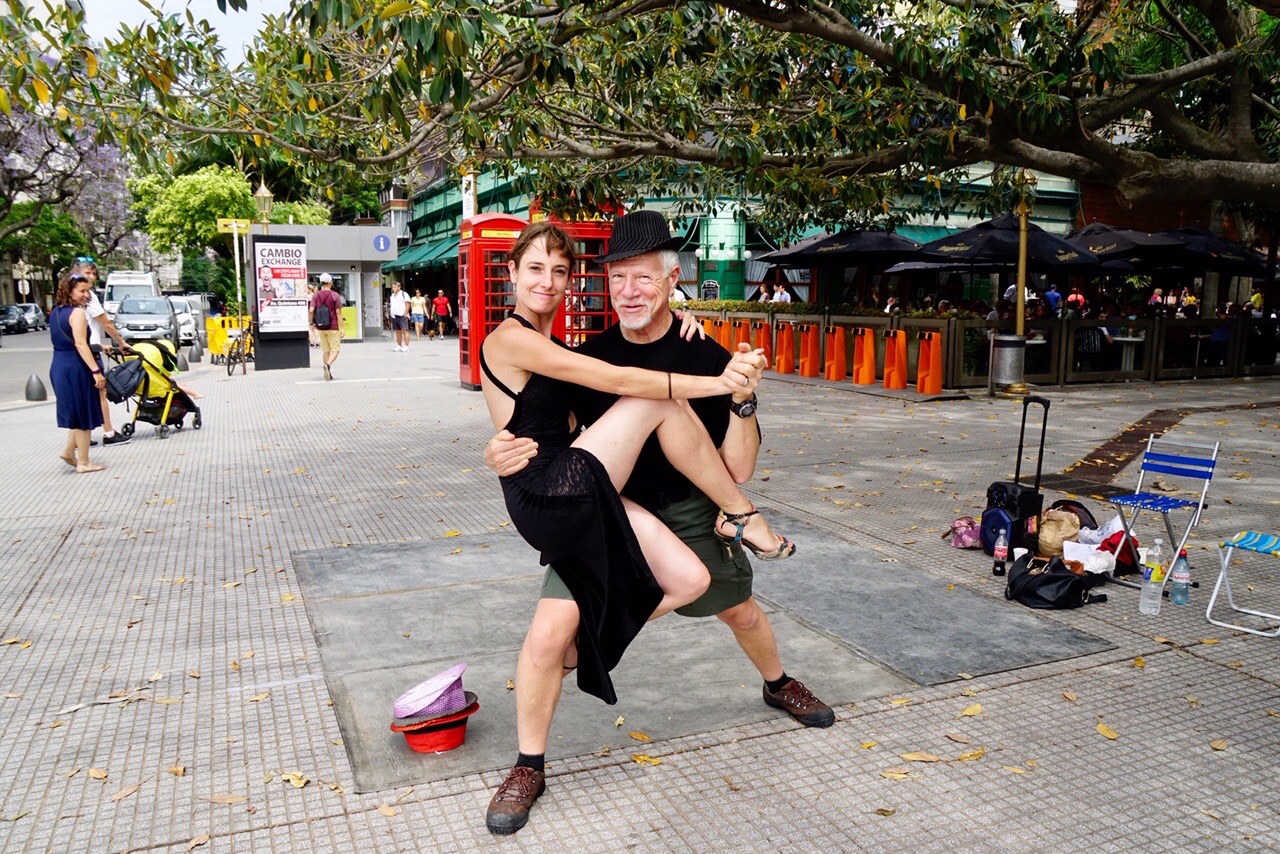 This is our third day in Buenos Aires, and our last night at the Recoleta Grand Hotel. Tomorrow we board the Viking Sea where we will make our home for the next 3 weeks. However, we are not through with Buenos Aires as the ship will remain in port for two more nights.
We now know that there is much of this city that we will not see. A few days is hardly enough time to explore the varied neighborhoods of this modern capitol city. We will continue our explorations, but it is doubtful that we will spend much time in any museums or galleries. The weather is fine and the streets are alive!
Shortly after leaving the hotel this morning we stopped to look at a map. Our quest was Cementerio de Recoleta and to seek the grave of Evita Peron. Seeing us, a nice lady and her 11 year old daughter stopped to offer their help. Miai speaks a little English, and relied upon her daughter to lend a hand with translation. Their kindness lead to a 15 minute visit and recommendations for places to buy custom made leather goods. Christine and Miai exchanged contact information. Miai is leaving soon for the States where I hope that she is afforded the same level of hospitality that she extended to us.
A short stroll brought us to the Recoleta park grounds and Cemetery. Today is Sunday so booths featuring local artists and their wares lined the sidewalks for hundreds of yards.
We took in an outdoor cafe for a leisurely lunch in the cool shade of an enormous rubber tree. This one's limbs extended dozens of yards from the center and required the assistance of iron crutches to keep them elevated above the ground. One such support was supplied by a sculpture of Atlas the Titan. I took a moment to briefly relieve him of some of his burden.
Nearby were street performers giving impromptu Tango lessons. We could not let the opportunity pass. Taking turns we each enjoyed moments of imagined celebrity in the arms of a young Latin dancer. Fortunately, still images are much kinder than any video would have been. Ah, to be young again!
I have always been drawn to cemeteries. I have often wandered among the graves and imagined the life stories that must have been, but are now compressed into little more than a "Born on… Died on…"
The famous Pere Lachaise Cemetery in Paris France is home to such notables as Oscar Wilde, Edith Piaf, and of course Jim Morrison of the Doors. It is a small city with tree lined boulevards and family tombs that are like small mansions. Cementerio de Recoleta is its equal on a slightly smaller scale.
Here is a place where The "Who's Who" of Argentine society is now the "Who Was". The tombs are among the most elaborate that I have every seen. Many are adorned with beautiful entries, stained glass windows, and doors with artistic brass engravings. One even featured electric coach lights above the door. Much as I looked, I saw no door-knockers.
Some of the tombs extended two or even three stories below the ground. Just inside the doors and "reception" were narrow stairs that gave access the the lower levels.
The grounds were the final resting places of Presidents…
Generals…
Liberators…
Giants of business and finance…
…and of course,
Evita Peron.
All of their celebrity is eclipsed by the tombs of two teenage girls. 19 year old Liliana de Szaszak (1944-1970) died tragically in an avalanche in Austria. It is reputed that her dog, Sabu, was so attached to her that he died in Buenos Aires at the moment of her passing.
Ruffian Cambaceres (1883-1903) was found dead in her bedroom of a suspected heart attack. On the night of her internment a watchman overheard sounds within the family mausoleum. Investigation the next day revealed that the coffin had moved. When the lid was opened scratches were found on the inside surface and all over Rufina's face and neck. She had been buried alive.
Christine and I once visited an ossuary in Rome Italy. At the entry was a skeleton constructed from the bones of one or more of the departed. It was clothed as a monk and held a sign that declared, "What you are I once was. What I am you will become".
The cemetery at Pere Lachaise and the one we visited today are final resting places, but they are also monuments to our arrogance. They are displays of wealth, status, and notoriety. They are fictions to a belief that we as legends live on forever.
Many of the tombs have become metaphors of the death and decay of those who are within. Fallen plaster, rotting caskets, dust, rust, and tarnish. Death is the great equalizer, and on that happy note…
Peace Everyone. Pete