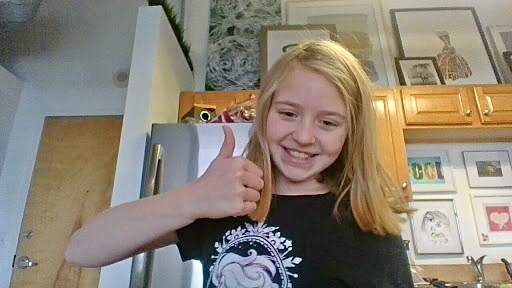 The "dashboard" of my blog software allows me to see the countries where people are viewing my posts, typically 15 or more. I can't tell who the readers are, but in the case of a few countries I have a pretty good idea… Philippines, Canada, the UK, Germany, France, Belgium, New Zealand, Australia, Jersey Island, Japan, Norway… to name a few that cause me to smile. I am clueless when I see Korea, China, India and a number of others.
The only way that I know with certainty that a post has been read by a particular individual is when they make a comment. Recently this comment caught me by surprise:
"I love the stories you tell. They are so persuading and realistic. My mom makes me read for an hour for home school, so I always choose your stories." – Olive
Olive is 10 years old. We have known her, her parents, and her 13yo brother Liam since she was a toddler. Early on we happily assumed the role of their "adopted" grandparents, Papa Pete and Grandma Chris, including them in family gatherings and pictures.
The same day that Olive posted her comments (there were three of them) she sent me an email message, "Hi Pete, I sent you a comment and I just wanted to say I love your stories…" She added that she would like to talk. I called her Mother, Jenni, who was aware that Olive had reached out. Jenni said that Olive had some questions and just wanted to talk about some of the things that she had read. Olive was especially taken with the post, "Through a Child's Eyes". She discusses her readings with Jenni who shared with me a few of Olive's reflections:
"Through a Child's Eyes is how I really think. I agree with the description about time, especially about the birthdays. It's really how time works for kids."
"He says things I've never thought before, but he explains all the pictures and all the things that have happened in his life."
"I like his blogs because it's not thoughts I would think that he might say out loud… I wouldn't know that he's thinking those things…"
Wow… Olive, at 10 years old I would never have known that you were thinking those things either! Perhaps you have hit upon an idea for those like you who are spending so much time being homebound.
Jenni arranged a "Facetime" session which allowed for some real-time questions, answers, and just plain conversational catching up. Jenni added some insights about both children. Olive is a big helper at school and has the gift of foreseeing problems before they arise. She is in the 5th grade and loves to read. Mom requires an hour of reading each day from both children and Olive chooses "Papa Pete's blog". Liam is 13 and a huge "bookworm", often reading mom's novels and books when she has finished with them. He is a deep thinker. Big concepts and heavy topics are comfortable for him. Both children speak French fluently.
For her part, Jenni is thrilled that the writings are both informative and challenging for Olive. She absorbs the vocabulary and is excited to learn about new places and experiences.
I asked Jenni if it would be ok to feature Olive in a post. She and Olive were thrilled. I am thrilled to share something that is not about covid-19, the economy, or politics.
Recent news programs have highlighted teens endlessly partying away their Spring vacations, intoxicated and oblivious to the looming pandemic. The stories are deemed "newsworthy" because of the controversy and ire that they generate. However, Olive and her brother are the real story. They are examples of the millions of young people who are guided by parents who care… parents dedicated to raising thoughtful, moral, and well educated children. They are the next generation, the one that will have the tools and know-how to fix the problems that we have left them with.
Peace Everyone. Pete
PS. This post was the result of a comment posted by Olive. I read and enjoy every comment that readers make. Most readers remain silent, some of you comment but occasionally… a few of you regularly. My number one commentator was my 94 year old Mother, Pauline Schloss. She rarely missed an opportunity to throw in her "2 cents". Mom was proud of me but in her eyes I remained her willful child. We clashed on politics, and she was ever concerned that I was too much the risk taker. She thought I should have been a teacher, to which I would reply, "No Mom, I'm a lawyer." It's funny how our impressions of others change but slowly. For most of my life Mom saw me as a bit of a spendthrift with a poorly developed work ethic. My posts provided her with fresh insights into me that she treasured. Mom died March 24th. Christine and I are grateful that we were able to spend time with her a few weeks ago when she was still her sharp and alert self. The day that we left her side she was transferred into the care of Hospice. Her decline to a peaceful and painless death rapidly followed. But for the pandemic related "social distancing", her funeral would have drawn quite a crowd. As it is only 3 were permitted to attend her funeral Mass. I am at peace that Christine and I could not be among them. When things loosen up we will drive to her home near Chicago and retrieve some personal effects. I will take some time to sit by the final resting place of my Mother and Father, expressing my gratitude for everything and forgiving them for anything.