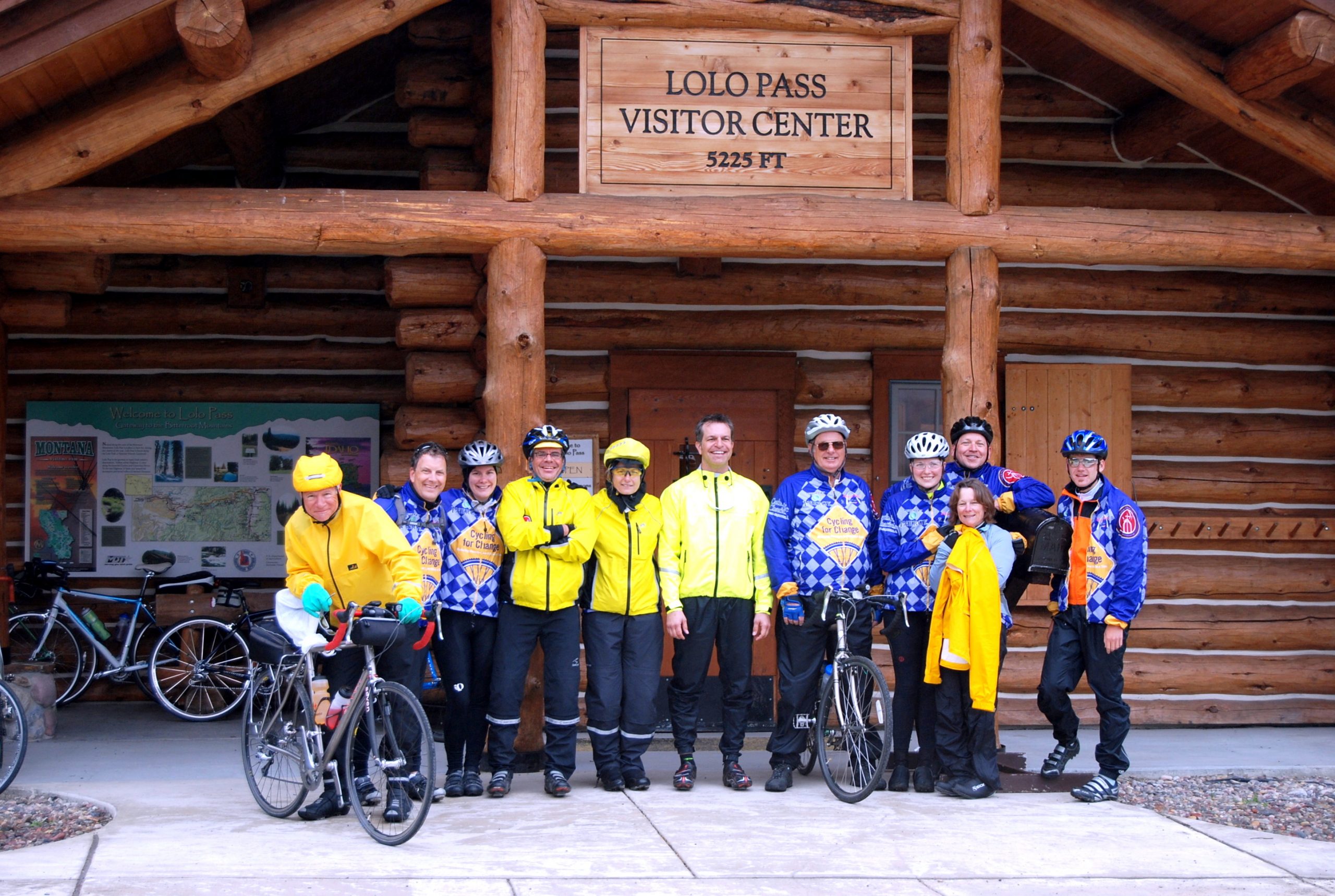 The 61 miles that we covered on June 16th (2010) from Lochsa Lodge to Missoula was memorable for the thrill of ascending and topping 5,225 Lolo Pass, famed as the westbound crossing point of the Lewis and Clark Expedition in 1805.
This pass through the Bitterroot Mountains was also used in 1877 as an escape route by Chief Joseph during the Nez Perce Indian War. A tribute to the ruggedness of the area, Route 12 upon which we crossed the pass was not completed until 1962.
We enjoyed a brief celebration and hot coffee at the Lolo Pass Visitor's Center and then what followed was our descent into the Bitterroot Valley of Montana.
This was memorable for the stabbing chill of the miles that followed on the eastern side. It was the kind of damp bone freezing cold that worked its way through every piece of equipment that we wore. The long downhill coast deprived us of the muscle effort that might have generated body heat. Down, and down… fingers and feet lost feeling. Cheeks felt as if they were blistering. Tears streamed from the corners of our eyes and then added insult to injury as struck by the rushing wind they super cooled temples and hairline.
Our arrival in Missoula could not have come too soon, and first stop was the headquarters of the appropriately named Adventure Cycling Association.
Founded in 1973, its mission has been to inspire, empower, and connect the community of bicycle travelers. Adventure Cycling produces and promotes resources for bicycle travel, including maps, tours, gear, and how-to-guides. The Association's membership numbers over 50,000 cyclists. It has led in the development of the 50,000 mile U.S. Bicycle Route System. We were honored to be given a tour of Adventure Cycling by one of its four founders, Greg Siple.
The details of our cross-country ride, along with a photograph in which Greg joined us, were recorded in the archives of the Association.
Departing Adventure Cycling we proceeded to the University of Montana where we were greeted with hot showers and warm beds for the night, courtesy of the Knowles Hall Dormitory.
As we crossed the United States we were joined now and then by bicyclists who had pre-arranged to ride segments of the journey. The first of these to join us was Dr. Kristi Williams who arrived on the 16th in Missoula. Kristi was well known to all of us for her kind manner and bicycling prowess. She regularly joined the SFX "Flying Fish" riders and had ridden with us on the MS rides and the 2009 Colorado training ride.
The following day, a bicycle "rest day", presented us with a full schedule of non-bicycle events, including:
A tour and lunch at the Poverello Center. Since 1974 the Poverello Center has  provided food, shelter, and outreach services to Missoula's homeless and hungry.
We also visited Poverello's Valor House. This modern facility provides housing and support services for up to 17 former armed services members seeking to transition from homelessness into a stable and healthy future. The Valor House program is a 2 year commitment that includes counseling and health care.
Early evening there was Mass at Missoula's St. Francis Parish and a BBQ dinner hosted at the home of parishioners Don and Mary Gillespie.
Later, a few of us adjourned to a local brew pub. Mindful of the ride that would resume in the morning, our mascot Curtis wisely held to drinking coffee.
Missoula had embraced us with welcoming hospitality. Not surprising given its impressive community efforts to remember those that other communities often forget.
Next: Into Montana's Big Sky Country.
Peace Everyone. Pete