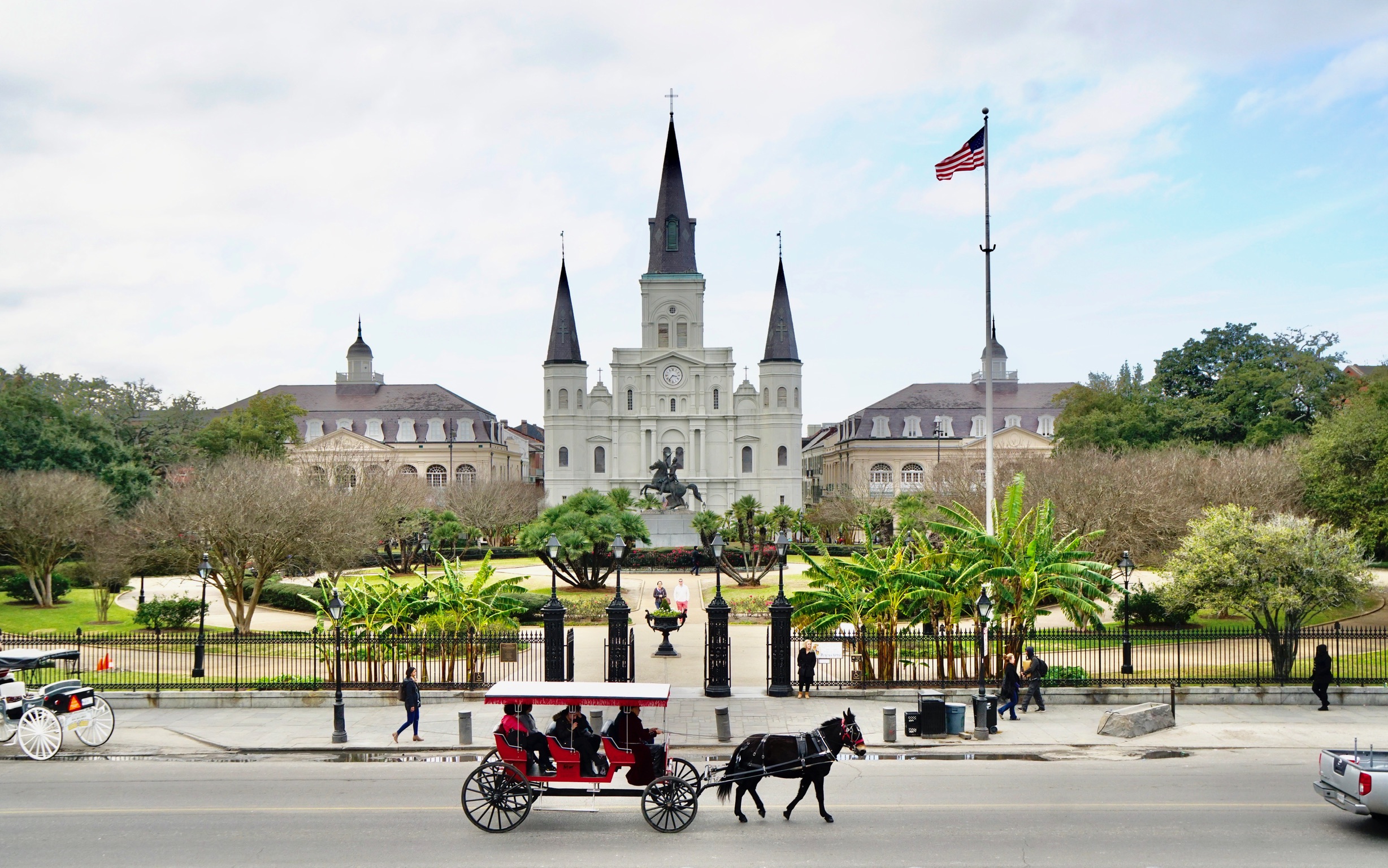 Founded in 1718 by French colonists, New Orleans took its name from the French Duke of Orleans who reigned as Regent from 1715 to 1723 for King Louis XV. Louis inherited the throne at the age of 5 and reigned for 59 years until his death in 1774. The Duke served until King Louis reached his official age of majority, 13 years old.
New Orleans was held by The Kingdom France until ceded to Spain from 1763 to 1802, during which time significant Caribbean influences were exerted upon the city.
Its control briefly returned to the French Republic in 1802. The city and over 800,000 sq. miles known as the Louisiana Territory were sold by Napoleon to the United States the following year for 15 million dollars.
Statehood was granted to Louisiana, formerly known as the Territory of Orleans, in 1812.
By 1840 New Orleans ranked as the 3rd largest city in the United States and its largest slave market.
In 1861 Louisiana seceded from the United States and became part of the Confederacy until the United States victory in 1865. However, in 1862 New Orleans was captured and thereafter held by Union troops throughout the war.
This brief history may explain: why most of the 18th Century architecture that abounds in the French Quarter and old city are of Spanish origin;
why linguistically New Orleans and the surrounding area still present an unusual mixture of French, Spanish, and English dialects known as Creole; why Louisiana retains a French influenced "Code" legal system rather than the English Common Law followed in the rest of America; why Louisiana has "Parishes" rather than "Counties"; and why New Orleans is so ethnically diverse.
The 16 members of Cycling for Change entered New Orleans on August 12, 2010.
We remained in the city for 3 nights. The original plan had been for the group to either stay at a convent or to reside in a homeless/transitional living shelter in nearby Marrero, Louisiana. Happily, our "handlers" back at Catholic Charities in Kansas City acknowledged that our efforts deserved an upgrade to a hotel located between the New Orleans French Quarter and Garden District. It was a welcome concession to our comfort.
New Orleans should be on every North America traveler's "bucket list". It is unique among all the continent's cities for its architecture, music, cuisine, culture, and of course Mardi Gras. We enjoyed a limited opportunity to see a few of the better known features of the city such as Jefferson Square and St. Louis Cathedral,
the oldest trolley system in the United States,
and of course Bourbon Street.
At the end of this post I will provide some of my 2019 images that give some insight into the tourism opportunities that New Orleans presents.
Historically, New Orleans has been a veritable magnet for hurricanes. This NOAA graphic shows the tracks of every category 3+ hurricane that came within 100 miles of the city between 1852 and 2005.
At the time of our visit in 2010, New Orleans was still reeling from the devastation wrought in 2005 by the Category 5 Hurricane Katrina. With over 1,200 dead and damages estimated at over 125 billion dollars, Katrina then ranked as the costliest storm in US history. Entire neighborhoods were erased in part because of engineering failures of the flood levee system and due to human caused ground subsidence which has left half of New Orleans' neighborhoods located below sea-level.
Over a million people were displaced. In the immediate years following Katrina the population exodus reduced the city's population by half. Poverty, which was already a pre-Katrina problem, became a critical issue.
Founded in 1982 by Archbishop Philip Hannan, Bishop Roger Moring, and Gregory Johnson, Second Harvest Food Bank of New Orleans is a leader in the fight against hunger in south Louisiana. By 2005 it had become the largest food bank in the world.
The 16 members of C4C spent much of August 13th volunteering at the main Second Harvest warehouse. As a part of our orientation we learned that 1 in 5 Louisiana households are at risk of hunger.
Second Harvest salvages over 35 millions of pounds of food annually… food that is still wholesome, but which has been rejected for cosmetic reasons, damage to packaging, because of expired "best by" and expiration dates, and surplusage.
Second Harvest relies largely upon over 9,000 volunteers for labor to sort, repackage, and distribute this food over 23 Louisiana Parishes (Counties).
Each year over 32 million meals are thus provided to nearly a quarter of a million people. It was an honor for us to participate in those efforts. C4C members sorted food,
repackaged and boxed food,
and visited the various warehouse facilities including the frozen storage unit.
Christine drew my attention to pallets loaded with PediaSure, a specialty nutrition supplement for growth challenged children. At that time our three surviving quadruplet grandchildren were directed to use this product by their physicians. The cost was approximately $2.00 an 8oz can.
Second Harvest Food Bank is a not-for-profit agency. It is able to stretch a dollar into 4 meals for a family in need. $0.97 of every $1 donated goes directly to programs that feed the hungry. Corporate offices located at 700 Edwards Ave., New Orleans, LA 70123. Donations are welcomed. For more information: www.no-hunger.org
Next: The Gulf Coast
Peace Everyone. Pete
PS: The following are pictures with limited commentary of New Orleans taken in 2019. If you have not ever visited this enchanting city please consider it.
New Orleans is a major port city on the Mississippi Delta near the Gulf of Mexico. There are opportunities for riverboat excursions.
The city market is delightful…
…and the architecture stunning.
Street music is everywhere.
Jefferson Square is surrounded by quaint shops and inviting dining venues.
Enjoying a cup of chicory coffee and a beignet at Café du Monde is a "must" tradition,
as is visiting one of the unique cemeteries where voodoo queens "mix" with dignitaries and figures of historical significance.
Of course there is still Bourbon Street.