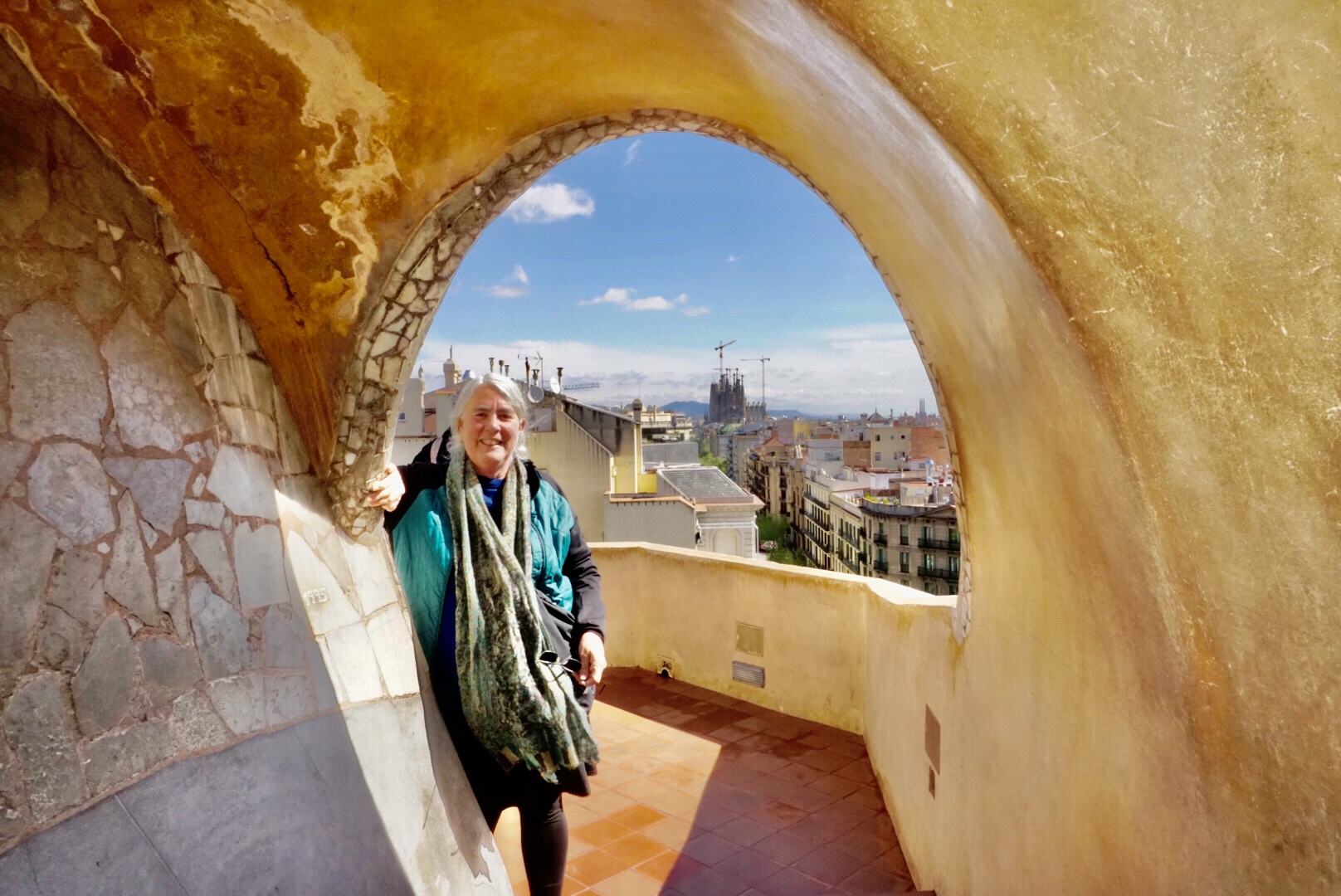 We departed Kansas City on April 8th, routing through Atlanta, Georgia and landing in Barcelona the morning of the 9th.
Over the course of the prior few years Christine had accumulated a sizable frequent flyer mileage account. Enough miles to provide us with first class round trip tickets to Barcelona, Spain.
This was not a mode of transportation that is common to us but it beat the heck out of the "cattle car" experience others endured as we cross the Atlantic. Our flight was incredibly comfortable with seats that made into full reclining beds.
The drinks were a nice touch.
I still hold that the cost difference does not justify the extra expense for 8 hours of pampered first class comfort. However, I recall that once in our early days of international travel we flew to Rome aboard TWA. It was a time when smoking was permitted on flights and passengers were free to wander the isles to just "hang out". That alone made things unpleasant. It became unbearable when all but one of the toilets in "coach" ceased to function. There was a 1950's episode of "The Twilight Zone" starring William Shatner, "Nightmare at 20,000 Feet". Shatner's "nightmare" was nothing compared to ours. I would have gladly paid double the premium for first class on that flight.
Upon arrival I found that neither of our regular Time Warner email services worked, so we opened Gmail accounts. Also, Verizon did not unlock my phone as they promised which left us to rely upon Skype. Minor annoyances.
While the Camino does not require reservations, prudence dictates otherwise in Barcelona. Thomas Lin's Barcelona friend had put us in touch with the proprietress of a well regarded B&B conveniently located near Las Ramblas, the Sagrada Familia Basilica, and a number of notable Antoni Gaudi buildings. A nearby subway stop provided access to more distant tourist venues.
Ana's Guesthouse was wonderfully quaint, and Ana quickly became like a sister to us. The accommodations were clean, comfortable, and best of all well priced at 90 Euros a night. A sumptuous breakfast was provided by Ana and included at no additional cost.
One evening she brought out a special bottle of Cava (Champagne) to share with just us. We had arranged a 2 night stay at our arrival and further had reserved 3 nights for our departure in late May. We looked forward to that additional opportunity to take in the city and Ana's hospitality.
In 2018 we returned to Barcelona with hopes of again staying with Ana. She remembered us but sadly reported that she had closed her guesthouse because of new tax and regulatory requirements which she did not have the patience or funds to meet. Instead she directed us to nearby friends who provided us with another exceptional experience. That is a story of another Camino.
Barcelona is a destination city of 1.6 million residents. Small by comparison to the other major tourist cities of London, Paris, and Rome, yet it is the 5th most visited city in Europe and the 20th most visited by tourists in the world. In 2017 it hosted over 32 million visitors.
If it can be said that there is one person and one thing responsible for Barcelona's fame it is the genius of the architect Antoni Gaudi and his magnificent Sagrada Familia Basilica, reputed to be among the top 10 most visited sites in Europe.
Construction of the Basilica commenced in 1882 and continues to this day. Completion of this monumental structure is anticipated by 2030, more than 100 years after Gaudi died. When finished it will feature the tallest spire of any church in the world.
We were unable to visit the interior until our May departure as reservations were required to manage the throngs of tourists seeking admission.
I will provide greater detail and further images in a later post near our return home.
We had only one full day to visit highlights of the city. They included:
Las Ramblas (originally a sewage-filled stream), a wide tree-lined pedestrian corridor that extends nearly a mile to the sea.
It abounds with trendy shops, restaurants, and pleasant parklike green spaces.
At one end are a number of Gaudi designed buildings, including the Palau Guell Mansion constructed in 1888…
…and Casa Mila, the last private residence designed by Gaudi.
Constructed between 1906 and 1912 it was groundbreaking for its inclusion of an underground parking garage for automobiles. The "attic" is a marvel of unconventional arch work, exceeded only by the rooftop "stormtrooper" visages that serve upon that undulating terrace as ventilators and stairway access points.
This building along with the Sagrada Familia and the nearby mountain citadel monastery of Montserrat were prominently featured in Dan Brown's suspense novel, "Origin".
The other end of Las Ramblas features a tangle of narrow pedestrian ways that constituted the old medieval city and Cathedral district. At its end is the ocean.
Parc Guell, a public park, was designed by Gaudi and constructed from 1900 to 1914.
Many of the architect's trademark details are evident in the extensive use of arches and parabolas.
The park was originally conceived as an upscale housing development. The only residential structure built was one eventually purchased and occupied by the architect himself. Today it remains as an excellent but understated museum to his genius.
It was a lot to take in for two jetlagged visitors, but adrenaline and thoughts of what lay ahead kept us going. We would be "Pampered Pilgrims during the few days spent in Barcelona and St. Jean Pied de Port. After that austerity would begin.
Peace Everyone. Pete
Next: Part 5, On to St. Jean Pied de Port
PS. Our grandchildren knew that we were walking across Spain, however the concept was a bit fuzzy in their 4 and 5 year old minds. They did understand it to be a VERY long walk. Christine made video calls to the families our first night in Barcelona. It was night for us but still the afternoon back home. She showed the kids our room and then to prove it was night where we were she turned her phone out the window. "Grandma, they have cars in Spain!!!", exclaimed 4 year old Britton. "Well, sure they do Britton". "Then why are you and Grandpa walking!?!" From the mouths of babes…