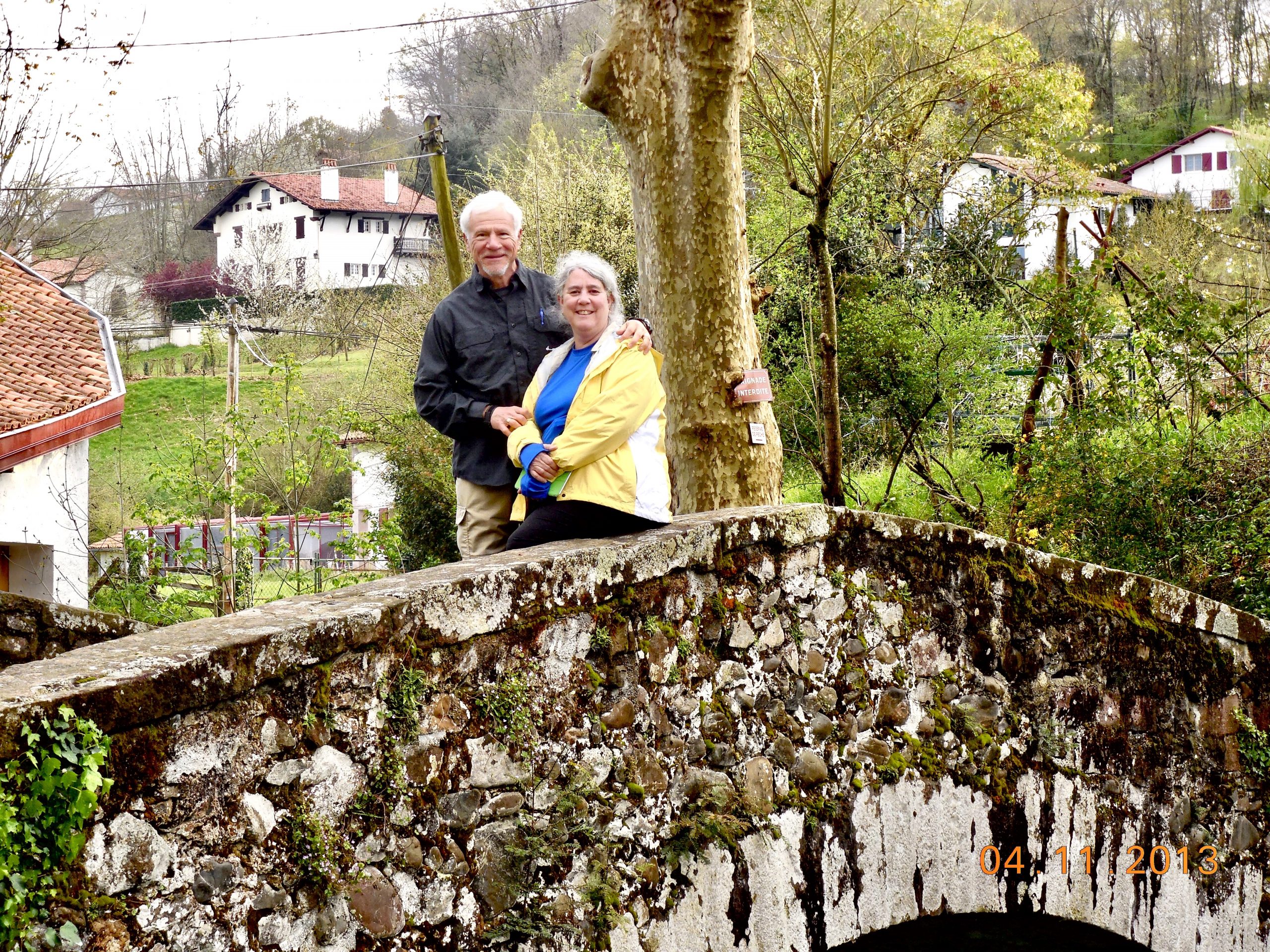 The Camino is not a single route, but a vast network of routes that start in virtually every major European city.
When we neared Santiago we even encountered an Austrian pilgrim dressed as a 10th Century Monk. He had begun his trek in Jerusalem, 3,500 miles (5,700km) to the east.
St. Jean Pied de Port ("St. John at the foot of the pass") is a delightful 12th Century medieval village (pop. 1,500) situated in the Nive River Valley at the foot of the Pyrenees Mountains.
Lying 5 miles north of the border with Spain, it is a point where many European Camino routes converge for the ascent over the mountains. In modern times St. Jean Pied de Port (SJPdP) has come to be known by many as the "official" starting point of the 810km long French Route. It is second only to Sarria (located 100km from Santiago) as a starting point for Peregrinos seeking their Compostela. When one is asked if they walked the "entire Camino" it usually means did they start in St. Jean.
St. Jean is not easily reached from Barcelona. In 2013 there were no flights, trains, or buses connecting the 350 miles that separated them. We had to cover the distance creatively in two segments. First we caught a train from Barcelona to Pamplona. We were up at 5:30 (actually I lay in bed, eyes open, from 3 a.m.). We ate a quick breakfast, checked that our packs were in order, and were in a taxi to the train station at 6:30 a.m.. The Station was more like a modern airport, including security and luggage scan.
The transit to Pamplona took 4 hours, including stops, by a high speed (+120 mph) train.
Departure and arrival were on time to the minute. Seating was similar to business class on an airline, complete with headphones, a movie, and music channels.
We had reserved a taxi from Pamplona to St. Jean. The two hour cab ride took us on narrow winding roads across the Pyrenees mountains to the door of our B&B.
In 5 days we would return to Pamplona on foot via the Camino.
From the comfort of the train and cab we enjoyed vistas of rolling green hills, orchards, terraced vineyards, and villas that appeared hundreds of years old. Sights little changed over two millennia when Julius Caesar's 10th Legion called this home.
We had 2 nights reserved in SJPdP at a small B&B. Maison Ziberoa was situated just outside of the town's intact fortification walls.
Our hostess was Marie Josee Lagord. Her establishment began life as a small hospital built in 1778. Marie Josee was a joy and a gourmet cook. Breakfast was included in the 70 Euro daily tariff.
For an additional 40€ she prepared us a private Basque dinner on our second night.
After a late lunch we strolled through town in the rain, did laundry, and concluded with a warmup at the fire.
During our stay Marie Josee brought out maps and shared valuable local knowledge of the town plus information about the route and terrain that we would soon experience.
For a town of barely one square mile there was quite a lot to see. We were grateful to have planned 2 days in St. Jean. We could have elected to spend the night in the local Albergue (hostel) for about 10€ each, however Peregrinos are limited to a single night and must vacate by 8 a.m. the next morning.
We visited the Camino Pilgrim Office where we learned that recent snows had temporary closed the Route Napoleon, but it would reopen the following day.
Historical points of interest included:
The 15th Century Porte St. Jacques (a UNESCO World Heritage site), through which over the centuries Pilgrims have arrived from northern France and Europe.
A walk along the battlements that encircle the city.
The "Citadel". Now a private school, this military fortification is reached by climbing 269 steps and provides a commanding view of St. Jean.
The 16th Century Prison des Eveques (aka the Prison of the Bishops), now an excellent museum.
The 14th Century church, Notre Dame du Bout du Pont.
A pleasant walk along the River Nive and across a Roman Empire era bridge.
We reconnoitered the start of the "Route de Napoleon" by which we would begin our Camino with a strenuous 19km, 4,000 foot ascent to the mountain pass above the town.
…and of course we wandered the cobblestoned streets, visiting various shops and restaurants.
It was here that I purchased a Basque beret which was to become my identifying trademark on the Camino.
We remained "Pampered Pilgrims", but that would change in the morning.
Peace Everyone. Pete
Next: Part 6. Our Camino Begins and Nearly Ends.