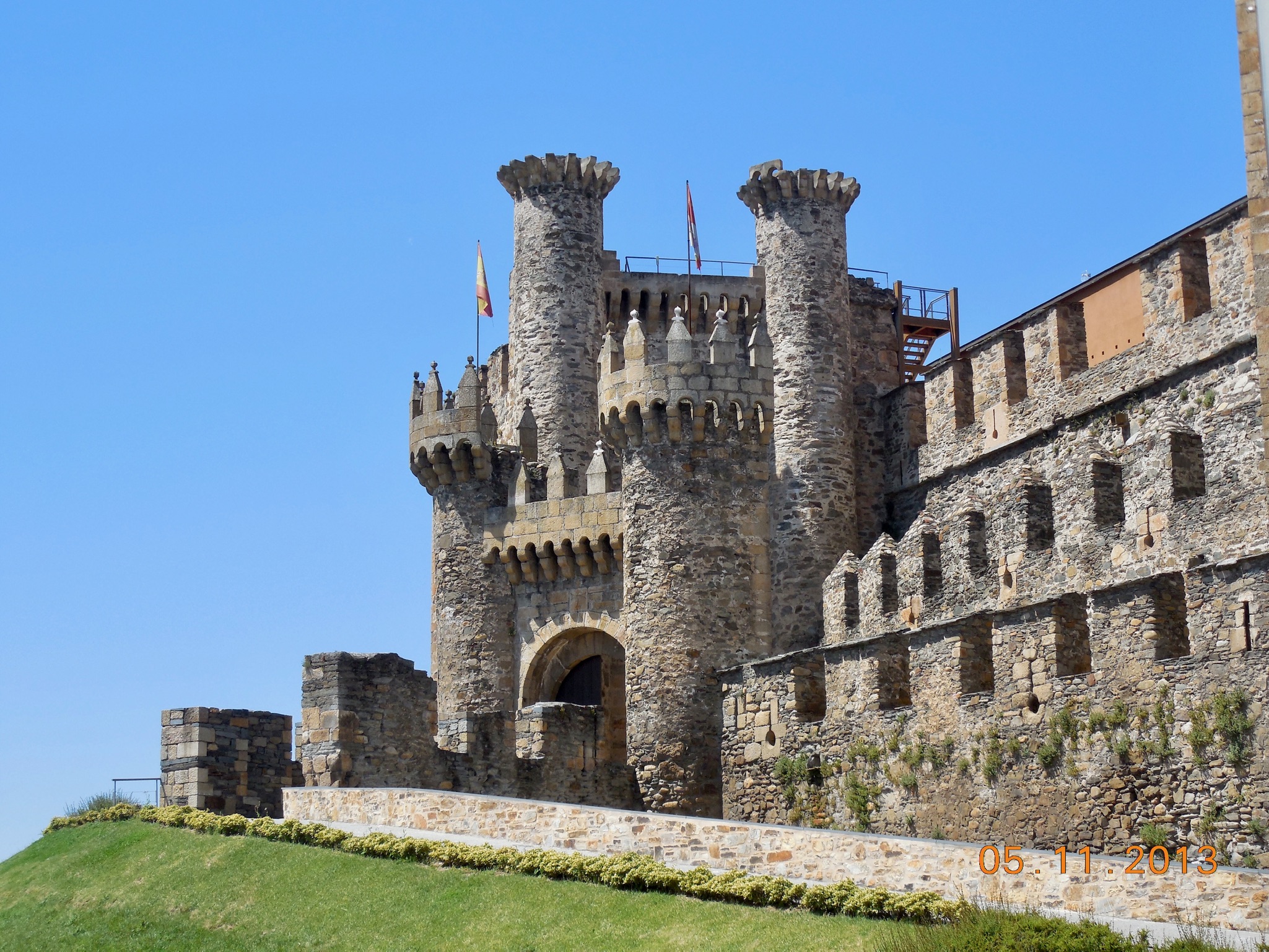 May 11, 2013. El Acebo to Ponferrada.
Neither of us were in a hurry to leave the comfort of our room and balcony which overlooked the town of El Acebo. A second night under the roof of La Casa del Peregrino would have been most welcome. However, 12 days and 224km lay between us and Santiago.
The day broke with spectacular clarity and so after a continental breakfast courtesy of our hosts, we were off. It took us mere minutes to reach the edge of the tiny mountain village. We paused at an unusual sculpture of a bicycle constructed from heavy gauge concrete rebar.
It was a memorial to the memory of a fallen 26 year old German pilgrim, Heinrich Krause, who died descending the difficult passage out of El Acebo on August 31, 1987.
Our path to Ponferrada would cover 22km. Parts of the 1,840 foot descent were treacherous underfoot. Thankfully, the rocky path was dry.
Little except spectacular countryside separated us from the substantial village of Molinaseca (pop. 800) situated 9km and a steep 1,500 feet below.
Spring was evident at the lower elevations with an abundance of wildflowers in bloom.
A brief pause allowed me to examine a huge Chestnut tree, part of a grove of these mystical trees ("Castanas").
Occasionally we had to give way to rapidly descending Camino bicyclists who (usually) signaled their approach. It was my impression that it would have been a bad day for all concerned had we not immediately stepped off the path. The trail was such that it took all of their skill to keep (barely) in control down the mountainside.
Our approach to Molinaseca briefly followed a well-traveled roadway but turned into the center of town by crossing an ancient bridge over the Meruelo River, Puente de Peregrinos.
The bridge led directly to the town's narrow pedestrian way that ran straight through the heart of the village.
An interesting fountain and statue of St. James was worth a momentary rest and picture as we left Molinaseca.
Between Molinaseca and the historic village of Campo there were more wildflowers and, sadly, another monument to a fallen pilgrim. Joseph Carty of Ireland died walking the Camino in 2005, at the age of 78.
4 km after Molinaseca is the village of Campo. We stopped to examine an ancient Roman era cistern. It still produced water, however signs indicated that the water was not potable.
Another hour afoot and we found ourselves entering Ponferrada via the remarkable Puente Mascarón that crosses the Rio Boeza.
Ponferrada (pop. 70,000) is the second largest city in the Province of Leon, and the largest city from this point to Santiago. The city, originally founded by the Romans around 20 BCE, was central to Rome's largest silver and gold mining region. Ancient mining sites are still visible, among them Las Médulas, a UNESCO World Heritage Site since 1997. The city derives its modern name from the iron reinforcements installed in the bridge over the River Sil, commissioned in 1082.
Proceeding further into the city we visited the 16th Century Basilica de la Encina where Christ is realistically (startlingly?) depicted post crucifixion in a glass coffin. The church was elevated to the status of a basilica due to reports that an image of the Virgin was believed to have been found in a nearby oak tree.
Beyond the Basilica we arrived at the Castle of the Knights Templar ("Castillo de los Templarios").
This 12th Century fortress was erected in order to provide protection for Pilgrims walking the Camino. The fortified compound covers nearly 175,000 square feet, roughly the size of a modern sports stadium, and was constructed at the peak of Templar power.
Unfortunately for the Knights Templar their power was seen as a threat to the authority of Pope Clement V who in 1312 ordered that they be disbanded and their property confiscated.
We were pleasantly surprised to find that a festival was underway at the castle.
Reenactors dressed in Templar period clothing and sporting arms and armor were entertaining visitors with demonstrations of swordsmanship, the making of chainmail, embroidery, and arrow fletching.
Our day concluded with a walk through the gardens of the Albergue San Nicolas de Flue, where a monument declared that only 202km now separated us from Santiago.
We again decided to forgo a night in an albergue in favor of a simple hotel. On this occasion it was the 2 star Hostal La Encina which provided us with an excellent view of the Castle from our room. (Pictures courtesy of the Hotel's website)
Before retiring for the night we encountered French Camino friend, Natalie, who I had not seen since Calzadilla de los Hermanillos.
After the drama and dicey weather of recent days, today was a welcome change, shared entirely in the company of my wife, a damsel definitely not in any distress.
Peace Everyone, and Buen Camino. Pete