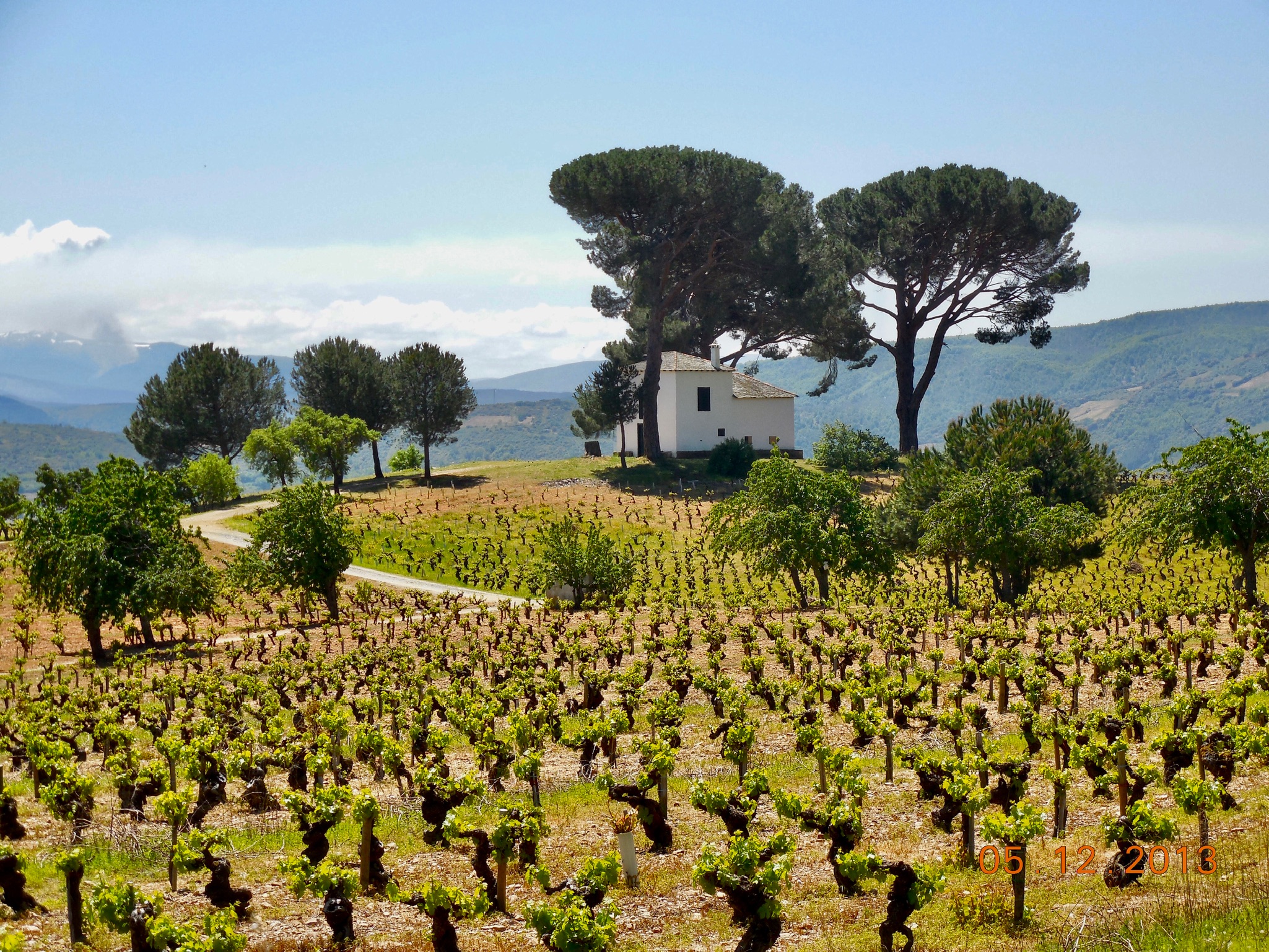 May 12-13, 2013. Ponferrada to Villafranca del Bierzo and Vega de Valcarce.
May 12th was a largely unremarkable day on the Camino. Perhaps that statement is a bit of an oxymoron. By definition any day on the Camino is remarkable when one considers the undertaking and uniqueness of the experience as a whole.
24 km with little change in elevation ahead, we left Ponferrada with the Castillo de los Templarios illuminated by the first rays of the morning sun. Distinctive Camino waymarks guided our path through and out of this city of 62,000.
We walked by vineyards well into their Spring growth,
and of course there were the occasional monuments to St. James the Pilgrim.
13km along our route we entered the town of Cacabelos (pop. 5,000) where the belltower of the 16th Century church of Santa Maria provided roosts for enormous storks.
These huge birds seemed to act as sentinels wherever they found a platform for their massive nests. I wondered at the size of these birds and the weight of their nests. The answers: The White Stork (Ciconia ciconia) measures nearly 4 feet, beak to tail, and often has a wingspan of up to 7 feet. They are migratory birds that winter in Africa.
Carnivores, they are known to eat small mammals, reptiles and other birds. As for their nests, they measure up to 5 feet in diameter, can be over 6 feet tall, and often weigh over 500 pounds. Of course, storks do not deliver babies into the hands of parents-to-be. This ancient legend was popularized in the 19th Century by Hans Christian Anderson's story, The Storks.
Now back down to earth. A few kilometers later we entered a small wooded area where an artisan had established his own "roost".
He was expertly carving wooden Camino shells and doing a brisk business with passing pilgrims. We were among his customers.
The coin in the picture is to give a sense of scale.
Continuing, we passed an interesting elevated thatched hut, known as a Palloza. These buildings are characteristic of pre-Roman structures which were once common in this region. (It is also possibly a horreo, for the storage of grain)
Between Cacabelos and Pieros the Camino followed a lightly travelled roadway, crossing the Rio Cua.
Nearing Villafranca del Bierzo we passed what was perhaps the most picturesque vineyard on the entire Camino. What a delight it would have been to spend an afternoon there absorbing the ambiance, a bottomless glass of red in hand.
We arrived in Villafranca del Bierzo in mid-afternoon. This quant village of 5,000 inhabitants is dominated by the 13th Century Convento de San Francisco,
the 12th Century Romanesque Church of Santiago,
and the 4 towered 16th Century Castle of the Marqueses de Villafranca.
The north face of the Church of Santiago features the Puerta del Perdon ("Door of Forgiveness"). One of two such "Doors of Forgiveness" on the Camino, the other being in the Cathedral at Santiago de Compostela.
It is held that a believer who prayerfully walks through the door seeking forgiveness is automatically granted a plenary indulgence, a pardon for all past sins. The doors are only open during Jacobean Holy Years which are years that the 25th of July falls on a Sunday.
For our night's lodging we again opted for a hotel rather than an albergue. While we enjoyed the communal experience of an albergue, the moderate price difference of a simple hotel included a private bath and breakfast. We were typically paying 35€ per night for a hotel or casa rural whereas an albergue for the two of us was usually about 14€. By the time we factored in buying breakfasts, the price difference was minimal while the comfort difference was significant. On this occasion we were guests in the decidedly upscale (and at over 50€, more expensive) three star Las Donas del Portazgo. Still a bargain for these two weary pilgrims.
May 13th.
Our room provided a commanding early morning view of the sights of Villafranca del Bierzo, thanks in part to the telephoto optics of my camera. Refreshed, we were "on the road" shortly after 8 a.m..
The Brierley Guide identified this as the 26th of 33 "stages" with the destination for the day being O Cebreiro, 30km distant. The suggested "stage" would also include one of the steepest climbs on the Camino. Whether or not I was up for this, Christine was not. We decided that our personal "stage" would end at 19km in the town of Vega de Valcarce. There was another decision to make for the day; whether to hazard the longer but more difficult yet contemplative "Dragonte" or "Pradela" routes, or take the shorter (and much flatter) route that follows the Rio Pereje Valley. Unfortunately, the river valley, though shorter, also tracked along the busy N-VI roadway.
If it had just been me, a hike into the mountains would have been preferable. However, it was not just me. With a nod to Christine we left Villafranca behind us, following the road and river to Vega de Valcarce.
This route was not without its hazards. However, those dangers were more human than nature inspired. We traded the leg and lung taxing climb on a rocky and irregular mountain path for the traffic and noise of the "low road".
The chosen route presented its own interesting features. A long walk through a traffic tunnel inspired a rush of adrenaline.
A safety barrier granted some measure of physical protection, but the road noise was unabated.
A grocery delivery van featured huge images of octopus tentacles. A mouthwatering delicacy in Spain, not so much in America. I smiled at the thought.
The tiny Iglesia de San Juan Bautista made for a pleasant stop and a moment of reflection in Portela de Valcarce.
Approaching Vega de Valcarce we were struck by the lofty highway overpass that (thankfully) routed most high speed traffic up and over this quiet community.
Our first order of business upon arrival was to secure lodging for the night. Thankfully, that proved an easy task. Las Rocas, a Casa Rural, was clean, pleasant, and featured a balcony overlooking the river. It would be more than sufficient.
The town featured a fair amount of commerce, and some unusual art in the form of a frightful giant carved from the stump of a tree. Behind the statue stood another elevated Palloza. (It is also possibly a horreo, for the storage of grain)
As we wandered through the small town (pop. 600) I happened to see a barbershop. It had been over 6 weeks since my last haircut and I was long overdue. One would not typically consider entering a barbershop as a risk endeavor, however the language barrier presented some challenges. Christine remained dubious as we entered the shop.
The barber spoke no English, and I virtually no Spanish. Nevertheless I was able to gesture my tonsorial intentions. I have often said that I can fluently point in over 27 languages. In turn, the barber was able to share that it was his 65th birthday. He also made it known that he was happily married and blessed with 5 grandchildren. With practiced expertise he set about to exercise his craft.
There are a few haircuts that stand prominent in my memory. I recall the first time that I was not asked by the barber to sit on a booster seat. I remember as a rite of passage the first time my father had to pay full price for my mid-1960's crewcut, and the first time that a barber applied hot lather around my ears and neck before finishing the job with a straight razor trim. Sadly, that bit of pampering seems to have gone the way of such hair "tonics" as Hask, Vitalis, and Brylcreem ("A little dab will do ya!")
One of the most memorable haircuts I ever had occurred in 2010 in Smith Center, Kansas. That "Nine Dollar Haircut" was the subject of a well-received essay written in 2018.
I don't recall what my Spanish haircut cost, but the gentleman's skill was obvious. He finished the job by sculpting with a rock steady hand and a gleaming straight razor, another skill that seems to have disappeared in America.
This was another haircut that will live long in the pantheon of my treasured memories.
All that I needed to do to cap a near perfect day was return with Christine to that balcony overlooking the river and pour another glass of wine. Life is good.
Peace Everyone, and Buen Camino! Pete