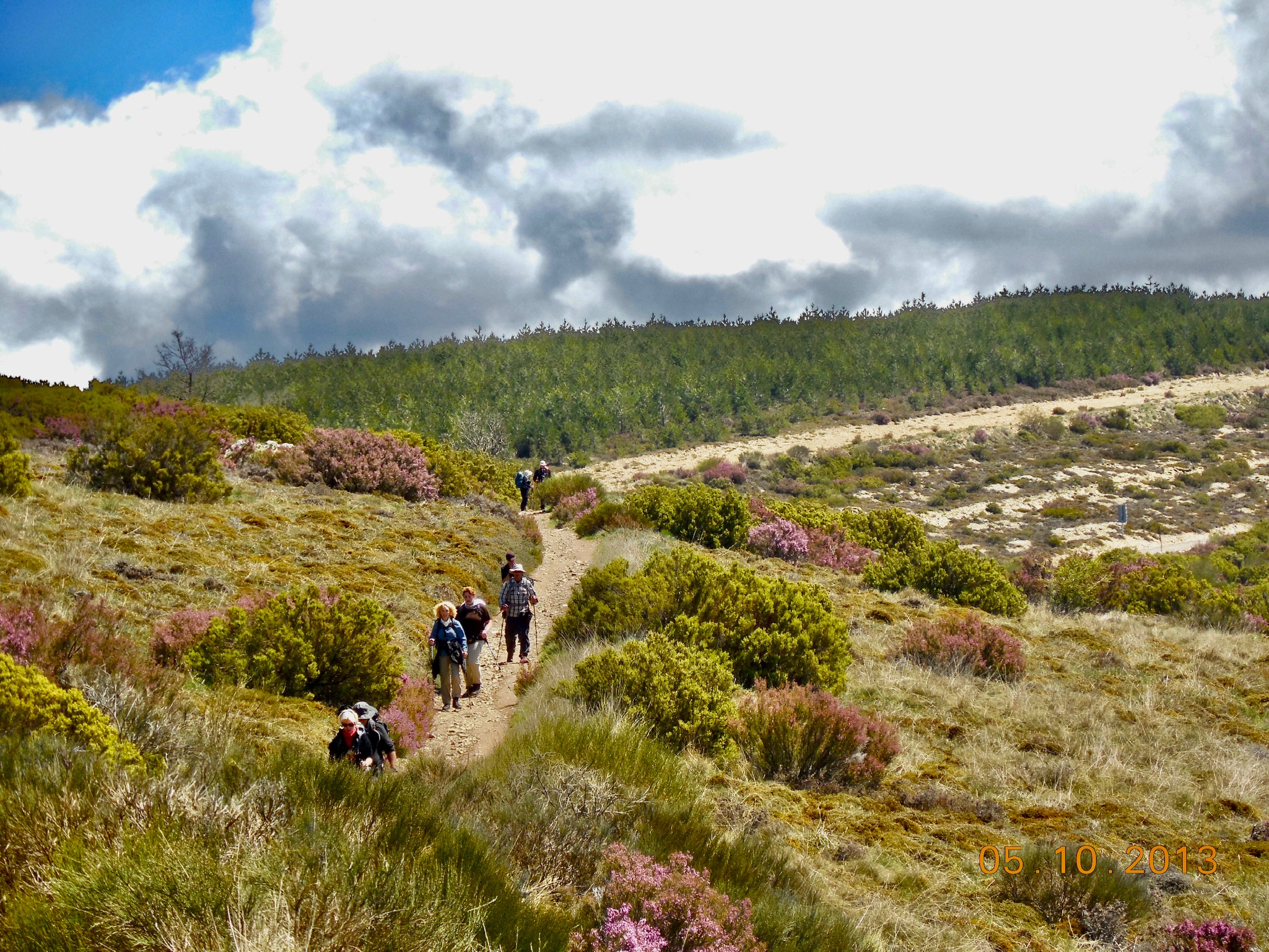 Over the course of the weeks that we walked the Camino in 2013 I kept notes which I "wrote" one finger stroke at a time on my tiny iPod-touch. Some notes were lengthy essays, some just short memos, and others merely providing links to photographs taken that day. I shared these missives with friends and relatives by email and on Facebook. Fortunately, I archived these notes. They have proven to be a trove of long forgotten information, valuable in the creation of these detailed posts. What follows below and in the next post are two of these essays. They are presented verbatim in order to provide further insight into my thoughts and our experiences.
"What is a Camino." Written May 13, 2013 at Vega de Calcarce, Spain.
We have encountered some "interesting" notions of what constitutes a Camino, both from people on and off "The Way". Officially, to earn a Compostela in Santiago, one must have walked or ridden by horseback the last 100km (60 miles) or bicycled the last 200km as a continuous journey. Those are the "rules", plain and simple.
Nevertheless, we have encountered some "unofficial" takes on what constitutes a Camino. There was a young lady who zipped past me, hellbent on covering over 800km to Santiago in 20 days. In her mind there were grades of Pilgrims and Caminos, based upon speed. She even had a book, "Hiking the Camino in 20 Days", and she was aiming to be among the fastest.
There was a couple that we encountered who had determined that "Real Pilgrims" carried their packs each and every step of The Way. (Note: There are services that transport your pack from place to place for from 5 to 7 euros a day). Their definition changed when one of them found it physically necessary to use the service.
Another pilgrim declared the journey must be 800km, and "unbroken", even though it is common for Pilgrims to complete a Camino in increments over a series of years. That Peregrino also changed his view of a Camino when injury forced a hiatus.
Finally, there are those who decry the use of any alternative transportation in the course of the journey. I wondered if this disqualifies the use of elevators.
For most who are on the Camino, or who have completed a Camino, the understanding is that each Peregrino's Camino is their own. Those who spend time and energy evaluating the journeys of other Pilgrims, miss the opportunity to appreciate their own journey.
The "original Peregrino" was St. James the Apostle, for whom Santiago is named, and in whose footsteps we follow. He traveled The Way to spread The Word. Is it possible that he spent an extra day here and there to deliver his message? Or that he accepted the occasional offer of a ride in an oxcart from a kind farmer or merchant?
We have had the good fortune to become friends with a fellow Pilgrim who is so comfortable with her Camino that it means more to her to enjoy the gifts of friendship along The Way than to focus upon reaching Santiago de Compostela and "earning a piece of paper". Those are her words.
In life, as on the Camino, wouldn't it be a blessing if each person focused on achieving their own best Journey, rather than policing and critiquing the Journeys of others?
Peace Everyone. Have Fun, Do Good, and Be Safe! And of course, Buen Camino! Pete