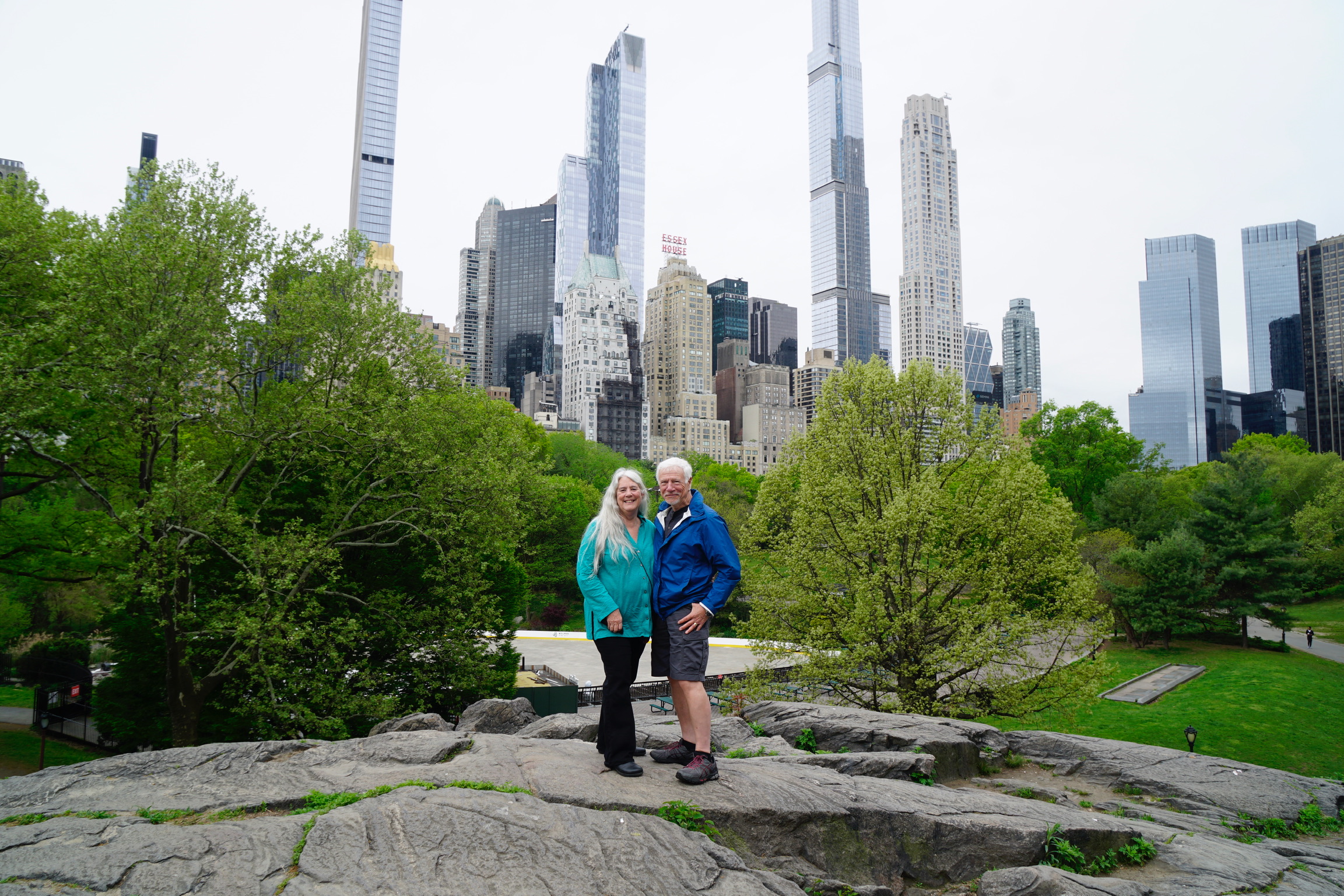 We are on the road again bound for northeast Canada's Labrador and Newfoundland. Our first day was not without issues. A few days ago I had replaced the trailer tires, but as we approached St. Louis I discovered an unusual bulge in the sidewall of one of the new tires. A 20 mile detour delivered us to a Discount Tire Store.
They had the tire in stock and within 45 minutes had us back on the road after swapping the defective tire at no cost to us. Near Terre Haute Indiana we encountered a torrential downpour that made for some real "white knuckle" driving. At 500 miles from Kansas City we stopped at a Texas Roadhouse restaurant which provided a meal, a beer, and a parking lot where we "camped" for the night.
Since we are now just making miles this is a good opportunity for me to step back into April and share five wonderful days that we spent visiting New York City.
These last three years have left us feeling travel starved. Christine had accumulated some free companion airline tickets and spring in New York City beckoned to us.
We booked a hotel in New York City's Times Square, and purchased tickets for the Broadway production of "Macbeth", featuring Daniel Craig of 007 fame.
Times Square may at first overwhelm with its crush of humanity, endless traffic, cacophony of sounds, and kaleidoscope of light.
A beer, and perhaps a hot dog, can do much to normalize the experience.
Once acclimated a visitor can begin to more fully appreciate the human diversity.
I suppose to these folks, we represent "odd". It's a symbiotic relationship in which they provide color and entertainment for the visitors, and the visitors provide income in the form of tips given for a photo opportunity.
There's a lot to see in New York City's Manhattan Island. A "hop on – hop off" bus tour is a convenient way to take in much in just a few days.
It's not perfect. Pop-up spring showers are known to occur with frequency.
What is a visit to New York city without a panoramic view taken from the top of the Empire State building?
This remarkable 1,454 foot skyscraper is a monument to the ingenuity of early 20th century America. It long stood as the tallest building in the world, but has since been eclipsed by 53 other buildings, 6 being in New York City. What may never be equaled is the rapidity with which it was built. Ground-breaking to opening took only 13 1/2 months!
New York City's skyline is breathtaking as viewed from atop this wonder.
We have reserved a visit to One World Trade Center, The Metropolitan Museum of Art, and a few other sites for another time, perhaps next year.
Highlights of this visit included:
St. Patrick's Cathedral.
Saint Sharbel is a patron Saint of Lebanon, homeland of my maternal grandparents. I lit a candle to their memory.
The New York Public Library.
Bryant Park.
Grand Central Station.
We found Central Park so compelling that we visited it in on two separate days. The first visit was courtesy of a pedal cab tour. Our guide, Chouib, was knowledgeable and very entertaining.
At the urging of Colorado friends we contacted him and made an appointment. The tour of nearly 2 hours exceeded all expectations. If you wish his contact information please reach out to me privately.
There are literally thousands of benches in Central Park. Each bench can be rented for $500 a year during which your personally selected message is affixed to the bench. This one caught my eye.
Is this building familiar? Who you gonna call?… Ghostbusters!
Our second visit included a delightful lunch at Tavern on the Green.
There were two other exceptional meal experiences. The first of these occurred when Kansas City neighbors sent a message asking, "Are you in New York City?… So are we!". This resulted in dinner together at Carmines Italian restaurant. It is indeed a small world.
The second dining experience came on the heels of an expensive disappointment. Dinner at Gallagher's steakhouse was an elegant 2+ hour affair.
The disappointment: At a cost of nearly $600 we had purchased tickets to see Daniel Craig in the Broadway production of "Macbeth".
There was virtually no scenery, "costumes" we're mostly 20th Century street clothes, and actors frequently stepped out of their roles to execute "special effects", such as holding flashlights on the faces of the other actors, and walking around the stage with a handheld smoke machine. Macbeth's "royal robe" was a common bathrobe, and his "armor" was a bulletproof vest. Of course, performance pictures were not allowed. However, this shot of the stage is what constituted "scenery".
The critics (rightfully so) gave terrible reviews.
We had no intention of returning to Kansas City with any souvenirs. However, an artist fair in Bryant Park resulted in the acquisition of two tapestries which now adorn the great room of our home.
Unfortunately, we unknowingly returned home with another souvenir…
Peace Everyone! Pete
PS. Spending this excellent time with my wife has caused me to ponder what is the difference between thankful and grateful. I invite your thoughts.
Over the next two months we will wind our way north and east through New England, onto Nova Scotia, Labrador and Newfoundland, New Brunswick, Québec, and Ontario. There will even be a day-trip to France. I hope to share images and narrative as Internet connections allow.