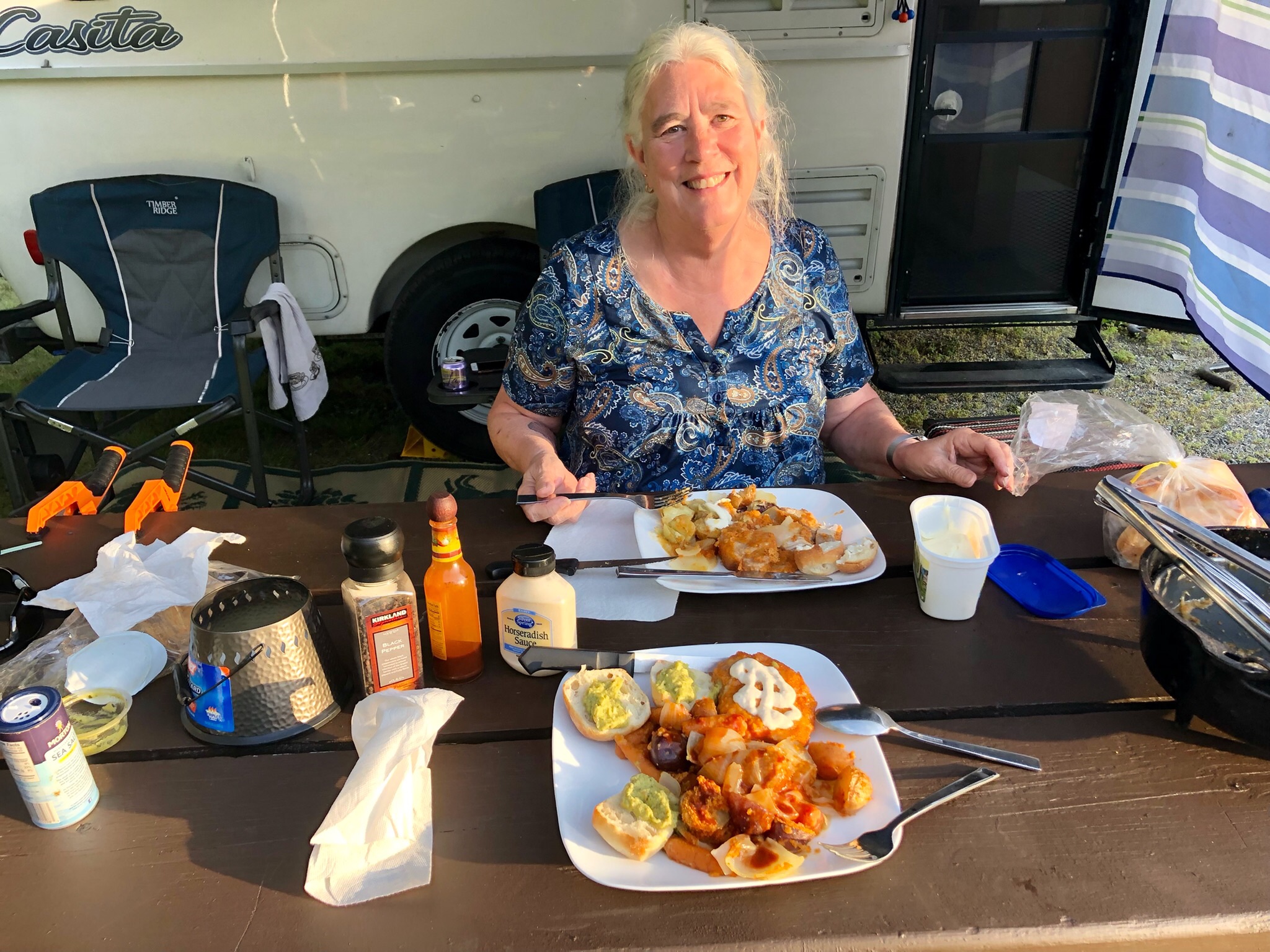 July 2, 2022. Bar Harbor, Maine.
Yesterday and the day before we wandered, first day Bar Harbor's tourist district, and yesterday Acadia National Park.
When we haven't been out and about or managing camping "stuff" I have found myself writing content for these posts and struggling against poor connectivity to upload the pictures and content. My "reality check", Christine, and I talked. More on that in a minute.
Since we learned a few years ago that a part of France is located a short 1 hour ferry ride off the coast of Newfoundland it has been our intention to make a visit to these Miquelon Islands. Somehow the thought of France being located in and just off the coast of North America feels "foreign" (pun intended). However, when one considers that Hawaii, a group of islands thousands of miles from the mainland United States, is part of the USA, then not so strange.
We have been evaluating our Canada itinerary which begins today with a 3 hour ferry crossing to Nova Scotia. We will be 8 days in Nova Scotia, followed by 19 days in Newfoundland. With only two exceptions we are camping in two day increments.
Newfoundland is not small. Our plan included 3-5 hour drive times between each planned camping location, EXCEPT from Gros Morne National Park to the town of Fortune where we would cross to Isle St. Pierre, France, in the Miquelon Islands. That day promised to present at least 10 hours behind the wheel. We paid for the ferry crossing, a tour, and campsite.
Yesterday, we talked more. Decisions followed:
Those who follow my "Thoughts" know that my preference is to post a lot of pictures and to "go deep" into the backstories of places we visit. I want to "bring you along". What I want, and what I deliver may have to be two different things on this trip.
I am reminded that when Christine and I shop at Christmas for the "grands" there are many things that we want to buy, feeling some sense of disappointment that we can't buy it all. However, what the grandchildren see with gratitude is what they actually receive, not our "wants" for them. So it will be with you on this journey. Fewer pictures and shorter narrative. That was decision number one for the day.
As much as it pained us, practicality and sanity won out regarding Isle St. Pierre. We have canceled the ferry, tour, and altered the camping location for those 2 days, saving hundreds of miles of driving and not a little stress. That was decision number two for the day.
By the way, while fuel costs are not significant to our planning, a Canadian couple we met at camp last week shared that they smile every time they gas up in the US at "only" $5 a gallon. It seems that the Canadian average for regular gas, converted to gallons and in US dollars, is over $6.50.
Peace Everyone. Pete
PS. I am typing this post-script aboard the CAT Ferry bound for Yarmouth Nova Scotia, saving about 700 miles of driving. There is conflicting information about what foods we can travel with into Canada. One source says virtually nothing and another indicates not more than a lot (in kilograms).
Loading for ordinary automobiles is straightforward drive-on. However since I'm towing a trailer I had to back up a 500+ foot dock and loading ramp into the ship. Fortunately, been there, done that. For the uninitiated the ship crew will do it for you.
Conditions are a bit rocky, and definitely not to Christine's liking.
We lose an hour, making landfall at 7:30 pm local time.