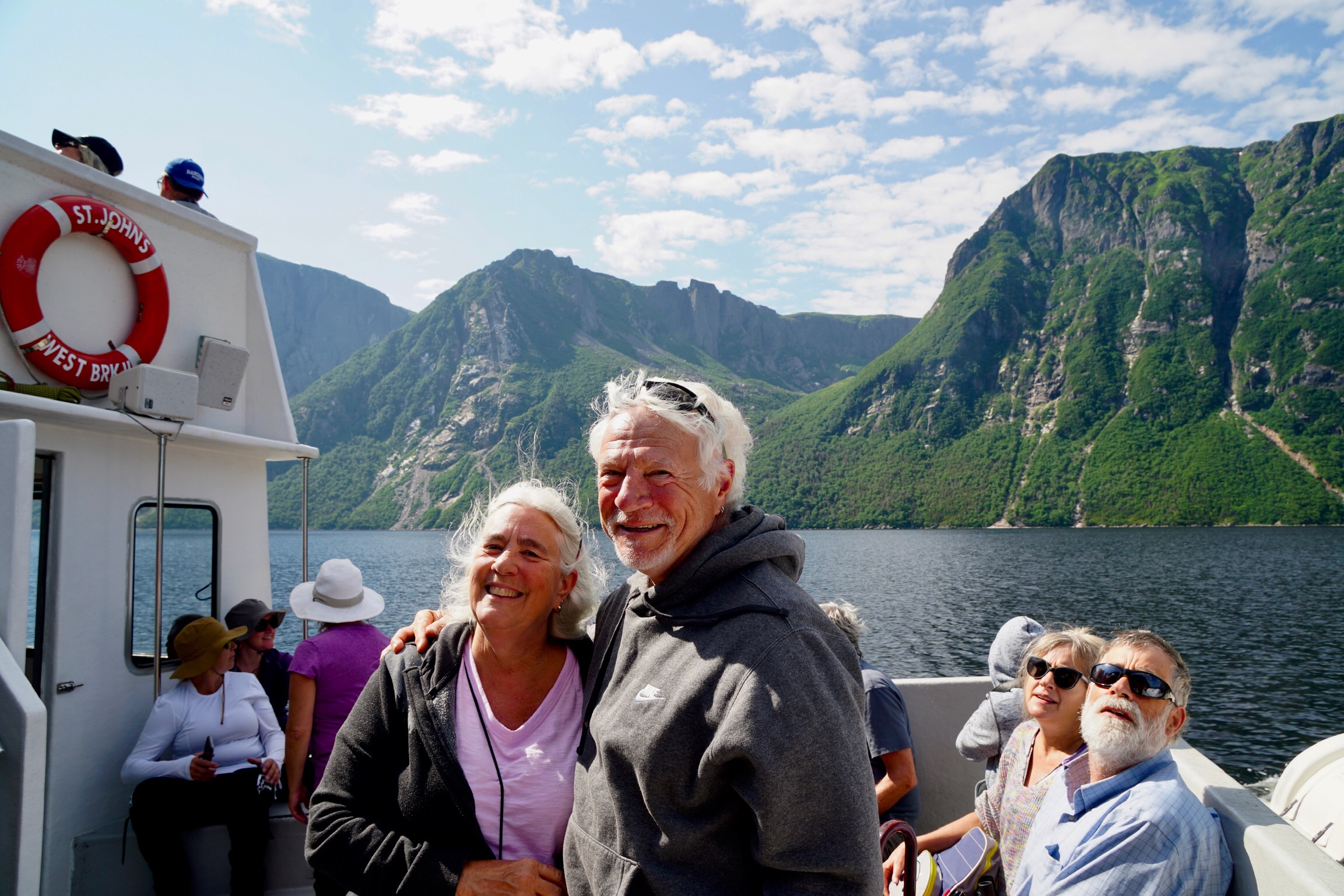 July 18, 2022.
Don't look for Richard Burton or Clint Eastwood within this post, that's the 1970's movie and this is still Canada's Gros Morne National Park.
But continuing with the theme expressed in my last reflection, today was large, huge, at times bigger than my camera's ability to accommodate, and yes it was 'Great' consistent with both meanings of that word.
Today was Western Brook Pond, located within Gros Morne Park and the Long Range Mountains, the northernmost extreme of the Appalachian Mountains. Western Brook Pond is the name, but it is hardly a "pond".
Measuring 10 miles long, and six tenths of a mile wide, this freshwater fjord is surrounded by 2,000 foot cliffs, scores of waterfalls, and other things wonderful to the eye.
Within it we were small, almost insignificant things suspended 600 feet above the "pond's" bottom, cruising on the pristine waters it holds.
Pristine is an accurate description for the water. I could even call it "distilled" without taking too much license with the word.
When ecologists sought to evaluate the purity of the water they used an instrument that measures mineral content by the water's ability to conduct electricity. The instrument did't give a reading. At first it was thought that the device was defective, but other tests revealed that there was virtually no mineral content. The waters were non-conductive, just like distilled water.
There was also virtually no organic matter, highly unusual for a body of water this size. That explained the scarcity of aquatic life. But why no dissolved minerals and little organic matter? The answer is that the watershed of Western Brook Pond is almost entirely comprised of igneous rock with only a thin layer of soil. Igneous rock resists erosion. The pond is "ultraoligotrophic".
It is fed by Stag Brook at its eastern terminus, and scores of cliffside waterfalls, the highest of these being Pissing Mare Falls which at 1,150 above the waters it feeds is one of the highest waterfalls in eastern North America.
At one time this was a true salt water fjord that was carved through the action of glaciers that grew and then receded with each successive Ice Age. At one time it was located at sea level, but with the melting of the last glaciers the land rebounded and Western Brook Pond is now about 90 feet above sea level.
Technically, fjords are salt water bodies. In every other feature, save for its fresh water, Western Brook Pond is a fjord whose fresh waters take 15 years to be fully exchanged by the waters that feed it.
There are three vessels that serve to transport tourists on the waters, West Brook I, II, and unsurprisingly III. We were passengers on West Brook II, which was flown in by helicopter in 4 parts and assembled on shore. West Brook I was pulled in on huge sleds in winter, and III's parts were delivered by sled and helicopter. These boats and their crews have been specially certified to operate without disturbing the unique ecology.
I learned of Western Brook Pond 5 days earlier in a conversation with Oscar, a fellow camper. He urged that this was a "must do" experience. I made online reservations, but with some concern that the weather report predicted over a 90% probability of rain. A ranger told me to pay no heed to the weather report as in these parts they do well to be accurate for 48 hours.
She was right. The day broke sunny with wisps of clouds on a deep blue sky. An early morning haze clung to the ground. We arrived at the parking lot more than the recommended one hour before boarding, hoping to catch a bite at the shoreside cafe. It's a pleasant 3km hike from the parking lot to the boat dock and cafe on a well groomed trail. Upon arrival at the cafe we learned that supplies had not yet arrived. Coffee and packaged brownies had to suffice.
The boat was fully booked for the 10 a.m. departure. Onboard there were backcountry campers who were deposited ashore at the eastern terminus of Western Brook Pond for their five day hike to, and assent of, Gros Morne Mountain.
There was also a young lady from Bangladesh who asked us to help her memorialize the experience by taking her picture holding the flags of Canada and her home country.
And then there was Ron and his daughter, Natasha.
I have found in our travels that there are people with whom I sense an almost immediate affinity. After just a few words the comfort is such that we begin exchanging our "stories". Such was the case this day with Tena who staffs the gate at our campground, and Sheleigh our waitress at Java Jake's restaurant where we lunched in Rocky Harbor. Ron and Natasha were special. They were the kind of people we hated to say goodbye to. We left them hoping that someday we would meet again.
Ron is 88, and at 32 Natasha is his youngest of 5 children. Her oldest sibling is 36 years her senior. Ron dedicated a life to the service of the United States, retiring as a colonel in the Army. During a stint at the base In Leavanworth Kansas he completed his Masters Degree through the University of Missouri at Kansas City, my law school Alma Mater. After retirement Ron took up teaching as a second career from which he has fully retired.
Natasha is a teacher whose summer breaks allow her to travel extensively. Ron quipped, "I did 2 tours of duty in Vietnam during the war, and now she has been in Hanoi as both a tourist and a teacher!"
As one might expect, Ron's advanced years have taken some toll on his mobility. In this Natasha is his support. Their love and respect for each other is palpable. That and their shared passion for travel are the connections that allow them to bridge the gulf of their years as they cross countries and continents together.
At a late lunch Christine and I talked long in reflecting upon the mornings experiences. We could have focused on the rare vistas of Western Brook Pond, instead it was the rarer beauty of a father and daughter's relationship.
Peace Everyone. Pete
PS. During the cruise I asked the tour guide if the scenery ever became ordinary to her. With a wisp of sadness hinting in her smile she said yes. As I left the boat I extended to her a wish for fresh eyes.
To you I offer the same wish as you view the relationships you hold dear. Resist allowing them to become ordinary. Use fresh eyes.