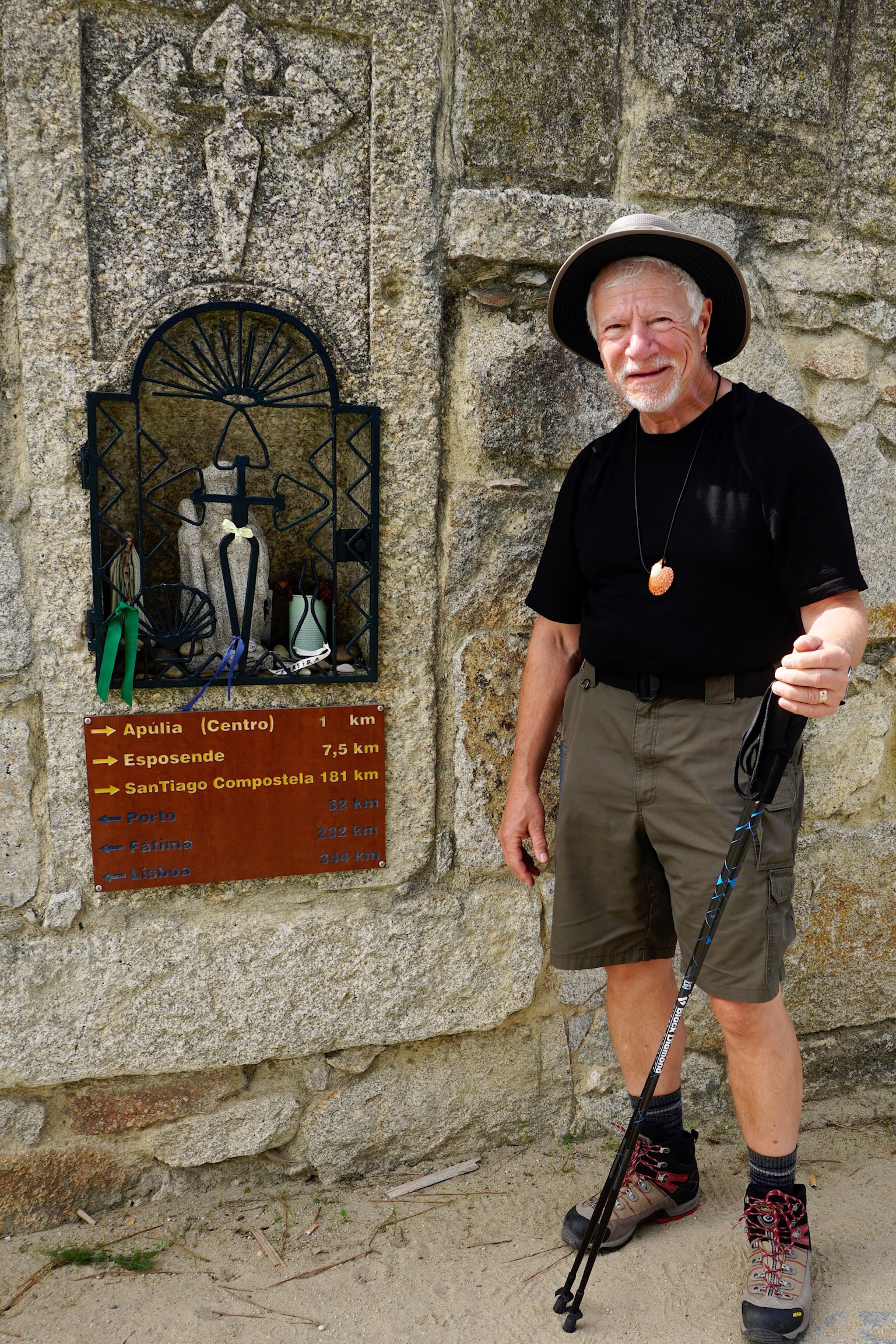 October 6–7, 2022. Vila do Conde to Esposende to Viana do Castelo.
Dear Christine. The last three days have been seriously brutal. Over 26 km each day (@17-19 miles), and my feet show it. I've been applying bandages to hotspots and have so far successfully avoided blisters. I fear that I'm going to lose the toenail on my right big toe. I've taped it in place. Today we are going to shorten things bit to 20 km. From here out I think prudence dictates that I avoid such long sections, particularly when they are on cobblestones.
We have typically started in the morning around 7:30 and have not concluded the walk until near 5 PM. Shower, dinner, and bed follow. This has not allowed me much time for restful contemplation or writing. I figured I would give you a few photos and vignettes to give you the flavor of what has unfolded. But first, another "Camino moment".
Yesterday, with about 7 km to go, we stopped to view a church. Seated in the shade outside were a couple. I spied his English Camino guide and I threw out the question, "English, American?". The gentleman replied, American. We talked. Ken and Bambi are from Atlanta Georgia and perhaps in their 60's. I mentioned I was retired and with a smile Ken responded, "What's that?" It was apparent that he was still working.
Ken walked the Camino in 2013, starting just a few days before you and I did. Now he is trying to share the experience with his wife of 45 years but it was clear that the heat of the day was taking its toll on her. Ken even mentioned in the course of our discussions "Camino Magic", his words for "Camino Moments". Bambi was dubiously still waiting to experience one.
As we parted, on impulse I asked Ken, "What is your work?" Ken replied, "I'm a former litigation attorney and I've been a mediator since 1996." With eyes wide I exclaimed, "Me too!". I handed Ken my card and invited him to look at the website. Our conversation renewed with new energy and we all agreed, this was a Camino moment!
As we were leaving the morning of the sixth we passed by a long aqueduct that served a very old convent/monastery. It was 7 km long and featured 999 Arches. It took 80 years to complete. The aqueduct starts at a mountain spring and at the other end once fed huge cisterns at the monastery. It is in ruins, but is still quite stunning.
In front of the monastery was a statue of Saint Clair which provided an opportunity for an "interesting" picture.
Later on there was a statue of Santiago which provided another such opportunity.
You may recall I made a similar pose in front of a statue of St. James in 2013.
Along the way we encountered some small windmills along the coast which were used for grinding grain. Some of these dates back well over 200 years.
There was even a "links" style golf course, such as one would expect to see in Scotland, that paralleled our route for a couple of miles.
Dinner that evening was in a small unremarkable looking restaurant. However, the food (roasted octopus, salad, wine, dessert, and coffee) was remarkable, as was the price of only €10!
Here are some other images from the following day. This older gentleman is the proprietor of a delightful little café that seems dedicated to the memory of Che Guevara.
He brought out the coffee that we ordered, but also brought out peanuts, cookies, and a bottle of port wine. Out of politeness we accepted one small glass, as did the German ladies seated next to us.
The gentleman was willing to happily pour more. The only thing he charged us for was the coffee, One euro a cup. He also brought out his friend of 35 years, a large box turtle.
We tend to stop at interesting church along the way. We are usually able to add a stamp to our credentials in these churches. This church had a large stone embedded in a sidewall. A marker explained that when the "modern church" was being constructed this stone was found during the digging of the foundation. It is from an ancient church that was located on the site and dates to the year 862. It is a dedication to a saintly Bishop from the region.
Yesterday we encountered a young lady who was working on her masters degree. She was assembling statistics from pilgrims on the Camino. It was a delightful visit in a delightful location.
Another interesting site was an older woman doing her laundry the old fashion way in a "laundromat" located at the side of the road. It has probably been there for centuries. Look at the ceiling!
Finally, the street in Viana do Castelo where the small hotel I am staying at is located.
Tell Kane that my heart goes out to him and that I hope his broken hand heals soon. It is so sad that he's gonna miss the last three football games of the season. On the other hand, congratulate to Phoenix on his goalie stand during the end of game shoot out. That's awesome!
More later. I love you and miss you. Peter
PS. I keep having to pull my belt tighter. I think all this walking is getting rid of some of my accumulated Covid weight. Yay!!
PPS. I think I have figured out the problem with subscribers who have Gmail accounts. There are two ways to sign up for my posts. The former way does not appear to be working with Gmail accounts. For those who sign up now it is through a new application that does not seem to have the problem. If I am to correct this for the folks who are not getting the emails, I'll have to do it one subscriber to time. That will be arduous.