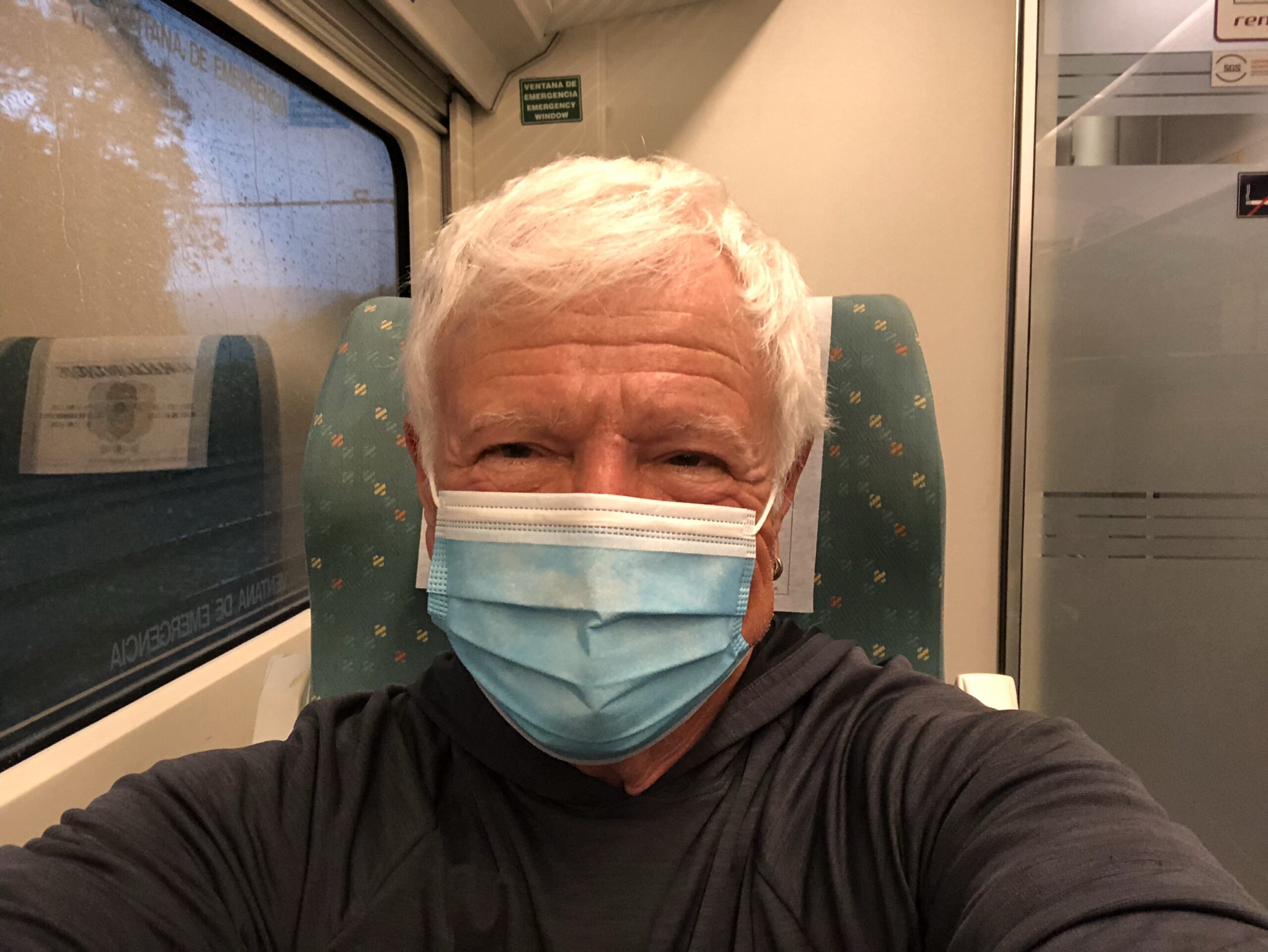 October 23, 2022. Somewhere between Santiago and Leon, Spain.
Dear Christine. I am on the train from Santiago to Leon. It is wonderfully smooth even at over 100 miles an hour. I paid an extra €10 for a first class premium seat. I'm in the 1st car which seats 14 passengers, but only two seats are occupied. It's a fitting metaphor for feeling alone and invisible.
I'm going to defer giving you the pictures and details of my last day visit in Santiago. This will be a bit deeper.
I don't do "alone" well. I don't think you know how challenging it can be for me, though there have been hints over our years together. Yes, I've done solo camping trips, but I've always managed to find human company to share portions of the experience. On the other hand, remember about 47 years ago when I took off for two weeks of solo camping in the Colorado backcountry? We had not begun living together but we were a "couple". It was complete solitude and I lasted 10 of the 14 days. I returned to Kansas City in the deep of night, thinking it would be charming to surprise you by climbing up to your second-story bedroom balcony. Thinking back, that was one of my dumber stunts. It scared you to death and I'm damn lucky you didn't have a gun.
During my last day in Santiago I walked the streets alone. I sat in the Cathedral alone. I visited museums alone, and I ate lunch and dinner, alone. There was respite. I enjoyed a last visit and coffee with Lynn, and exchanged pleasantries in one of the museums with a pilgrim from England. Of course, there was the business of arranging for a cab to the station and closing my bill at the hotel. There were also pleasantries with the bartender there. Except for those few interactions, I was invisible.
I'm not looking for sympathy, I'm just processing my thoughts. The feelings of "alone" generated by the day were like the plucked string of a guitar which then resonates the same note in a nearby instrument. Memories of other times "alone" resurrected from the fog of years past.
I remembered being about five years old, waking early from my noon nap to see my mom leaving the house to visit the next door neighbor. I stood at the window, my eyes barely above the windowsill, and felt my chin quiver as I fought back tears.
I recalled my first night away at college sitting alone under a street lamp at the curb in front of my dorm. No tears, just the dark cavern of emptiness.
And of course there was that stunt at your bedroom balcony.
We have been apart 25 days. I've enjoyed the company others, most notably Kris, Marianne, Lynn, Tina, Ron, Kam, Leesa, and Nele. I think I communicate better with women than with men, but that's a topic for another time.
We have spoken on the phone every day, but isn't it curious that we have not visited even once by video? I think this has been my subconscious choice. Hearing just your voice is no different than if you were in the next room. However, video shatters the fiction of nearness as I see the backdrop of our home thousands of miles away. Of course, there is also the separation of time. I wake up when you go to sleep. I finish dinner as you begin lunch…
My thoughts were not limited to past and present. I also read from the script of the the possible future. We have shared over 48 years together, 45 of them as husband and wife. It is exceedingly rare that spouses draw their last breaths together. More common is the outcome visioned in the vows which begin the journey of marriage, "…until death do we part." It was thus with my mother living alone for 11 years after dad died, and the same for your dad living 9 years without your mom. It is likely that one of us will have to embrace "alone" someday as a way of life.
Past, present, and future. I wonder if Charles Dickens didn't mull thoughts such as these when he penned "A Christmas Carol"?
We have paused mid-point at a small rural station to disembark a few passengers and take on new ones. Lives connected only briefly with mine as we anonymously share a journey.
Thanks for listening. Love, Peter.