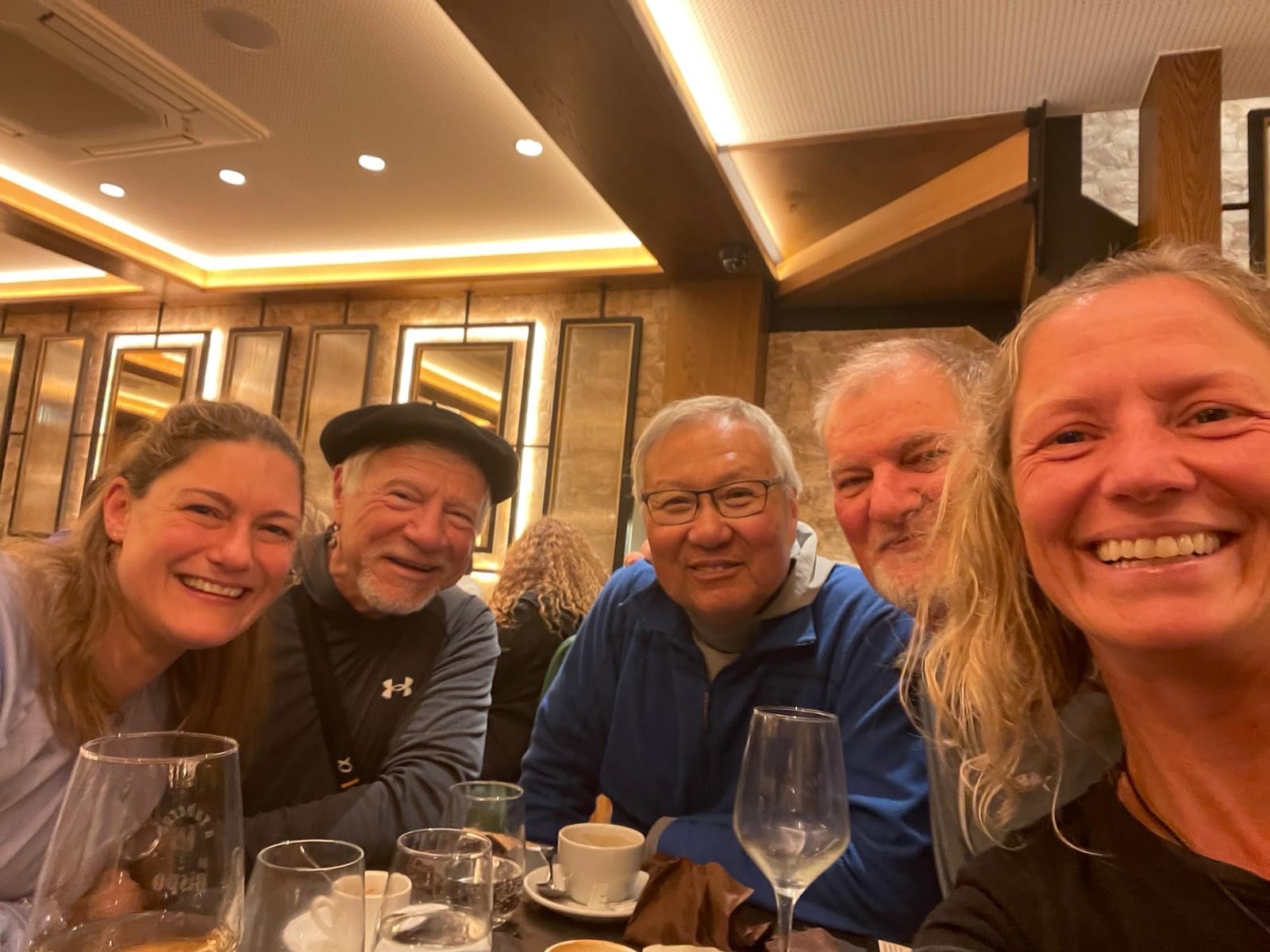 October 22, 2022. At Santiago de Compostela, Spain.
Dear Christine. This is my last night in Santiago. I was two nights at a wonderful pension very near the Cathedral. I asked to extend my stay there but they were booked up. Instead they offering me two nights a little further away at Hotel Virxe da Cerca, which is still in the old city. Tomorrow I catch the train to Leon.
It's a wonderful hotel and for only €86 a night I am provided a suite with a small living room. Outside my door is a garden and an aviary full of little singing birds. My room also has a feature that I decided to try. Mr. Google provided me with instructions.
The hotel would be perfect if it weren't that their internet was so slow. As it is I'm limiting the number of pictures I am uploading because I don't want to explode their system! I feel like I have been here before and perhaps this is where Tom and Nanci stayed in 2018.
Yesterday I visited the church and small museum at Monasterio de San Paio de Antealtares.
You may recall that this fortress like building is located just across a square from the southside of the Cathedral. It also gives the impression of a prison, since most of the windows are secured with heavy iron bars.
This monastery was originally established in the ninth century to protect the recently discovered remains of Santiago. In 1498 it became a cloistered Benedictine convent, which it remains to this date. Among the treasures housed in its museum are a first century altar stone attributed to Saint James, and a crucifix that dates to the ninth century.
A charming old nun granted me admission to the museum. The cost was €1.50. She "twisted my arm" into spending another €5 for a little book (in English) about the history of St. James (Santiago).
When one enters the church the first impression is given by its beauty.
The second impression is given from the features which keep the holy nuns separate from the evils of the outside world. Again, it looks like a prison but the intention was not so much to keep good people in as to keep bad people out.
At the entrance there is a small door on the left. Currently it is to allow people to purchase excellent baked goods from the nuns. In centuries past this was the "foundling wheel" where mothers unable to care for their newborn child could anonymously give the infant over to the care of the Sisters.
I found this interesting bit of information: "…more often than not, there were no forms of identification, and it was the nuns, volunteers, and priests' job to assign one. Common baptismal last-names for foundlings were D'Angelo (of the angels), Del Rio (referencing that the baby was saved from being thrown in the river), Fortuna (lucky), Trovato (foundling), Trovatello (little foundling), Esposito (exposed), Tulipano (tulip), Urbino (blind), Enorme (very big), Milingiana (the size of an eggplant), or the name of the saint whose Feast Day it was."
Here are some photographs from the museum. Virtually all of these pieces are from between the 12th to 15th century.
I would have thought that convents such as this would be in serious decline in modern times. However, I found this concerning the convent:
"Today it is still a very lively monastery in which its almost 40 mothers actively participate in the liturgy of its church with Gregorian chant, the maintenance of a student residence with 60 places, a hostel that is run according to the Benedictine values of hospitality and a nursery school."
Tom and Nanci put me in touch with two dear friends of theirs who just completed their Camino. Kam and Ron, both 70, invited me to join them and two other pilgrims for dinner. While I sat down with the group as a "stranger", I left dinner feeling like I had known these good people all my life. Our dinner of tapas and wine lasted nearly 3 hours. At the end, Kam and Ron refused to take any money and bought dinner for the table!
I also visited the Cathedral Museum yesterday but I will reserve that for my next letter. In the meantime, I am anxiously awaiting the results from you of Paisley's run in the elementary school division of the Missouri State Cross Country competition. It's incredible how quickly she has grown into that sport, but of course the girl is all legs!
Love, Me.
PS. I am counting down the days that we will find ourselves in the same time zone!
PPS: WOW! 66th overall and her school took 1st in State. Awesome!!!